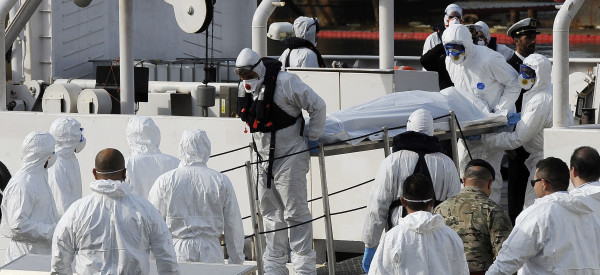 TOP STORIES
To get The Morning Email, HuffPost's daily roundup of the news, in your inbox, sign up here.
OVER 700 MIGRANTS FEARED DEAD IN MEDITERRANEAN BOAT ACCIDENT Over 1500 people may have died attempting to reach Europe via the Mediterranean this year alone. The EU is holding an emergency meeting today to address the crisis. [Reuters]

STILL NO GOV'T IN ISRAEL "With a resounding election victory last month, Israeli Prime Minister Benjamin Netanyahu seemed to have an easy path toward quickly establishing a coalition government with his traditional nationalist, religious and ultra-Orthodox Jewish allies. But after weeks of negotiations with potential partners, Netanyahu is finding the task harder than expected and is flirting with the idea of reaching out to his main dovish rivals to form a unity government." [AP]
FBI EXAGGERATED HAIR SAMPLE MATCHES "The admissions mark a watershed in one of the country's largest forensic scandals, highlighting the failure of the nation's courts for decades to keep bogus scientific information from juries, legal analysts said." [WaPo]
ANOTHER PERSON JUMPED THE WHITE HOUSE FENCE The jumper, who was carrying a suspicious package, was promptly apprehended. [Dominique Mosbergen, HuffPost]
LYME DISEASE OUTBREAK IN NEW ENGLAND "Lyme Disease is one of the most vexing public health issues in Massachusetts. First discovered in a group of children in Lyme, Conn. in the mid-1970s, it has spread throughout every community in Massachusetts and much of the Northeast." [New England Center for Investigative Reporting]
TRAIL TO THE CHIEF: FAILURE TO LAUNCH EDITION While the 2016 election is ridiculously far away, it might be too late for some candidates to join the fray. [Howard Fineman, Jason Linkins and Lauren Weber, HuffPost]
WHAT'S BREWING

TIM TEBOW TO SIGN WITH THE EAGLES Let the pandemonium begin. [AP]
MEET AN ALL-AMERICAN HERO This woman caught a foul ball in her beer cup and proceeded to chug the whole beer. It almost absolves her from being a Cubs fan. [HuffPost]
WHEN JAILING FOR CHILD SUPPORT IMPACTS INCOME POTENTIAL "Though the threat of jail is considered an effective incentive for people who are able but unwilling to pay, many critics assert that punitive policies are trapping poor men in a cycle of debt, unemployment and imprisonment." [NYT]
JON STEWART: WHY I QUIT 'THE DAILY SHOW' Turns out mocking the 24/7 news cycle can be a lot after 16 years. [The Guardian]
ALL THE 'STAR WARS: ROGUE ONE' INFO Along with the first teaser for the film. [HuffPost]
SUPERHERO TRAILERS GALORE Say hello to the first trailer for "Batman v Superman: Dawn of Justice" and the newest trailer for "Fantastic Four." [HuffPost]
WHEN YOU FIND OUT YOUR COWORKER IS YOUR BIOLOGICAL MOM For starters, you stop saying nasty things about her in the break room. [AP]
'FURIOUS 7' NOW SEVENTH-HIGHEST GROSSING MOVIE EVER With a $1.15 billion haul and counting. [Forbes]
WHAT'S WORKING
COLLEGE KIDS DON'T GET ENOUGH SLEEP. THESE UNIVERSITIES ARE TRYING TO FIX THAT "'There's a weird pride in certain students when they pull all nighters,' Kendra Knudsen, a coordinator with the UCLA Mind Well initiative, told the Daily Bruin earlier this month. 'They need to re-prioritize, if they don't have time for sleep, looking at their schedule and seeing what is really important.'" [HuffPost]
ON THE BLOG
THE MARKERS OF A GOOD FRIEND "Ask yourself, how many people could you call up at 3:00 a.m. in the case of an emergency? Probably just a few, if you're lucky. Outstanding friends are there for you when you need them most." [HuffPost]
BEFORE YOU GO
~ Vaccination PSAs are always better with Elmo by your side.
~ All of the presidents' doodles.
~ Client feedback on your favorite novels.
~ This week, The HuffPost show examined the rise and fall of "almond shaming" and rise of the "white minority."
~ Justin Timberlake posted the first photo of his son Silas.
~ What we can all learn from a small-town obituary writer.
~ Meryl Streep is funding a screenwriters' lab for women over 40 .
~ The "Gone with the Wind" dress that sold for over $130,000.
~ We cannot wait for Anna Kendrick's book of essays, set to publish next year.
~ These chimps clearly played Frogger one too many times.
~ If you watched those pirated "Game of Thrones" episodes, HBO is sending a black raven for you.
~ We will not go quietly into the night, as Bill Pullman will be back to save us all in "Independence Day 2."
~ Writing headlines for The New York Times.
~ The year of mobile payments.
~ Here's a homemade Cheetos recipe, because Mondays are hard.
Send tips/quips/quotes/stories/photos/events/scoops to Lauren Weber at lauren.weber@huffingtonpost.com. Follow us on Twitter @LaurenWeberHP. And like what you're reading? Sign up here to get The Morning Email delivered to you.