An aircraft carrier that survived atomic bomb tests after World War II has been found off the coast of San Francisco near the Farallon Islands -- and scientists say it's "amazingly intact."
The National Oceanic and Atmospheric Administration recently located and imaged the sunken U.S.S. Independence as part of an ongoing two-year mission to map and study historic shipwrecks in California waters.
"After 64 years on the seafloor, Independence sits on the bottom as if ready to launch its planes," Dr. James Delgado, chief scientist on the Independence mission and maritime heritage director for NOAA's Office of National Marine Sanctuaries, said in a written statement. "This ship fought a long, hard war in the Pacific and after the war was subjected to two atomic blasts that ripped through the ship."
New look at an old ship. A remotely controlled submarine, dubbed Echo Ranger, took 3-D images of the 622-foot-long ship last month using a low-resolution sonar system (see video above). The images show the ship's hull, flight deck, and what appears to be a plane still in the carrier's hangar bay.
(Story continues below image.)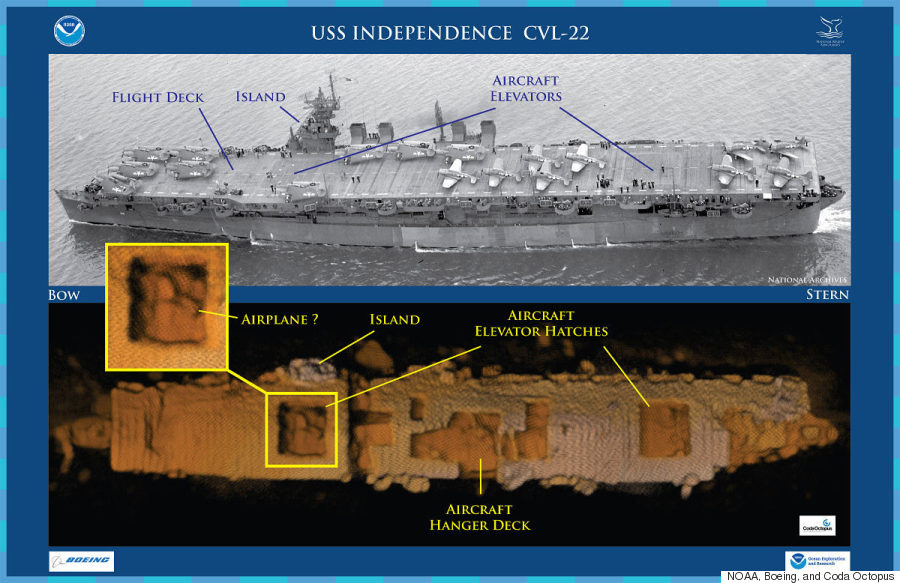 A historic photo of USS Independence CVL 22 (top) and a 3D low-resolution sonar image of the shipwreck (bottom). Click image to enlarge.
Independence operated in the central and western Pacific Ocean from November 1943 through August 1945. Then it became one of more than 90 vessels assembled as a target fleet for the Bikini Atoll atomic bomb tests in the Marshall Islands in 1946, Live Science reported.
The ship was damaged by shock waves, heat, and radiation as a result of the tests and was sent back to the U.S., where the Navy used it to study decontamination. The fear of its sinking led the Navy to scuttle the ship on Jan. 26, 1951. The location of the ship's sinking was a long-held secret -- until now.
Is it radioactive? The Associated Press reported that contamination from the ship poses little danger to public health since it was found in isolation 2,600 feet under water and 30 miles from the coast -- and neither the submarine nor tools used to analyze the ship showed signs of increased radiation.
But Kai Vetter, a nuclear engineering professor at the University of California, Berkeley, told the AP that the ship must have posed a serious risk to workers when it came back to the U.S. after going through atomic tests.
"But the risk to the public now is extremely small," Vetter said.
BEFORE YOU GO