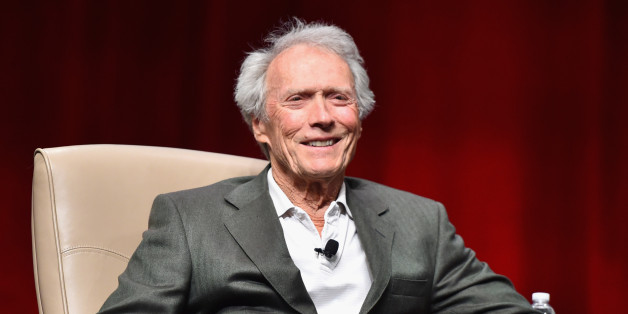 Clint Eastwood was honored on Wednesday night at CinemaCon's "Legend of Cinema Luncheon: A Salute to Clint Eastwood." In addition to being recognized for his entire body of work, specifically last year's "American Sniper," he participated in a lengthy Q&A, which ended with a jab at filmmaker Michael Moore.
Moore notably criticized "American Sniper," and came under fire when he tweeted, "My uncle [was] killed by sniper in WW2. We were taught snipers were cowards. Will shoot you in the back. Snipers aren't heroes. And invaders are worse." He then wrote a long Facebook post detailing his support for U.S. troops.
At the time, Eastwood stayed quiet about Moore's criticism, but on Wednesday, he addressed the alleged feud. "Everyone keeps saying I threatened to kill Michael Moore," he said. "That's not true ... but it isn't a bad idea."
Later, he spoke about when Moore ambush-interviewed Charlton Heston for his 2002 documentary, "Bowling For Columbine." "Once years ago somebody asked me what I would do if a guy like [Moore] came to my house and started filming like they did with Charlton Heston … and I thought, well if he's on your property, I guess you can shoot him."
BEFORE YOU GO
PHOTO GALLERY
Celebrity Feuds