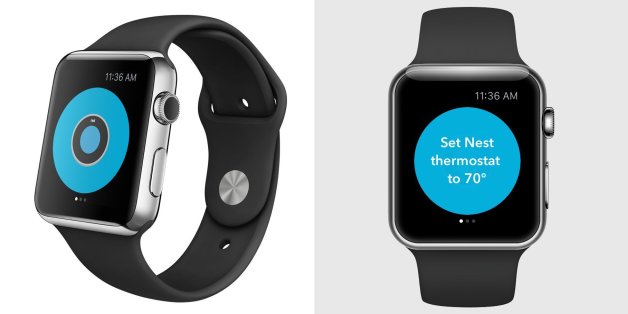 The Apple Watch officially hit stores on Friday. It's already sold out, even though critics say it's not particularly a must-have item.
Perhaps more interesting than the gadget's standard features are the third-party apps created to use this technology in ways that go beyond what Apple specifically developed.
For a truly comprehensive view of every single app that's been approved for the Apple Watch, look no further than the site Watch Aware, which has collected all of them (over 2000 at this point) onto one page. As of right now, the apps are all extensions of iPhone apps, rather than completely new, "native" apps programmed for the Apple Watch. Original apps are expected later this year. Still, a lot of the current ones are pretty neat.
Here's a look at a handful of apps that, if nothing else, show the broad range of things you'll soon be able to do from your wrist:
1. Do Button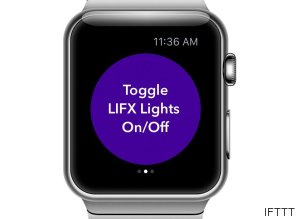 The app IFTTT lets you create "recipes" to automate some of your tedious everyday actions, and its spinoff "Do Button" app lets you assign those actions to a button. With the Apple Watch, you can put said buttons on your wrist. If you have "smart" devices in your home, you can have the Do Button do things like flip off your lights or turn on the coffee machine. The app can also connect to a variety of other apps and services. If you sync it to Gmail, for example, it'll send form emails ("I made it home!") to certain contacts (your worried mother).
2. Skin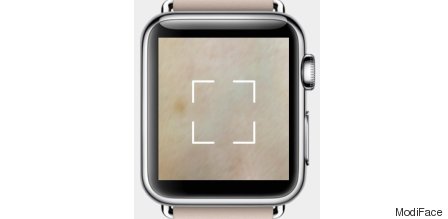 With Skin, a new app from ModiFace, you can use your iPhone's camera to zero in on a region of your bare flesh and monitor the area. Since you'll be able to view the snapshot of your skin on your Apple Watch, you can have a close friend grab your phone and poke around in your hardest-to-reach places. You'll also be able to save your scans and compare them. The Skin app will "evaluate skin dryness, flakiness and redness," according to an email sent to The Huffington Post by a company rep, but you'll probably use it to fixate on moles.
ModiFace notes that you should see a doctor or dermatologist if anything on your Apple Watch screen concerns you.
3. Epicurious Recipes & Shopping List
(Source)
By definition, any watch can function as a timer. But not as many of them are capable of being a "smart timer," which is exactly what Epicurious offers in its app.
Pull up a recipe on your iPhone, and your Apple Watch will help you make it. If you're cooking a steak, a countdown clock will tell you how long it needs to sizzle, then the app will use the Watch's Taptic Engine to literally tap you on the wrist and remind you to flip the meat at the perfect moment. It may not seem necessary, strictly speaking, but it does seem to provide the extra bit of convenience that essentially defines the Apple Watch.
4. StubHub
(Source)
Go to a lot of events? Stubhub will put everything you need on your wrist, from start times to actual, digital tickets. It will also show you nearby events and let you purchase tickets.
5. Yelp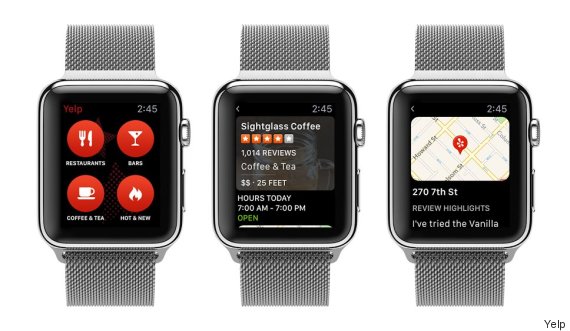 It's Yelp, on your wrist. Similar to Yelp's app for the Pebble smartwatch, this lets you discover restaurants, cafes and bars around you and read reviews that others have left.
6. Help
(Source)
On iPhones, Help lets you set up a list of emergency contacts, who can be notified at a moment's notice if you're in trouble. When activated, Help sends contacts a message and shows them your location.
The Apple Watch version will do the same thing, but it might provide an extra second or two of opportunity -- which could make a difference in an emergency.
7. Microsoft PowerPoint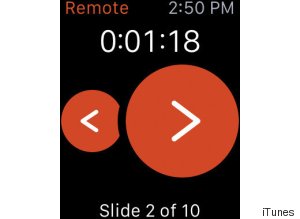 Hear us out.
If you want to use PowerPoint to give a quick presentation to someone, you can. Maybe you're trapped in an elevator with a venture capitalist who wants to invest in your startup. Maybe you spilled a beer on your MacBook. In either case, you're probably the sort of person who has an Apple Watch. This app lets you control your presentations from your wrist, so anyone you're presenting to can hold your iPhone and focus on the slides.
8. 1Password
(Source)
To be totally secure, you should have a different password for each service you use, and they should be hard to remember. That's where a service like 1Password can make a difference: It keeps all of your codes in one place (securely) and, on Apple Watch, will let you quickly pull them up, should you ever forget them.
9. Knock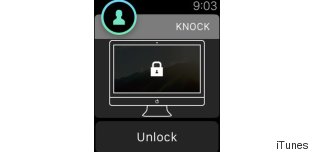 Speaking of passwords, wouldn't it be great to not have to worry about them? Ever? The iPhone version of the Knock app sends a Bluetooth signal to unlock your computer. And the Apple Watch version lets you do the same without pulling out your phone. Imagine the seconds you'll save.
10. Cufflink Browser
(Source)
Dubbed the "first and only" web browser for the Apple Watch, Cufflink lets you search via voice command and read entire articles -- with teensy images inline -- on your watch. It's probably not quite as great as reading on your phone, or almost any other device imaginable, but it could make for a neat party trick -- or for some surreptitious browsing if you're in a lame meeting, assuming no one hears you tell your gizmo to search for "Huffington Post."
11. Sidekicks: Dragor
(Source)
A major concern voiced by critics of the Apple Watch is that it will invade your life with notifications. Many of those notifications are arguably pretty important: emails from coworkers, alerts from your bank and so on. But if you simply must have something completely superfluous, try Sidekicks: Dragor, which puts on your wrist an adorable virtual pet that demands food, play, water and sleep.
12. Merriam-Webster Dictionary
(Source)
Ask your Apple Watch what something means, and Merriam-Webster shall deliver. Simple enough.