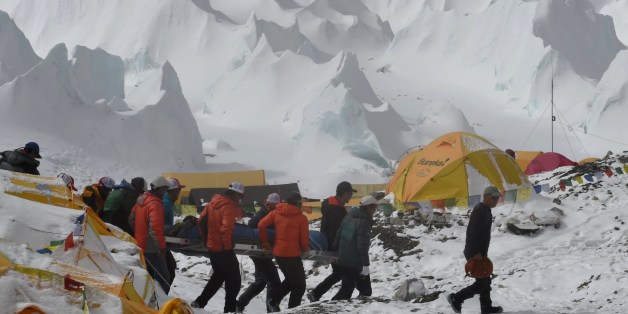 WASHINGTON, April 27 (Reuters) - The U.S. State Department on Monday said four U.S. citizens were among the dead after a devastating earthquake in Nepal, one more American than it had previously said died in the disaster.
State Department spokesman Jeff Rathke said U.S. citizens Vinh B. Truong and Thomas Ely Taplin were among those who were killed by the earthquake.
Taplin, 61, was a filmmaker from Colorado who was making a documentary about the Mount Everest base camp, his wife said on Sunday.
Rathke said he could not confirm the other two names. He said all four Americans who died were in the Mount Everest base camp area when the earthquake occurred.
Marisa Eve Girawong, a medic who worked for Seattle-based guide service Madison Mountaineering, and Dan Fredinburg, a Google Inc executive who was climbing the peak with three colleagues, were the other U.S. citizens who died, their respective companies confirmed this weekend.
More than 3,700 people have died in the earthquake that struck Nepal on Saturday. Thousands more were injured, and it was the worst such disaster to hit Nepal since 1934 when 8,500 died. (Reporting by Emily Stephenson and Lesley Wroughton; Editing by Sandra Maler)