Baltimore police officers targeted by rock-throwing protesters on Monday appeared to hurl projectiles toward crowds on at least two occasions.
One photo shows a projectile, possibly a rock or piece of concrete, leaving an officer's hand.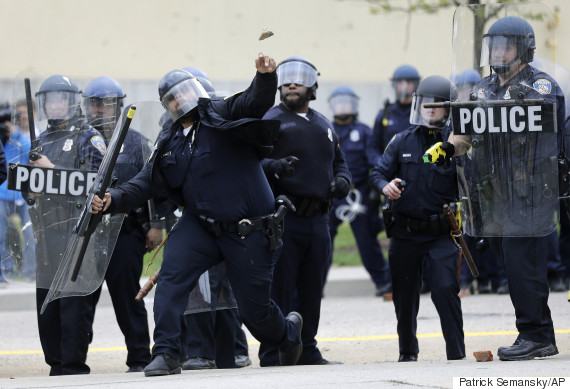 (AP Photo/Patrick Semansky)
Video taken from a helicopter appears to show another officer hurling objects toward protesters, including many who appeared to be teenagers.
At least 15 officers were injured Monday as protesters launched rocks, bricks and other objects at police. Some of the projectiles were reportedly heavy enough to break police riot shields. Baltimore police Capt. Eric Kowalczyk said two of the officers had been hospitalized, and that injuries included "broken bones."
Kowalczyk suggested police would deploy traditional riot-dispersing tools. "You're gonna see tear gas, you're gonna see pepper balls," he said.
Police didn't immediately answer a request for comment about the photos of officers throwing projectiles.
On Monday morning, mourners gathered for the funeral of 25-year-old Freddie Gray, who sustained a fatal spinal injury in Baltimore Police custody earlier this month. He was arrested for running away from officers, and was placed in the back of a police van without a seatbelt, a violation of department policy. Video of his arrest and questions about his death had led to multiple rounds of mostly peaceful protests throughout the city before Monday.
This post has been updated with the a more up-to-date count of injured officers.
See the latest updates from Baltimore below:
04/29/2015 12:00 AM EDT
Baltimore Police Commissioner: 'Curfew Is Working'
Baltimore Police Commissioner Anthony Batts reported 10 arrests since the curfew went into effect at 10 p.m. Two arrests were for looting, one for disorderly conduct, seven for curfew violation, Batts said just before midnight on Tuesday.
"The curfew is working," Batts said.
04/28/2015 11:45 PM EDT
Police: 'Criminals' Started Library Fire
Baltimore police said "criminals" set a fire outside a library. But a reporter said he saw sparks from a tear gas grenade start the blaze.
A group of criminals have just started a fire outside the library located at Pennsylvania Ave and North Ave.

— Baltimore Police (@BaltimorePolice) April 29, 2015
Fire beside Pratt library was not caused by Molotov cocktail. The teargas grenade landed on trash and its sparks set the fire. Watched it.

— Jon Swaine (@jonswaine) April 29, 2015
04/28/2015 11:29 PM EDT
Baltimore City Councilman: 'Just Call Them Niggas'
Is it accurate to call the Baltimore protesters thugs?
City Councilman Carl Stokes doesn't think so -- and he expressed his feelings very explicitly during an on-air interview with CNN's Erin Burnett on Tuesday.
Watch the video from CNN below:
04/28/2015 11:05 PM EDT
Protester To Media: 'You Can Support Us, But You Cannot Join Us'
"Don't tell me 'good job,' this hurts. I want you out!" A man says to Fox News. "We are dying!" #baltimore pic.twitter.com/DdUtFCNVv3

— Carol Schaeffer (@thencarolsaid) April 29, 2015
04/28/2015 10:58 PM EDT
Attorney General Loretta Lynch Reiterates Ongoing Probe Of Baltimore
From the White House:
Earlier today, Attorney General Loretta Lynch and Senior Advisor to the President Valerie Jarrett hosted a conference call with over 50 local leaders from across the country including Mayors Michael Nutter (Philadelphia, PA), Tom Barrett (Milwaukee, WI), Karen Freeman-Wilson (Gary, IN), and Chairman John Eaves (Fulton County, GA).

During the call, Jarrett noted that her thoughts were with the family of Freddie Gray and expressed appreciation for the heroic efforts of police officers, fire fighters and community leaders joining their fellow Baltimore residents who are helping to clean up the debris and property destruction. She also highlighted the 21st Century Policing Task Force's constructive recommendations that, if adopted by local law enforcement agencies across the country, would enhance community trust – including recommendations for providing training on bias, properly implementing body-worn camera programs, conducting independent investigations of fatalities, and promoting officer safety and wellness. The Attorney General spoke about DOJ efforts to award grants to local police departments in ways that encourage adoption of the Task Force recommendations. The Attorney General also noted that the Department of Justice has opened an investigation in Baltimore and is working with local enforcement, and emphasized that she looks forward to strengthening the partnership that local officials have with the Department of Justice. The two pledged to stay in touch and keep them updated on the ongoing situation in Baltimore.

Jarrett also remained in regular contact with Mayor Rawlings Blake (Baltimore, MD) and Maryland Governor Larry Hogan.
-- Jennifer Bendery
04/28/2015 10:34 PM EDT
Police Fire Pepper Balls
Officers are now deploying pepper balls at the aggressive crowd at North Ave / Pennsylvania Ave.

— Baltimore Police (@BaltimorePolice) April 29, 2015
BEFORE YOU GO
PHOTO GALLERY
Baltimore Protests