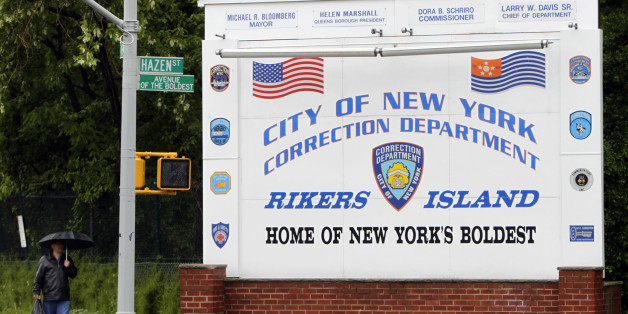 Meatloaf served to inmates at the Rikers Island jail complex has tested positive for rat poison at a New Jersey lab, according to a lab report obtained by the New York Daily News.
A sample was submitted for testing after attorney Joanna Squillace filed a lawsuit in March on behalf of 22 inmates who say they fell ill after eating meatloaf containing mysterious blue and green specks, Pix 11 reports. New Jersey lab EMSL Analytical found that those odd specks contained Brodifacoum, a compound commonly used as a rat poison, the Daily News reported.
The inmates, all of whom were residents of the Anna M. Kross jail, complained of vomiting, nausea and bleeding shortly after consuming the meal. The meatloaf was served during a three-day lockdown in the wake of an alleged attempted sexual assault on one of the jail guards, according to the New York Post. Authorities say inmate Raleek Young tried to rape a female corrections officer, but other inmates intervened and stopped the attack. It's unclear if those who prevented the attack were among those who fell sick.
According to the lawsuit, an inmate usually helps prepare and distribute meals, but no inmates were involved on the day the meatloaf was served.
Patricia Feeney, Department of Corrections assistant commissioner for environmental health, admitted to seeing "visible green and blue specks of an unknown substance" in what she called a "purported sample of the meat loaf," according to court documents obtained by The Huffington Post. She also said such specks could not have been the result of bacteria or virus.
Feeney noted that she did not find any similar substance in the facility's pantry and kitchen, and that rodenticides she found in the jail's exterminator shop did not match the specks in the loaf.
A city official who spoke to the Daily News under the condition of anonymity said it was "premature to draw any conclusions about test results from samples provided by the plaintiff inmates that the city has not analyzed and verified."
Before the alleged poisoning occurred, Ramsey Orta -- who was jailed on weapons charges after filming the chokehold death of Eric Garner -- had expressed fears of being poisoned while in jail. Orta, who has testified that officers falsely charged him out of retaliation for his filming of Garner's death, was opting to forego the meals provided by Rikers.
Orta's aunt, Lisa Mercado, told The Huffington Post in March that Orta didn't get sick from the meatloaf because he refused to eat jail food.
"He's fearful, he won't eat," Mercado said. "He's been eating nothing but candy bars and whatever he can get from the vending machine."
Danette Chavis, an organizer with the National Association Against Police Brutality, added Orta believed his life was in danger.
"He stopped eating because he was afraid of being poisoned," said Chavis at a March press conference. "It's not paranoid, because we know it was attempted."
However, Orta's attorney, Kenneth Perry, told Gothamist he did not know of any connection between Orta and the meatloaf incident.
Orta was released from jail earlier this month, according to Democracy Now.
Like Us On Facebook |

Follow Us On Twitter |

Contact The Author