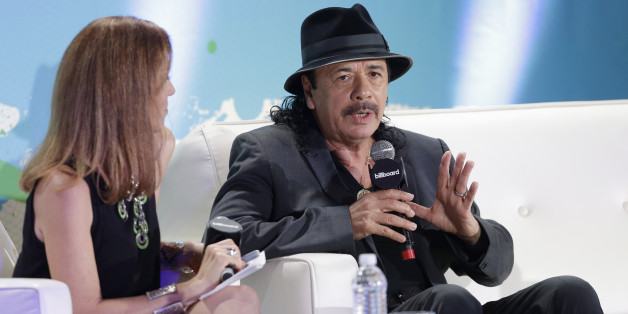 Carlos Santana is not a fan of "Scarface," or at least not of how the film portrays Latinos.
The 67-year-old guitarist and icon sat down with Billboard on Wednesday as part of the "Legends Q&A" at the 2015 Billboard Latin Music Conference. In his conversation with Billboard's Leila Cobo, the guitarist spoke candidly about the need to unite as a human race, how his mother influenced his career and what he loves about his guitar. But Santana also took some time to voice his thoughts on Latinos and how the community should come together and defy Hollywood stereotypes.
"Now is our time," Santana told Billboard. "Latinos need to unite with respect and dignity, not the stereotypes like 'Scarface' that Hollywood likes to show. That's B.S."
The Mexican-American will be honored on Thursday at the Billboard Latin Music Awards with the Spirit of Hope Award, which recognizes the artist's humanitarian efforts helping children around the world with education, health and more through his Milagro Foundation.
The Billboard Latin Music Awards will be broadcast live on Telemundo April 30 from Miami's BankUnited Center.

BEFORE YOU GO
PHOTO GALLERY
Top 5 Santana Collaborations