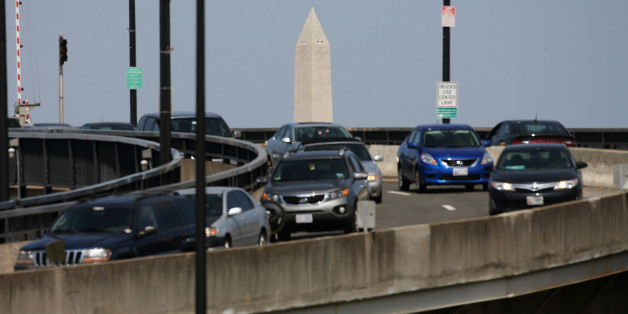 WASHINGTON -- The federal money pot that pays for roads, bridges and mass transit expires in one month, and lawmakers are struggling to build support for legislation that would extend it.
Top Senate Republicans have been meeting for weeks on legislation to fund the Transportation Department's Highway Trust Fund before the current authorization runs out on May 31. With an extension, the Transportation Department says the fund has enough money to pay its bills until roughly July. Come August, however, the money will stop and the department legally cannot pay states and transit agencies.
Four states have already halted work on new infrastructure projects, according to a letter Senate Democrats sent to Finance Committee Chairman Orin Hatch (R-Utah) this week.
"Congress is running out of time and we have been down this road before," Sen. Ron Wyden (D-Ore.), ranking member on the Finance Committee, wrote with the 11 other Democratic committee members. "We know all too well that our nation's infrastructure is in critical need of help."
Hatch, a big player in the ongoing meetings, has said little. Democrats have urged him to include them in the conversations.
"There's 3 million jobs related to this," Sen. Barbara Boxer (D-Calif.), who is working with Sen. Jim Inhofe (R-Okla.) on a highway bill, told The Huffington Post. "I wanted it to come up yesterday."
Inhofe, chairman of the Environment and Public Works Committee, has been meeting with Hatch and party leaders this week to find funding sources for the extension.
Still, Republicans appear to lack a consensus on how to fund an extension, and how long it should last -- issues that have long plagued the trust fund.
Inhofe said he was working with Hatch and Boxer to craft a six-year extension. He said last week that his bill was "virtually done, with the exception of the funding mechanism," which is being considered by the Finance Committee.
"If people really believe -- and I'm talking about the leadership -- that it should be the number one concern right now, then I think we can get it done -- we are operating under that assumption," Inhofe said. "We have the bill ready to go as soon as we have the funding taken care of -- and we are dangerously close to that."
Seven days later, however, Inhofe had little more to say, indicating struggles within the Republican conference.
"We are working on the bill and getting closer each day to locating the sources of funding for that," Inhofe said this week. "Working with the Finance Committee -- and I keep getting assurances that we are going to be able to do it –- that would be for a six-year bill."
Inhofe placed some blame on alternatives being put forward by other senators, including Rand Paul (R-Ky.) with Boxer, which seeks to offset the funding by allowing companies to return overseas profit to the U.S. at a 6.5 percent tax rate, instead of the 35 percent corporate rate. All tax revenue from repatriated corporate profits would go to the highway fund.
"I think that is doing a little bit of a disservice, since people are thinking, 'Oh, if that is the easy way, then we don't have to do it the hard way.' Well, it's going to have to be done the hard way," Inhofe told The Huffington Post. "Repatriation is something that might develop some money in the first two years and will cost money in the future -- so that's kind of holding that up."
To get people behind his push for a six-year extension, Inhofe said he is trying to get his colleagues to focus on the highway fund –- a difficult task as the Senate tries to move on trade and spending bills.
Inhofe aims to win a short-term patch that allows the trust fund to operate through July. That gives Congress more time to pass a six-year comprehensive extension.
Hatch wouldn't commit to anything on Wednesday.
"No, I haven't gotten commitments," Hatch said. "We'd like to do six years if we can. We're probably going to have to do short-term patch, so we have the time to be able to do the extension," Hatch said.
Hatch's idea of a short-term patch, however doesn't line up with Inhofe's. Hatch said he thinks Congress will have to extend funding until the end of the year -– an option the administration doesn't support.
Hatch said Senate leaders are "very serious about highways." But he wouldn't discuss what he and others are floating as possible funding sources.
The Senate's third-ranking Republican, John Thune (R-S.D.), gave a bleak analysis of Republican talks as the deadline looms.
"On that issue, we're in different places and we will eventually come together behind a strategy," Thune said. "There is some discussion about a short-term extension that would take us into July, but if money actually does run out it can buy us a little more time to write a multi-year bill. There are some who want to see a six- or seven-month extension that takes us to the end of the year and then deal with this in context of extenders or tax reform or whatever might be the issue de jour of the time, but I am not sure."
An extension through 2015 is what some House Republicans are considering, including Transportation Committee Chairman Bill Shuster (R-Pa.). Shuster this week said a short-term patch may be the only option, but the funding that would allow the fund to make it to the end of the year remains elusive.
The government spends roughly $50 billion on transportation projects per year. About $34 billion of that comes from the 18.4-cent federal tax on each gallon of gasoline. Extending the trust fund until September, the end of the government's fiscal year, would cost about $16 billion. The gas tax would raise only about $10 billion of that, Shuster said.
"We don't have the exact offset yet," Shuster added.
The Obama administration is urging Congress to follow through on a multi-year extension.
"If it's an extension for extension's sake, that's not a good idea, because it's going to continue to freeze and immobilize state departments of transportation that are trying to find resources to get projects done," Transportation Secretary Anthony Foxx said during a briefing this week.
"If you're going to have to look under mattresses and use duct tape and chewing gum, do it for a six-year bill," Foxx added. "Why go through the brain damage for a few more months?"
BEFORE YOU GO
PHOTO GALLERY
Scenes From Capitol Hill