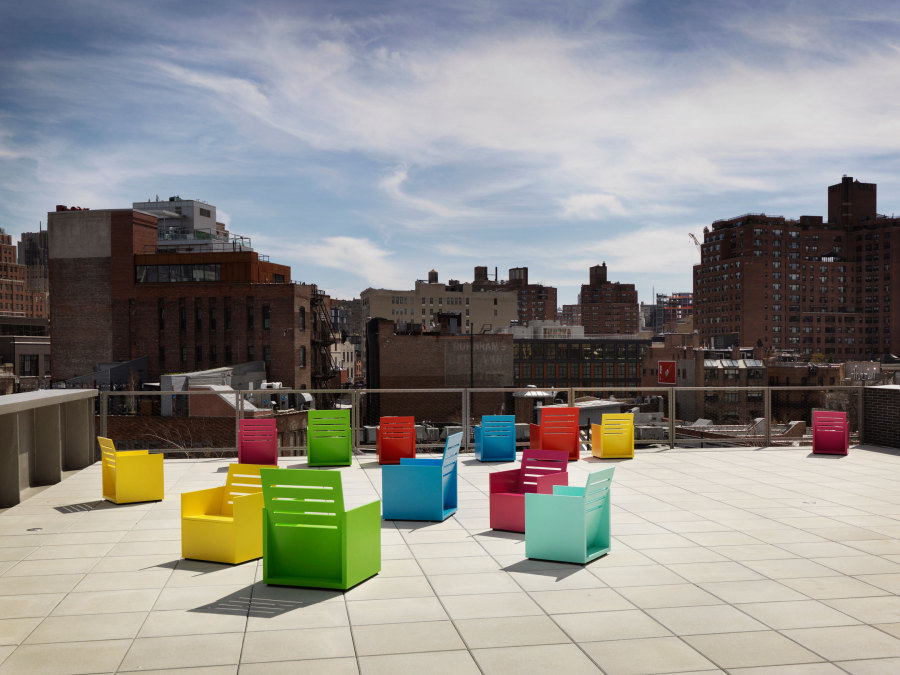 Installation view of Mary Heilmann: Sunset (Whitney Museum of American Art, New York, May 1, 2015–). Photograph by Marco Anelli © 2015
"The Whitney has always believed in the importance of the present," Adam D. Weinberg, director of the Whitney Museum of American Art, explained to an audience of eager art admirers on Thursday. "The capacity for artists to act in and affect the life of our times, to alter perceptions in such ways that might enable one to change the course of history."
The lofty words were spoken in honor of the brand new Whitney's christening, marking the institution's move from the depths of Madison Avenue and 75th Street to the brighter, hipper shores of the Hudson River in downtown Manhattan. The new, Renzo Piano-designed building opened its doors to the public on Friday, soon after rave reviews rolled in from just about every corner of criticism. Art critic du jour Jerry Saltz dubbed the new digs a possible solution to "the impossible problem of contemporary art," while Michelle Obama sang populist praises too: "One mile from here, there are kids who don't feel like they belong here, and this place starts to change that."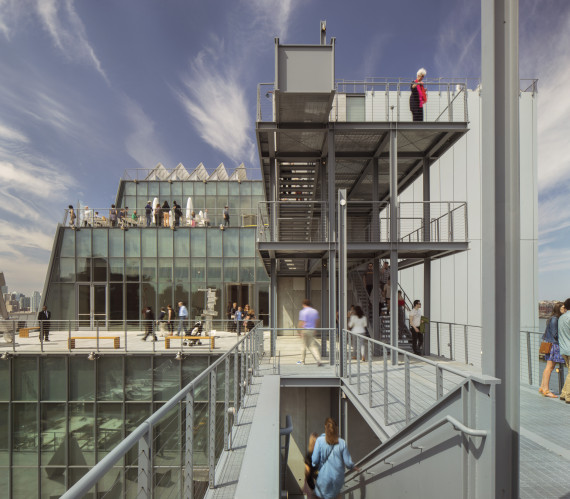 Photograph by Nic Lehoux
The structure surely stands out from New York's whirlpool of galleries and museums -- the staid Metropolitan Museum of Art, the lately overzealous Museum of Modern Art. The new Whitney is spacious, flanked by floor-to-ceiling windows that drench the bevy of American artworks on view in light from all angles. While the Met is a sprawling labyrinth, the Whitney takes a cue from the New Museum's stacking of floors; but improves it. The claustrophobia you might feel in a typical NYC building of any sort is remedied not just by floor space, but high ceilings that give the paintings and sculpture room to breath, and flowing halls that eliminate patron-on-patron jousts. There's roof space that envies the tourist-favorite High Line, decked out with outdoor installations and seating space for the contemplative passerby.
As many have pointed out, the new Whitney isn't just a living archive, it's a place to meet, relax and spend time with humans as much as canvases.
It's not difficult to argue that institutions like the Brooklyn Museum, the Queens Museum, El Museo del Barrio and the Studio Museum in Harlem do more to engage the masses, simply by virtue of their community-driven programming and placement in boroughs filled with locals who love art. Ben Davis at Artnet News is quietly hesitant, warning of the Whitney relocation's role in the art world's "relentless competition for attention." Only time will tell if the move pays off -- both in attendance and in quality of exhibitions. As a New Yorker though, there's hope that the bellwether will play less to the fleeting presence of tourists and more to the perpetual "dreamers" our First Lady referenced in her speech.
As the museum awaits the flood of visitors knocking down its doors this weekend, here's a guide to navigating New York's newest cultural addition. From works on view in the show "America is Hard to See," to the architectural aspects that make the building unique, these are the facets you mustn't miss at the Whitney. It's a big place, so why not play treasure hunt?
1. Barbara Kruger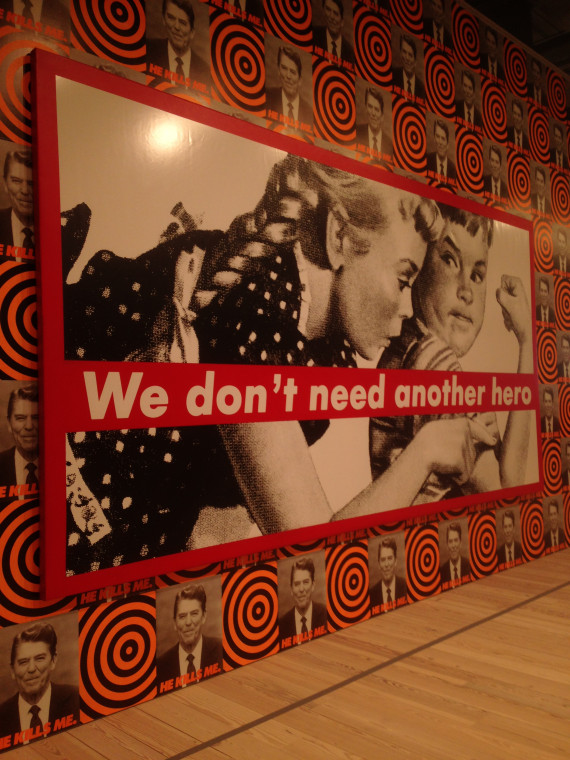 Photo by Katherine Brooks
You can't miss this one. "We don't need another hero," reads the billboard, designed for the University Art Museum's MATRIX program in 1986. You'll know it when you find yourself staring into the eyes of Ronald Reagan. Bless you, Barbara Kruger.
2. A Rothko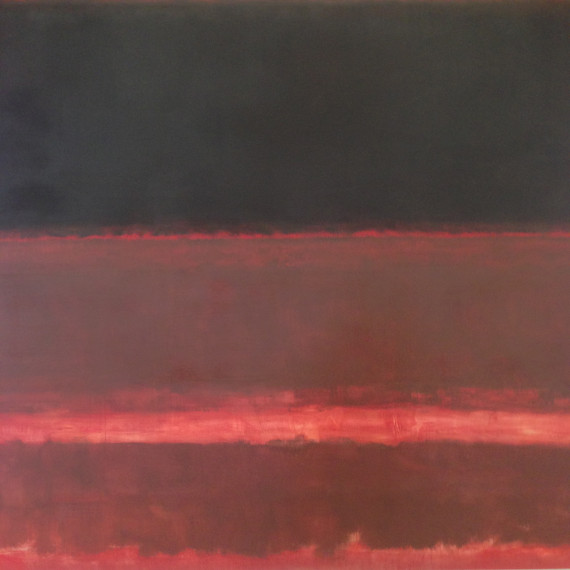 Photo by Katherine Brooks
"'Four Darks in Red' exemplifies Mark Rothko's darker palette of the late 1950s, when he increasingly used red, maroon, and saturated black paints," the Whitney explains. If you're looking to gaze, and gaze and gaze into a pool of paint, make your way to this Rothko.
3. Alexander Calder's Circus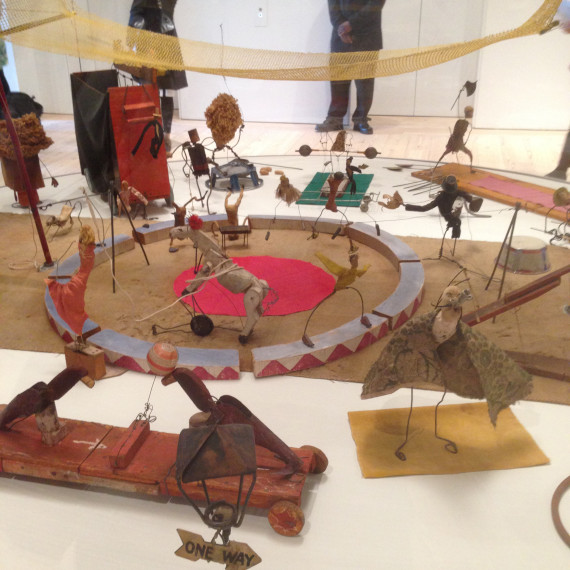 Photo by Katherine Brooks
Made from wire, wood, metal, cloth, yarn, paper, cardboard, leather, string, rubber tubing, corks, buttons, rhinestones, pipe cleaners and bottle caps, this is a 1926–31-era Calder that's non-mobile, though it's easy to imagine the movement in his figurines. For the child in you, take a second to drink in this display.
4. Crack Vials (As Art!)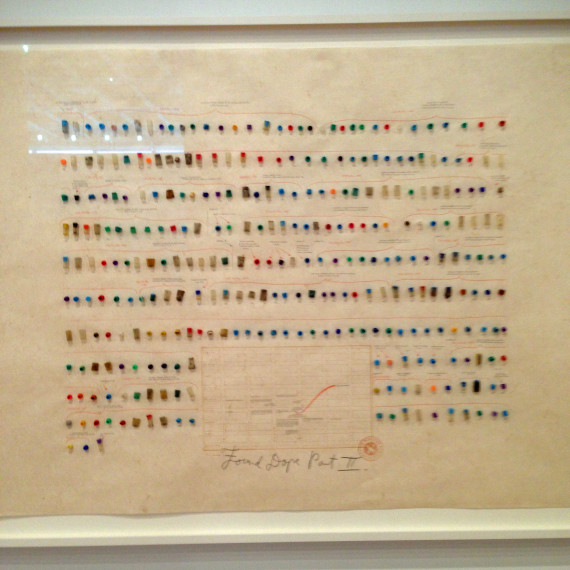 Photo by Katherine Brooks
In 1986, Miami-born artist Candy Jernigan arranged a choice selection of specimens to make this visually calming piece. The not-so-tranquil part of the work is that the specimens on display are found crack vials. If you'd like to wax poetic on the beauty of decay, here's your spot.
5. Georgia O'Keeffe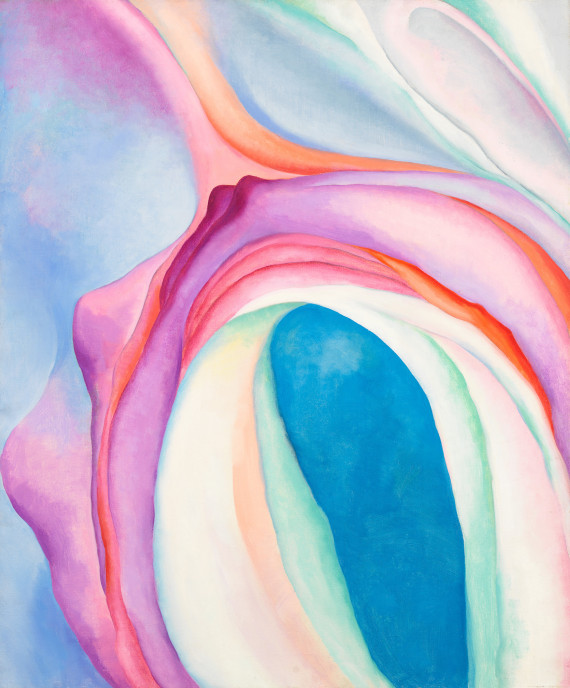 Georgia O'Keeffe, 1887 1986, "Music, Pink and Blue No. 2, 1918," oil on canvas, 35 × 29 15/16in. (88.9 × 76 cm), Whitney Museum of American Art, New York; gift of Emily Fisher Landau in honor of Tom Armstrong 91.90, ©2014 Georgia O'Keeffe Museum / Artists Rights Society ( ARS), New York
There's more than one Georgia on view. First one to the O'Keeffe gets the prize!
6. Raymond Pettibon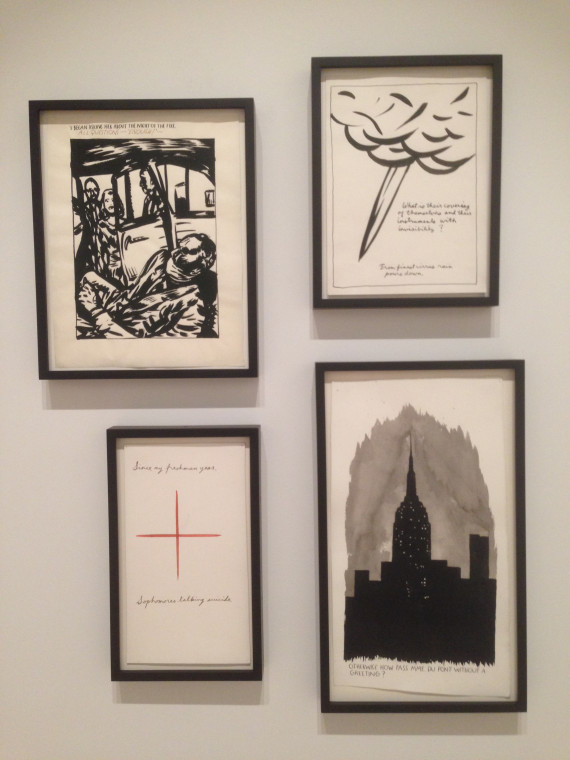 Photo by Katherine Brooks
Fans of the Black Flag logo can find creator Raymond Pettibon's works on view. All at once, you can see "No Title" from 1987, "No Title (I began asking her...)" from 1988, "No Title" from 1991 and -- you guessed it -- "No Title" from 1996.
7. William H. Johnson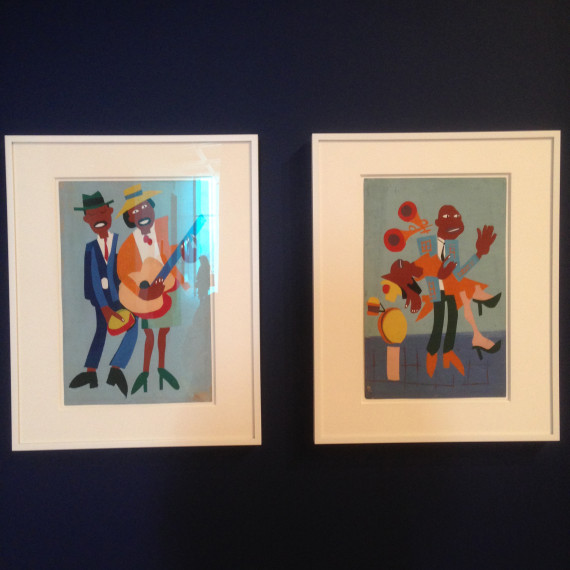 Photo by Katherine Brooks
William H. Johnson was an African-American painter born in Florence, South Carolina in 1901. Check out screen prints from his "Jitterbug" series at the new Whitney.
8. Baldessari Wisdom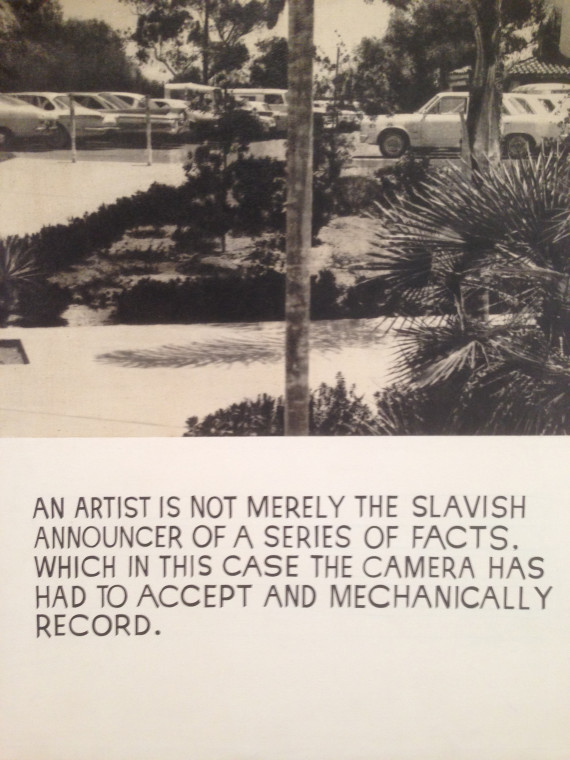 Photo by Katherine Brooks
John Baldessari defines the artist in 1966-68.
9. Hidden Sol LeWitt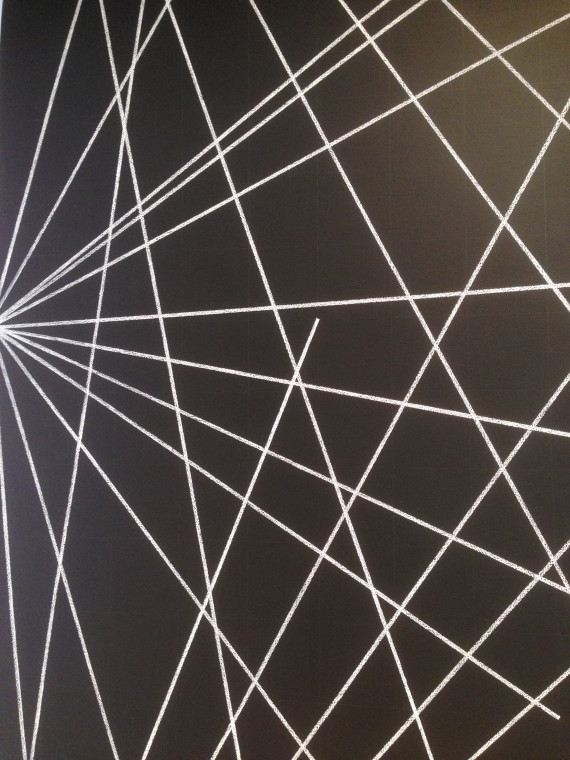 Photo by Katherine Brooks
Before you slip outside to brighter skies, don't forget to look to your left. There might be a Sol LeWitt mural hiding in the hallway. The title of this 1976 piece: "4th wall: 24 lines from the center, 12 lines from the midpoint of each of the sides, 12 lines from each corner."
10. Giant Cigarettes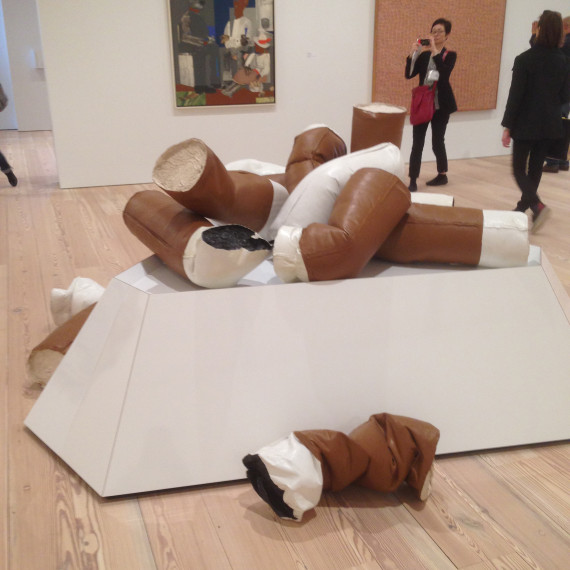 Photo by Katherine Brooks
Good ol' Claes Oldenburg's "Giant Fagends" from 1967. If you can't spot this audacious 52 × 96 × 96 inch installation, you're in the wrong place.
11. Cindy Sherman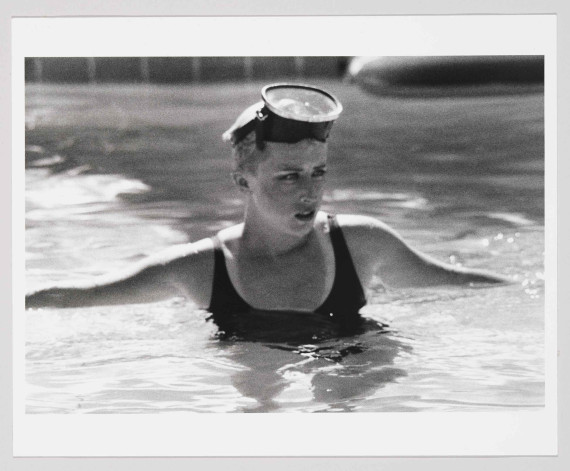 Cindy Sherman (b. 1954). Untitled Film Still #45, 1979. Gelatin silver print, Sheet: 8 × 10in. (20.3 × 25.4 cm). Whitney Museum of American Art, New York; promised gift of Thea Westreich Wagner and Ethan Wagner P.2011.357 © Cindy Sherman; courtesy artist and Metro Pictures, New York.
It wouldn't be a survey of American art without at least one Cindy Sherman visage to ogle.
12. Richard Artschwager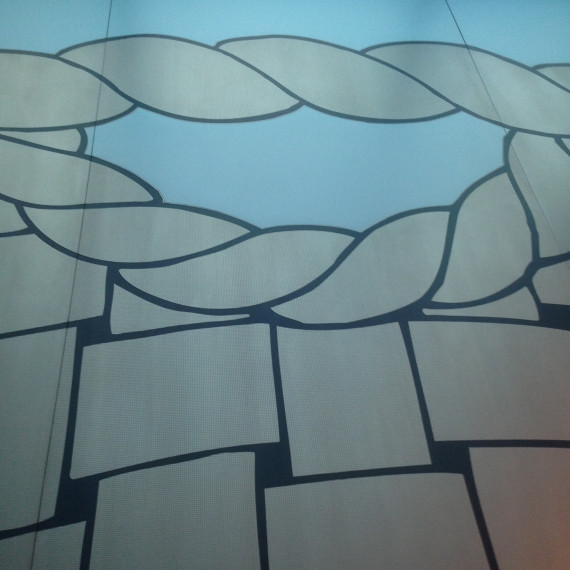 Photo by Katherine Brooks
The Whitney's elevators, designed by artist Richard Artschwager shortly before his death in 2013, are one of the most whimsical parts of the otherwise pristine place. To navigate from one floor to the next, you can use the beautifully lit stairs, but to roam from the lower levels to the upper levels, you're probably going to have to hop on an elevator. And you should. "They are based on six motifs -- door, window, table, basket, mirror and rug -- that have recurred in the artist's drawings and sculptures since the mid-1970s," The New York Times reported. "When visitors enter they will find themselves standing under a table, on a rug or in front of a mirror; they will also be opposite a door, next to a window or floating in a giant woven basket."
BONUS: The Hudson River View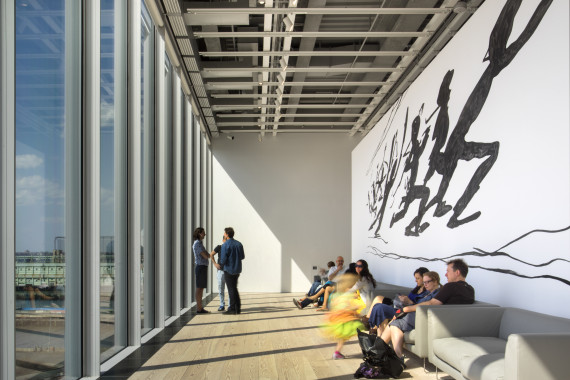 Photograph by Nic Lehoux
Find this mural, sit down, and stare.
"America is Hard to See" will be on view at the new Whitney Museum -- located at 99 Gansevoort Street in New York City -- until September 27, 2015.
BEFORE YOU GO
PHOTO GALLERY
The Whitney