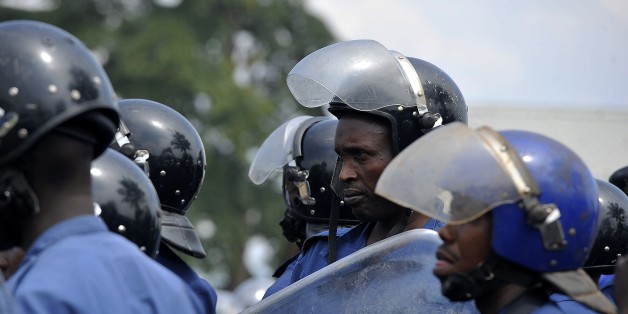 BUJUMBURA, May 2 (Reuters) - Two Burundi police officers and a civilian were killed in two separate grenade attacks in the capital late on Friday, a police spokesman said, after the president warned of tough measures against those behind street protests.
More than 10 people were wounded, deputy police spokesman Pierre Nkurikiye said in a phone message. The three were killed in the Kamenge district of Bujumbura but another area was also hit, he said. One of the dead policemen was a senior officer.
Bujumbura has been rocked by six consecutive days of demonstrations against President Pierre Nkurunziza, who on Friday warned of "severe sanctions" against those protesting over his decision to seek a third term in office.
The protests have sparked the biggest political crisis since an ethnically fueled civil war ended in 2005. The presidency has called the demonstrations an "insurrection."
Opponents say Nkurunziza is violating the constitution and the Arusha peace deal by seeking a third five-year mandate at elections on June 26.
Pre-vote fears have driven more than 26,000 Burundians to neighboring Congo and Rwanda, officials say.
The United Nations, which has voiced concerns intelligence and security services are using live ammunition at protests, said there are "credible" reports of detained protesters being beaten and held in overcrowded conditions.
Nkurunziza's supporters say he can run again because his first term, when he was picked by lawmakers and not elected, does not count. The United States, however, disagrees and has said his candidacy is a violation of the Arusha accords.
The crisis is being closely watched in a region still scarred by the 1994 genocide that killed more than 800,000 people in neighboring Rwanda which, like Burundi, is divided between ethnic Tutsis and Hutus.
Diplomats say the unrest is a political disagreement but fear violence could lead to bloodshed along ethnic lines. (Reporting by Edmund Blair and Patrick Nduwimana; Writing by Drazen Jorgic; Editing by Paul Tait)
BEFORE YOU GO
PHOTO GALLERY
Protests Rock Burundi