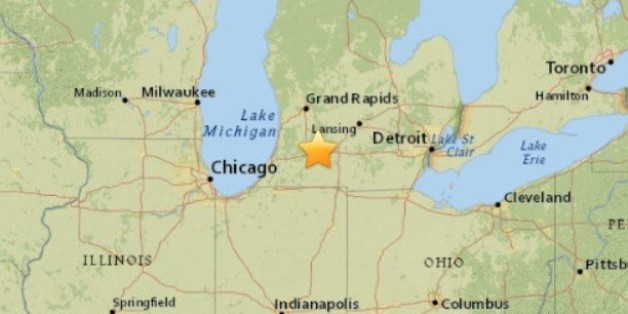 Residents of southwestern Michigan were unexpectedly shaken by a 4.2-magnitude earthquake Saturday, according to the U.S. Geological Survey.
The first reports of the earthquake were circulated on social media around 12:30 p.m. EDT Saturday.
Never in 36 years have I felt an earthquake in Kalamazoo, MI. It just shook the whole building for approximately 5-7 seconds

— Ed Annen III (@EA3Kazoo) May 2, 2015
Shortly thereafter, the U.S. Geological Survey confirmed that the 4.0-magnitude earthquake hit nine miles southeast of Kalamazoo at 12:23 p.m. The earthquake's magnitude was later upgraded to 4.2.
From @USGS... Magnitude 4.0 #earthquake 8 km south of Galesburg, MI. http://t.co/Qlv3jqNuXO #wmiwx #miwx

— NWS Grand Rapids (@NWSGrandRapids) May 2, 2015
According to Detroit's WWJ News, it was one of the strongest earthquakes ever experienced in Michigan. Geophysicist John Bellini told local radio station WHTC that the quake could be felt as far away as northern Indiana and Ohio.
There have been no reported injuries.
CORRECTION: This story previously misstated that the earthquake hit southeastern Michigan.
This story has been updated to reflect the USGS' revised estimate of the earthquake's magnitude and further details about the earthquake.
Like Us On Facebook |

Follow Us On Twitter |

Contact The Author
BEFORE YOU GO