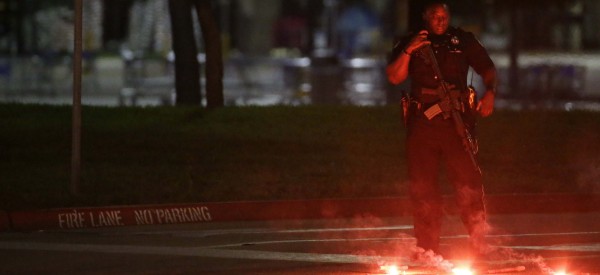 TOP STORIES
To get The Morning Email, HuffPost's daily roundup of the news, in your inbox, sign up here.
TWO MEN KILLED AFTER ATTACKING MUHAMMAD DRAWING COMPETITION "Two men have been shot dead after opening fire outside of the Muhammad Art Exhibit & Contest in Garland, Texas, according to reports from WFAA and NBC 5 in Dallas-Fort Worth. The two men fired towards the Curtis Culwell Center and hit security guard Bruce Joiner, who was shot in the lower leg and suffered non-life threatening injuries, per WFAA." [Adam Goldberg, HuffPost]

SENATE PANEL WORRIED WHITE HOUSE BREACH COMPROMISED AMERICANS' PERSONAL INFO "The U.S. Senate Commerce Committee has written President Barack Obama over concerns that a recently reported data breach on the White House computer system might have compromised the personal information of many Americans." [Reuters]
ER VISITS UP FOR SECOND YEAR IN A ROW Despite the theory they would decrease under Obamacare. [WSJ]
SENATOR ALLEGES U.S. MILITARY WITHHOLDING SEX CRIMES RECORDS Sen. Kirsten Gillibrand alleges that the military is doctoring its sex-related crime numbers by leaving out military spouses or civilian women who work near bases. [AP]
2016 ROUND-UP Ben Carson and Carly Fiorina are set to announce their candidacies today, and Mike Huckabee will follow tomorrow. [Igor Bobic, HuffPost]
WOMEN AND CHILDREN RESCUED FROM BOKO HARAM DETAIL THE HORRORS OF THEIR CAPTIVITY "Health workers put critically malnourished babies on intravenous drips, babies whose rib cages and shoulder blades protruded like skeletons were given packs of therapeutic food to suck from." [AP]
DAVE GOLDBERG, SHERYL SANDBERG'S HUSBAND, DIES AT 47 Tributes poured in for the prolific Silicon Valley CEO of Survey Monkey. [Ryan Grenoble, HuffPost]
TRAIL TO THE CHIEF: MEET THE TOP HANDLERS OF THE 2016 RACE Meet the key staffer behind each of the top 2016 candidates who might have what it takes to put his or her candidate on top. [Howard Fineman, Jason Linkins and Lauren Weber, HuffPost]
WHAT'S BREWING
MAYWEATHER COULD POCKET AS MUCH AS $200 MILLION FROM SATURDAY'S FIGHT But the real winner of the fight? Periscope. [AP]
FIRST THE DAD BOD, NOW THE DAD JEANS Wrangler jeans are making a comeback. [Bloomberg]
'AGE OF ULTRON' LANDS RECORD OPENING The latest Avengers movie is the second-biggest U.S. opening ever. [AP]
YOU ARE NOT YOUR JOB "One of the many myths shaping modern life is this notion that what you do defines who you are. Deep down, none of us really want to be labeled by our jobs and most of us don't actually believe that our jobs determine who we are as people. For many of us, however, work consumes the bulk of our time and it permeates all aspects of life. It's the go-to conversation at social events." [99U]
SLACK'S 'SECRET SAUCE' How you get to be a company worth $2.8 billion. [Medium]
THE AGING PRISON POPULATION "Harsh sentencing policies, including mandatory minimums, continue to have lasting consequences for inmates and the nation's prison system. Today, prisoners 50 and older represent the fastest-growing population in crowded federal correctional facilities, their ranks having swelled by 25 percent to nearly 31,000 from 2009 to 2013." [WaPo]
WHAT'S WORKING
PAKISTAN'S MUSICIANS' LABOR OF LOVE "The value of one's soul is hard to measure, but Baqir Abbas, a musician in the Pakistani city of Lahore, has it worked out for himself. Abbas' soul is slightly less precious to him than the delicately designed bamboo flutes he carves. 'All the stories of the world will play from it, God willing,' he says, before kissing his latest instrument and touching it twice to its forehead." [HuffPost]
ON THE BLOG
RECOGNIZING THE PREVALENCE OF ADDICTION "The average dinner party just got a lot more exciting. An unconventional invitation -- which asks us to come together, pull up a chair around the table and talk about our experiences with drugs and addiction -- has inspired thousands across the U.S. and abroad to RSVP with curious anticipation." [HuffPost]
BEFORE YOU GO
~ These photos of the new royal princess couldn't be cuter.
~ John Kerry's selfie game is on point.
~ An anti-smoking campaign based off ink produced from smokers' lungs.
~ Congrats to Stephen Curry, the NBA's MVP.
~ On this week's HuffPost Show, everyone's favorite "Orange is the New Black" star Taryn Manning, aka Pennsatucky, opened up about how Laverne Cox had taught the cast a lot about trans issues.
~ An invisibility cloak is closer than you think.
~ What your gynocologist wishes you knew.
~ They need to supersize these kids' clothes.
~ Prepare yourself for the Met Ball onslaught tonight.
~ The best and worst places to grow up, according to the New York Times.
~ Lindsey Vonn and Tiger Woods called it quits.
~ The origin of the margarita.
~ We wish this "Spice Girls" reunion involved music.
~ Britney Spears is using Uber to launch her latest single.
Send tips/quips/quotes/stories/photos/events/scoops to Lauren Weber at lauren.weber@huffingtonpost.com. Follow us on Twitter @LaurenWeberHP. And like what you're reading? Sign up here to get The Morning Email delivered to you.