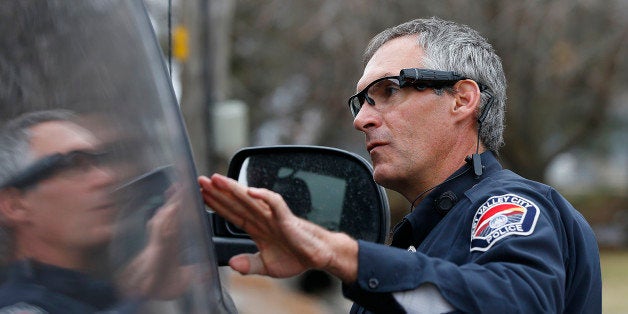 WASHINGTON -- Senate Democrats warned Tuesday that the GOP budget deal reached last week could slash funding for body cameras for police departments, according to a letter obtained first by The Huffington Post.
The letter, signed by 17 senators and sent to Senate Appropriations Chairman Thad Cochran (R-Miss.) on Tuesday, urges Republicans to reverse "drastic funding cuts to training and body cameras in the Republican Budget Conference report." In total, the letter says, the GOP budget could cut this funding by $24 million.
The Senate will soon bring up spending bills based on reconciled House and Senate budget blueprints, which aim to slash the nation's deficit by billions of dollars.
That reconciled budget, the Democrats' letter says, includes cuts to the Byrne Justice Assistance Grant program, which provides funds to municipalities and police departments for tools such as body cameras. Over 600 police stations or cities use the program specifically for police camera technology, the senators write in their letter.
"Recent events in Cleveland, Ohio; Baltimore, Maryland; Ferguson, Missouri; and elsewhere across the nation make funding that supports investment in body-worn camera technology by state and local law enforcement all the more critical," the letter says, pointing to a number of U.S. cities that have recently seen high-profile incidents of police brutality.
The letter was spearheaded by Sen. Sherrod Brown (D-Ohio) and was signed by Sens. Dick Durbin (Ill.), Patrick Leahy (Vt.), Elizabeth Warren (Mass.), Kirsten Gillibrand (N.Y.) and Sheldon Whitehouse (R.I.), among others.
The cuts in question are actually a result of caps on domestic programs imposed by sequestration, rather than new reductions issued by Republicans in their budget blueprint. Democrats have been pressing Republicans to reverse sequestration cuts to non-defense programs the same way the budget plans do for military spending.
"The Republican budget agreement turns its back on police departments across our nation and the citizens that they protect," Brown said in an emailed statement to the Huffington Post. "Body camera technology helps protect police officers while restoring trust with the community. At a time when this technology is needed the most, we cannot allow a Republican budget to slash a critical line of funding."
The 17 Democrats also ask Cochran to push through a spending bill that would fully fund President Barack Obama's proposal for a three-year, $263 million investment in body-worn cameras, expanded police training and additional resources for police department reforms.
"Trust between law enforcement and the communities they serve is necessary not only for the stability and safety of our communities, but also for the integrity of our criminal justice system," the senators write in the letter.
House Speaker John Boehner (R-Ohio) recently responded to the protests in Baltimore that followed the death of Freddie Gray by saying that the current relationship between African-Americans and police is a "national crisis." Still, it's likely that Republicans' appetite for increased funding for police reform will remain low.
Last week, the Justice Department announced it would spend $20 million to support a body-worn camera pilot program for cities and enforcement agencies, but that money will come from reserve funds.
Read the full letter below.
This article and the accompanying letter have been updated to include new signatories.
BEFORE YOU GO
PHOTO GALLERY
Political Look-Alikes