An Ohio man who has spent the last half century on the run was caught Monday in Florida by members of the U.S. Marshals Service.
Frank Freshwaters, now 79, had been using the name William Harold Cox, but admitted his true identity when marshals arrested him at his home in Melbourne, Florida, following a three-month long cold case investigation, U.S. Marshal Pete Elliott told The Huffington Post.
"This is definitely one of the oldest cases we've solved," Elliott, who leads the new Cold Case Unit of the U.S. Marshals' Northern Ohio Violent Fugitive Task Force, told HuffPost. "The cold case gives us a fresh set of eyes that looks at this 100 percent of the time. That led to his doorstep in Florida. We worked with Florida authorities on it, and in the end, [Freshwaters] admitted to everything."
The more than 50 years since Freshwaters' original arrest for voluntary manslaughter was filled with close calls and near-misses, until the marshals came to his Florida trailer Monday.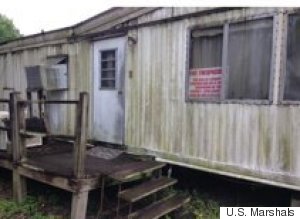 Frank Freshwaters' Melbourne, Florida, trailer where U.S. Marshals caught the 79-year-old fugitive.
In 1957, Freshwaters was 21 years old, married and working at a rubber cement factory in Akron, Ohio, when he fatally hit a 24-year-old pedestrian named Eugene Flynt with his car, court records show. Freshwaters pleaded guilty to second-degree manslaughter and was sentenced to 20 years, but his sentence was later suspended and he was given five years' probation.
After he failed to pay fines and violated his probation, his original 20-year sentence was reinstated, and in 1959 Freshwaters headed to the Ohio State Reformatory in Mansfield -- a prison that later became famous when it was used as the fictional Shawshank Prison in the film "The Shawshank Redemption." According to the U.S. Marshals' statement, Freshwaters "was quickly able to earn the trust of the prison officials" and was moved to the Sandusky Honor Farm to serve out the rest of his sentence.
Freshwaters escaped Sandusky and fled in September of that year.
The fugitive was nabbed in West Virginia in 1975 by Charleston law enforcement, but was released and went into hiding when then-Gov. Arch A. Moore Jr. (R) refused to extradite Freshwaters to Ohio.
Florida officials believe Freshwaters had been living in the Melbourne area for the past 20 years, where he worked as a truck driver and was living off social security benefits, Bevard County Sheriff Maj. Tod Goodyear told The Northeast Ohio Media Group.
"It was the perfect place to hide," Goodyear said. "There's nothing near him. He would have very little contact with neighbors and there are no roads by him."
Elliott said Ohio has a lot of cases like that of Freshwaters, in which escapees from the '60s and '70s have evaded law enforcement.
"Back then you didn't leave a lot of paper; things were different," Elliott said of how the lack of a digital trail has helped shroud some fugitives. Elliott also noted that many prison practices were much different back when Freshwaters first fled.
"[The prison] would actually take inmates -- take them to a shopping mall on their furlough day. And then they'd escape," Elliott said. "But they all screw up eventually and leave some sort of clue."
BEFORE YOU GO
PHOTO GALLERY
Criminal Art: Paintings By Famous Killers And Criminals