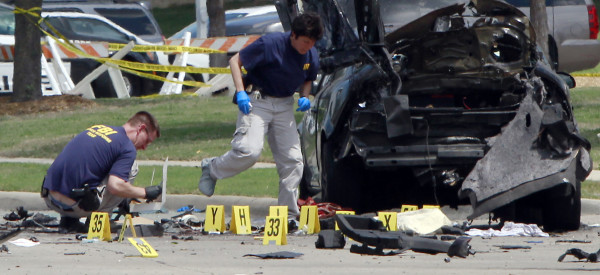 TOP STORIES
To get The Morning Email, HuffPost's daily roundup of the news, in your inbox, sign up here.
ISIS CLAIMS RESPONSIBILITY FOR TEXAS SHOOTING "ISIS has claimed responsibility for the attack outside the Prophet Mohammed cartoon contest in Garland, Texas -- and warned of more attacks to come. In a broadcast on its official radio channel Tuesday, the group said two Al Khilafa soldiers attacked the event. Al Khilafa is how ISIS refers to its soldiers." The two suspects who carried out the shooting had been on authorities' radar for years. [CNN]
HARRY REID MOVES TO BLOCK TRADE DEAL He says the Senate should deal with a "stalled infrastructure bill and a package of reforms to the Foreign Intelligence Surveillance Act, known as FISA" first. [Ryan Grim and Jen Bendery, HuffPost]
OBAMA PICKS MARINE GENERAL AS JOINT CHIEFS CHAIRMAN "President Barack Obama on Tuesday will nominate Marine General Joseph Dunford as the next chairman of the Joint Chiefs of Staff, U.S. officials said on Monday, in a widely expected pick likely to win swift Senate confirmation." [Reuters]
NEW YORK POLICE OFFICER DIES AFTER EXECUTION-STYLE SHOOTING Officer Brian Moore died of his injuries yesterday afternoon. His alleged attacker has been arrested. [Andy Campbell, HuffPost]
PANERA CUTTING ARTIFICIAL INGREDIENTS "Panera would join the growing ranks of food companies and restaurants that have announced plans to eliminate a variety of artificial preservatives, flavors and colors, as well as different kinds of sweeteners and meat from animals raised with antibiotics, in response to consumer demands for transparency and simplicity in the foods they eat." [NYT]
DAVE GOLDBERG DIED OF HEAD TRAUMA Goldberg, Sheryl Sandberg's husband, was running on a treadmill when he fell and hit his head. The Washington Post took a look at the proliferation of treadmill injuries in the era of smartphone distractions. [Reuters]
GOP 2016 FIELD: WHERE DO THEY STAND ON THE BANK BAILOUT? "The fact that the issue was so thoroughly sidestepped suggests that even the GOP's conservative stalwarts don't see it as such a surefire political winner. That seems likely to be even more the case when one considers the amount of fundraising they all will be doing with financial industry sources. And that may bode well for former Florida Gov. Jeb Bush (R)." [Sam Stein, HuffPost]
WHAT'S BREWING
AND THE PRINCESS'S NAME IS CHARLOTTE ELIZABETH DIANA Wonder if she'll be pals with her doppelganger across the pond: ol' Charlotte Clinton Mezvinsky. [HuffPost]
MET BALL ABSURDITY From Rihanna's meme-worthy dress to Beyonce's fashion risk, take a look at the best and worst looks of the night. [Michelle Persad and Jamie Feldman, HuffPost]
CARLY FIORINA PROBABLY SHOULD HAVE REGISTERED A WEBSITE NAMED FOR HER Because CarlyFiorina.org now exists. [HuffPost]
THERE'S ANOTHER OSBOURNE DAUGHTER Who is really, really into synth pop. [Rolling Stone]
MEET ARTHUR CHU Also known as the "embattled conscience of American male geekdom." [Pacific Standard Magazine]
YOU'RE WELCOME Chipotle's pretty easy guacamole recipe. [HuffPost]
YOGA MAT TIPS AND TRICKS Before you get up close and personal with it. [HuffPost]
JUSTIN TIMBERLAKE'S TEQUILA AD IS ODDLY SAD But it's an ad for tequila so... [HuffPost]
WHAT'S WORKING
HOW MAYORS COMBAT STRESS "As practices like yoga and meditation are increasingly embraced by everyone from business leaders to pro athletes, many politicians are also reaping the benefits -- and some have been doing so quietly for many years." [HuffPost]
ON THE BLOG
SEVEN SKILLS OF EXTREMELY LIKEABLE PEOPLE "Extraordinarily likeable people are masters at Social Jiu-Jitsu, the ancient art of getting you to talk about yourself without you ever knowing it happened. SJJ masters are fascinated by every step you took in creating a particularly clever pivot table, by every decision you made when you transformed a 200-slide PowerPoint into a TED Talk-worthy presentation, if you do say so yourself…" [HuffPost]
BEFORE YOU GO
~ Sofia Vergara spoke out about her ex-fiance's public pleas for their frozen embryos.
~ Vanity Fair released quite the batch of "Star Wars" photos and gossip.
~ Upgrade your tagline.
~ All the extinct start-up tees.
~ Find out what Hillary is like on the campaign trail on this week's Drinking and Talking.
~ Examining the silence of judges on mass incarceration.
~ Amy Adams is officially hitched.
~ When you look into space, you're looking back in time. Star Trek is becoming more and more real to us by the minute.
~ And enjoy free Taco Bell breakfast until 11 a.m. this morning in celebration of Cinco de Mayo.
Send tips/quips/quotes/stories/photos/events/scoops to Lauren Weber at lauren.weber@huffingtonpost.com. Follow us on Twitter @LaurenWeberHP. And like what you're reading? Sign up here to get The Morning Email delivered to you.