Meet Lt. Col. Christine Mau, the first woman to fly the F-35 Lightning II fighter jet.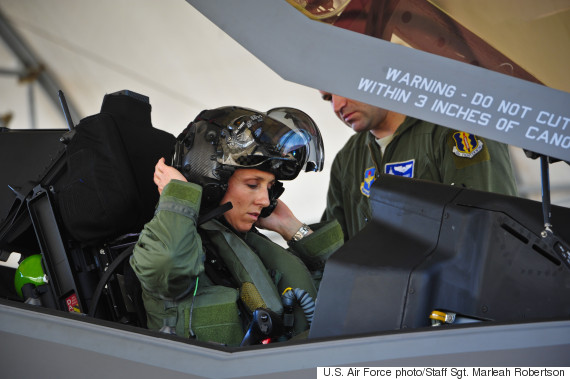 Lt. Col. Christine Mau, 33rd Operations Group deputy commander, puts on her helmet before taking her first flight in the F-35A on Eglin Air Force Base, Fla., May 5, 2015.
Mau took to the skies in an F-35 from Florida's Eglin Air Force Base on Tuesday, the Air Force announced. Previously, she'd completed 14 virtual training missions in a flight simulator.
"It wasn't until I was taxiing to the runway that it really struck me that I was on my own in the jet," the former F-15E Strike Eagle pilot said, per a news release. "I had a chase aircraft, but there was no weapons system officer or instructor pilot sitting behind me, and no one in my ear like in simulators."
Mau is the 88th F-35 pilot who has trained at Eglin in the last four years, the Air Force says. The F-35 program includes the Navy, Marine Corps and allied forces.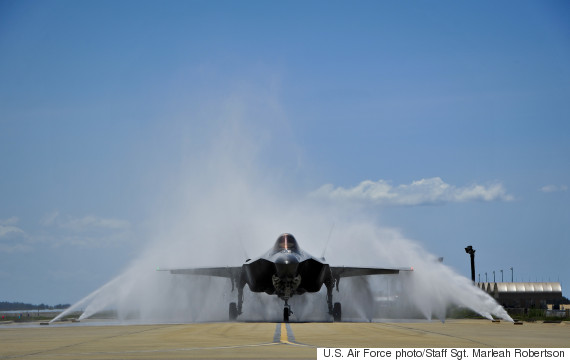 Lt. Col. Christine Mau navigates her F-35A through the "bird bath" after returning from her first flight on Eglin Air Force Base, Fla., May 5, 2015.
The F-35 is a state-of-the-art fighter jet. According to the Telegraph, the plane can fly at nearly twice the speed of sound, and is equipped with the latest in intelligence-gathering and stealth technologies.
"This is simply a phenomenal flying machine," a British test pilot told the news outlet in 2013 after taking the jet for a spin.
As The Hill points out, women have flown in combat since the 1990s, but the Air Force said Mau is the "first woman in the Air Force's premier fighter."
Mau is no stranger to making history. In 2011, she was part of the first all-female combat sortie while deployed to Afghanistan.
"Flying is a great equalizer," said Mau, per the release. "The plane doesn't know or care about your gender as a pilot, nor do the ground troops who need your support. You just have to perform. That's all anyone cares about when you're up there -- that you can do your job, and that you do it exceptionally well."
CORRECTION: An earlier version of this story misspelled the name of Eglin Air Force Base.

BEFORE YOU GO
PHOTO GALLERY
Best Military Photos April 2015