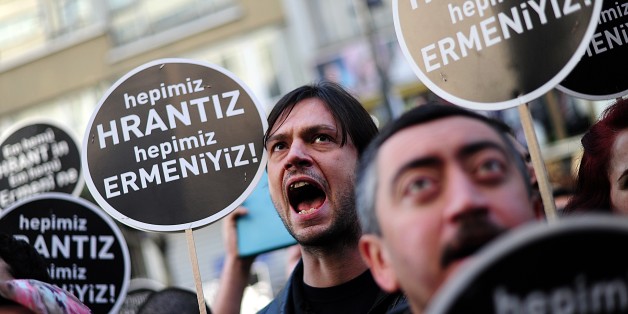 In cooperation with our longstanding partner Crowdrise, The Huffington Post is celebrating its 10 year anniversary by focusing on the promise of the next 10 years. We're highlighting causes that are near and dear to our ethos -- causes where we believe meaningful progress can be made in the coming decade -- and empowering readers to act and take part. Join us!
In the decade since Huffington Post Editor in Chief Arianna Huffington sat down to lunch with Jonah Peretti and Kenneth Lerer to discuss founding a blog that would aggregate news, the state of media has changed drastically. The world is wired like never before -- HuffPost, for example, reaches 214 million readers a month -- and people generally enjoy greater access to information than seemed imaginable even a few years ago.

And yet, even as the press grows in ubiquity, it is also under siege. According to a report from the watchdog Freedom House, press freedom in 2014 was at its lowest point in 10 years, thanks to the passage of restrictive laws targeting media around the world. And while information can now travel faster than ever before, journalists are having a harder time getting to and reporting from the places where news is actually happening -- places like Cuba, Iran, North Korea, Syria, and Uzbekistan, all of which placed in the bottom 10 countries in press-freedom rankings.
"There is a danger that instead of encouraging honest, objective journalism and freedom of information as the proper antidote, democracies will resort to censorship or propaganda of their own," says Jennifer Dunham, the project manager behind the report.

"Freedom of the press" is as much a culture as a legal doctrine; many countries have laws on the books to protect journalists that simply go unenforced. Courtney Radsch of the Committee to Protect Journalists says the most immediate way to expand and safeguard press freedom is to ensure that those who target journalists for violence cannot do so with impunity. According to CPJ's research, killings of journalists rarely result in convictions. From 2004 to 2013, CPJ found that 370 journalists were slain as a result of their work, but only 41 of the assailants were brought to justice.
"Murder is the ultimate form of censorship," says Radsch. "It not only silences the journalist personally but has a chilling effect on the rest of the press."

The good news is that the international community has begun to direct attention and resources to the issue. The United Nations recently passed a resolution "urg[ing] Member States to do their utmost to prevent violence against journalists and media workers, to investigate crimes against them and to bring the perpetrators to justice."

Resolutions are nice, but expanding press freedom in the next 10 years will require more than rhetoric. Radsch says the absence of punishment for those who kill journalists is most often the result of weak institutional capacity and a "lack of political will." The international community can help shore up resources to assist in investigations and prosecutions. It can also exert pressure on countries to follow through on pledges to protect the press.
"One of the things we think can be helpful is to change the calculus of states so it's no longer feasible to ignore this issue," Radsch says.
<!— Start Widget Code —>
| | | |
| --- | --- | --- |
| | | |
| | Supporting the causes that will shape the next decade | |
| | | |
| | | |
<!— End Widget Code —>