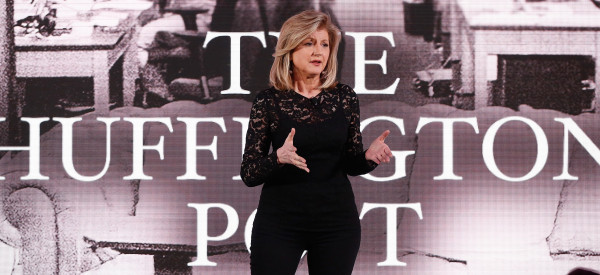 TOP STORIES
To get The Morning Email, HuffPost's daily roundup of the news, in your inbox, sign up here.
ARIANNA HUFFINGTON: THE NEXT TEN YEARS "It's May 9, 2005. A guy named Barack Obama is entering his fifth month as a U.S. senator. Benedict XVI has just become pope. Gwen Stefani's 'Hollaback Girl' occupies the number-one spot on the Billboard Hot 100 chart, and Britney Spears and Kevin Federline have recently tied the knot and sworn their everlasting love. And a website called The Huffington Post is born." Check out our 10-year celebration coverage. [Arianna Huffington, HuffPost]

TIGHT ELECTION IN BRITAIN AS VOTERS TAKE TO THE POLLS "After a bitter, bruising and unusually fragmented six-week election campaign, British voters began to vote Thursday knowing just one thing with near certainty: Nobody is going to win. Or, at least, polls suggest that no one will win in the way elections are usually decided in British politics, with one party claiming a majority in Parliament and a clear mandate to run the country." [WaPo]
DEFLATEGATE LIVES ON "A 243-page report released Wednesday on the New England Patriots' 'deflategate' controversy during the 2015 AFC Championship Game has found that 'it is more probable than not that New England Patriots personnel' deliberately deflated footballs below the approved thresholds." Read the most problematic texts in the report, and find out what other NFL teams are saying about the news. [Lucy McCalmont and Maxwell Strachan, HuffPost]
IN WAKE OF REPORT, TOM BRADY'S LEGACY TAKES A HIT Tom Brady looks pretty darn bad in the aftermath. Roger Goodell must decide whether or not to hand down a suspension to the Patriots' superstar. [Lucy McCalmont, HuffPost]
TORNADO ALLEY HIT WITH TWISTERS Kansas, Oklahoma and Nebraska all suffered damage. At least 12 people were injured. [Andrew Hart, HuffPost]
GLOBAL CARBON DIOXIDE LEVELS HIT NEW MILESTONE "Average global levels of carbon dioxide stayed above 400 parts per million, or ppm, through all of March 2015 -- the first time that has happened for an entire month since record keeping first began, according to data released this week by the National Oceanic and Atmospheric Administration (NOAA)." [Nick Visser, HuffPost]
WHOLE FOODS PLANS TO OPEN A CHEAPER CHAIN In part to combat its nickname, "Whole Paycheck." [AP]
WHAT'S BREWING
SAY IT AIN'T SO "The Mindy Project" has been canceled, but hope for a second act lives on in Hulu. [HuffPost]
BARRY BONDS AT 50 "He says he is indebted to cycling for filling the vacuum left by his retirement, and he often tells friends and strangers alike that the sport saved his life. It was the theme of a teary-eyed soliloquy at his 50th birthday party last summer at a San Francisco restaurant, where his cake was molded into the shape of a mountain with the figure of a rider at the base." [ESPN]
YOU SHOULD MAJOR IN SCIENCE For the record, we were English and Government majors. So we resent these articles. [WSJ]
JENNIFER ANISTON MIGHT STAR IN 'MEAN MOMS' The film, a sort of "Mean Girls" spin-off, will follow a suburban couple who are appalled at the actions of the "Mean Moms" who surround them. [Us Magazine]
YOUR FIRST LOOK AT MERYL STREEP AS A ROCK STAR "Ricki and the Flash" may be the summer movie we're most excited about. [Vanity Fair]
NO ONE WILL EVER BREAK KEN JENNINGS'S 'JEOPARDY' STREAK According to FiveThirtyEight. [FiveThirtyEight]
THE EVOLUTION OF THE 'HEALTHY DIET' From counting calories to the Paleo diet. [HuffPost]
WHAT'S WORKING
PARKING LOT HOMES MAY HELP SAN FRANCISCO'S HOMELESS POPULATION "There's just too much space reserved for cars in San Francisco, according to activist Steve Dombek, and it's not helping everyday residents who want to live in housing they can afford. In his reimagined street diagrams seen below, Dombek reduced the amount of space allocated for parking and driving, and used it instead to provide additional homes and businesses for San Franciscans." [HuffPost]
ON THE BLOG
ELTON JOHN: KEEP FUNDING PEPFAR "Today, thanks to the unprecedented actions of Congress, an HIV-positive mother in South Africa can give birth to a healthy, HIV-free baby who she can live to raise. Today, thanks to the generosity of the American people, 9.4 million men, women and children have access to life-saving antiretroviral treatment." [HuffPost]
BEFORE YOU GO
~ Growing research supports the survival of premature babies as early as 22 weeks.
~ Parents of the year award goes to this couple, who bribed their kids with cocaine to get them to do chores.
~ All the egg hacks.
~ Jennifer Lawrence is finally getting the payday Hollywood owes her.
~ Little Caesars is giving you the option to wrap your Twitter timeline in bacon. The choice is yours.
~ In nonessential viral news of the day, Kylie Jenner admitted to using lip injections.
~ U.S. airports still pale in comparison to international hubs.
~ The best advice Arianna Huffington has gotten over the years.
~ How Keurig missed the customer service boat.
~ Take a look at Reese Witherspoon's version of GOOP.
~ You can use the Apple Watch to send your baby's heartbeat to relatives.
~ And meet the Air Force's first female F-35 fighter jet pilot.
Send tips/quips/quotes/stories/photos/events/scoops to Lauren Weber at lauren.weber@huffingtonpost.com. Follow us on Twitter @LaurenWeberHP. And like what you're reading? Sign up here to get The Morning Email delivered to you.