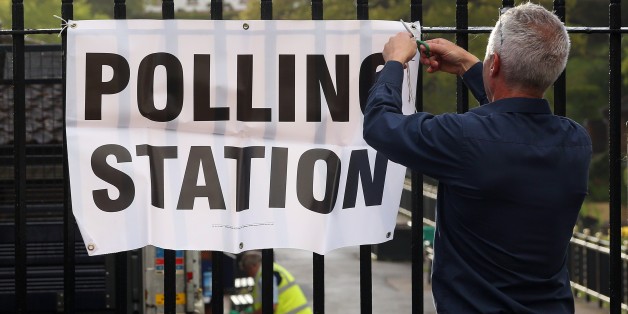 Polls in the UK forecast a close outcome with both major parties short of a majority. Hillary Clinton 'takes a hit,' or maybe she doesn't. And Jeb Bush runs stronger nationwide than he does in Iowa. This is HuffPollster for Thursday, May 7, 2015.
British voters cast their ballots on Thursday in what appears to be the closest contest in decades. The two main parties -- Prime Minister David Cameron's Conservatives and Ed Miliband's Labour Party -- deadlocked in the final round of opinion polls but likely falling short of the majority of the 650-seat-parliament needed to form a government.
Final national polls show dead heat - Anthony Wells: "Looking at the eight final polls we have so far the figures are very close in terms of the Conservative vs Labour race. Four companies (YouGov, ICM, Survation and BMG) have dead heats between Labour and Conservative, three have one point Conservative leads (TNS, Opinium and ComRes) and Panelbase have a two point Labour lead." [UK Polling Report]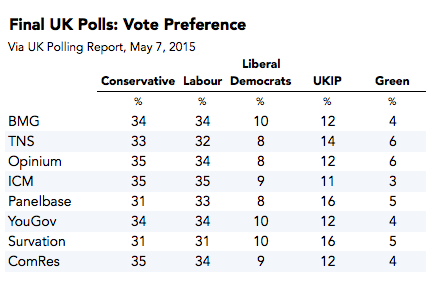 The five-day weighted average of national polls produced by the New Statesman for their election website, May 2015, shows a near tie as of this writing, with the two major parties separated by just 0.3 percentage points.

Winning party may not elect the Prime Minister - Keiran Pedley and Zac McCrary: "The U.K.'s parliamentary system and multi-party dynamics make it very possible (indeed even likely) that neither the Conservatives nor Labour will win a majority of the country's 650 seats in the House of Commons. In fact, that's exactly what happened after the 2010 elections. In the previous election, Conservatives won the most seats but fell short of an outright majority. For only the second time since WWII, a coalition government was necessary to help form a working government. Five years ago, the smaller, center/center-left Liberal Democratic Party supplied the additional votes necessary to make Cameron the first Tory Prime Minister since the mid-90s." [HuffPost]
Scottish Party critical - More from Pedley and McCrary: "While the Conservatives warily eye the emergence of an ideological threat on the right, Labour has to be concerned about the rise of the Scottish National Party (SNP) in traditionally-Labour dominated Scotland. Fueled largely by the ill-fated 2014 Scottish Independence Referendum, the left-wing SNP (a pro-Independence Party) looks likely to be a dramatically more significant factor in the 2015 elections than in past campaigns. Estimates have the SNP taking 35-50 of the 59 seats in Scotland, most coming at the expense of Labour (who currently hold 41). To put this in context, the most seats the SNP have ever held is 11. A post-election Labour-SNP coalition has been ruled out by both sides but a more informal relationship is possible. SNP leader Nicola Sturgeon has ruled out any deal (formal or informal) with the Conservatives."
Update - SNP gaining - Pedley and McCrary: "A recent poll showed the SNP some 34 points ahead of Labour in Scotland and some analysts have suggested that the the SNP could sweep all 59 seats in Scotland. Though unlikely, this would be some feat considering they only have 6 at present. As we might expect, this surge is crucial to the eventual election result. Labour currently have 41 seats in Scotland and substantial erosion to the SNP will significantly hurt Ed Miliband's chances of becoming Prime Minister." [HuffPost]
Forecasting seats - The final forecast of the Polling Observatory team, Robert Ford, Will Jennings, Mark Pickup & Christopher Wlezien, projects 32.6 percent of the vote to the Conservatives and 32.6 percent to Labour: "But that result will give the Tories only two more seats than Labour, and an 'anti-Tory' majority will exist in the House. Ed Miliband is the most likely post-election PM. That is the conclusion of four academics – 'Polling Observatory' – who have been offering election predictions on May2015 [and the Huffington Post] for the past two months. Before the campaign started, Observatory suggested Labour would just about win the most seats. After the first half of the campaign, they thought little had changed. Now they think the Tories have pulled ahead in the national vote, but think that will translate into a minimal Tory seat advantage. That will leave Labour as head of the most likely post-election bloc, because the SNP and other 'anti-Tory' parties will collectively hold a majority of seats in the House (323). A majority for either is, as we've known for a long time, extremely unlikely; the Tories' hopes are less than 0.2%. While the 'SNP surge' in Scotland looks ever more likely. We now predict they will win 54 of Scotland's 59 seats. [May2015]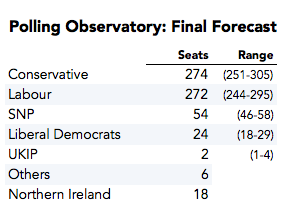 Other forecasts: None predict a majority, but some some better for Tories - Five other forecasts compiled by May2015 also show the two major parties falling short of an outright majority, although some have been slightly more bullish on the Conservative party. Election Forecast, whose projections have been published by Nate Silver's FiveThirtyEight, projects a 15-seat advantage for the Conservatives, and the Elections Etc model predicts a 32-seat Conservative margin. [May2105]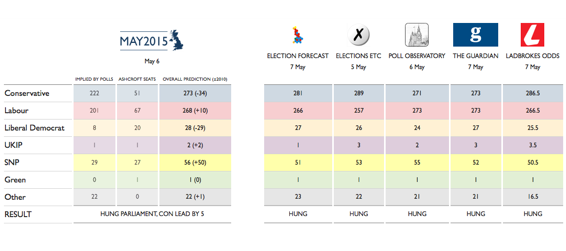 The discrepancy between online and phone polls - "There now appears to be a stark and critical difference between phone and online polls – as others have suggested before us. If we take an average of phone polls over the past fortnight, the Tories are more than three points ahead. If we take an average of online polls, the race is still tied. This divide didn't exist earlier this year. The data conflicted. This across-the-board methodological difference is recent and significant…[O]nline polls have put the Tories a point and a half lower, and Labour two points higher...If the polls continue to show this methodological divide, one form of polling is going to win on Thursday. Until then we can only theorise about who is right."
[May2015]
Exit pollster says his poll may be vague or wrong: - "The first indication of who's won Britain's general election will be an exit poll commissioned by news broadcasters. According to one of the academics putting it together, it's likely to be imprecise and may well be wrong. After successfully calling the election results of 2005 and 2010, the team who generate the poll face a much tougher challenge this time, as traditional voting patterns fracture amid the rise of insurgent groups such as the Scottish Nationalists and the U.K. Independence Party. The pollsters are preparing to hedge their bets." [Bloomberg]
NBC/WSJ: CLINTON 'TAKES A HIT' OVER THE PAST YEAR - Mark Murray: "Clinton's unfavorable rating has ticked up six points since March, and the percentage giving her high marks for being honest and straightforward has declined 13 points from a year ago. But here's the good news for her: Despite these hits, Clinton leads the Republican top-tier candidates in hypothetical general-election match ups. And she's the only 2016 candidate the poll tested who doesn't sport a negative favorable/unfavorable rating....In the new NBC/WSJ poll, Clinton's favorable/unfavorable rating stands at 42 positive, 42 negative (even) - down from 44 percent positive, 36 percent negative in March (+8)." [NBC]
CBS/NYT: But maybe not over the past month - Jonathan Martin and Megan Thee-Brenan: "Hillary Rodham Clinton appears to have initially weathered a barrage of news about her use of a private email account when she was secretary of state and the practices of her family's foundation...Americans now view Mrs. Clinton more favorably and more see her as a strong leader than they did earlier in the year, despite weeks of scrutiny about her ethics, a New York Times/CBS News poll has found. And nearly nine in 10 Democrats say the nation is ready to elect a woman president....Mrs. Clinton remains a polarizing figure — nearly the same percentage of Americans view her positively as negatively — but her favorability rating has improved by nine percentage points since the disclosure in late March that she did not use a government email account as secretary of state." [NYT]
'Why the dueling headlines?' - Jennifer Agiesta: "The differences are more in the point of comparison than anything in the current findings. In their March polls, these two had divergent results on Clinton's favorability rating. The NBC/Wall Street Journal poll -- which was conducted in early March just as the email controversy was emerging and before she responded to the story in a press conference at the U.N. -- found views of Clinton tipping positive, 44% to 36% negative, with 19% neutral. Later in the month, once the story had some time to simmer, the CBS News poll found her underwater, with 37% holding an unfavorable opinion and 26% favorable. Essentially, the NBC News/Wall Street Journal analysis is comparing Clinton's ratings now to those just before the story broke, while the CBS/New York Times poll is looking at Clinton's ratings now compared to the controversy's immediate aftermath." [CNN]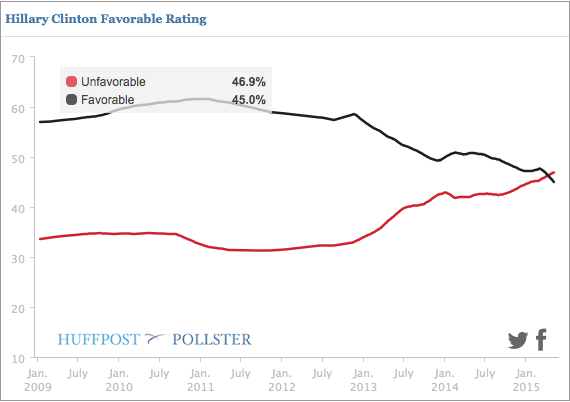 AP/GfK: Doubts about honesty - Lisa Lerer and Emily Swanson: "Is [Clinton] strong and decisive? Yes, say a majority of people. But inspiring and likable? Only a minority think so....In the survey, 61 percent said "honest" describes her only slightly well or not at all. Nearly four in 10 Democrats, and more than six in 10 independents agreed that "honest" was not the best word for her. Even so, she is viewed more favorably than her potential Republican rivals, none of whom are as well-known as the former secretary of state, senator and first lady." [AP]
WHERE THE REPUBLICANS STAND - Carrie Dann: "Former Florida Gov. Jeb Bush and Florida Sen. Marco Rubio lead the pack of Republicans seeking the GOP nomination for president, according to a new poll from NBC News and the Wall Street Journal... Rubio posted particularly impressive numbers when GOP primary voters were asked which potential candidates they could definitely see themselves supporting. Seventy-four percent said they could imagine backing [Rubio], while only 15 percent said they could not imagine supporting him (net +59). Seven in ten Republican primary voters said they could envision backing Jeb Bush, but more than a quarter - 27 percent - nixed that notion (net +43)." [NBC]
CBS/New York Times: "As the list of candidates for the Republican nomination continues to grow, Marco Rubio, Mike Huckabee and Jeb Bush are top contenders: just under half of Republican voters now say they would consider voting for each. Four in ten would consider voting for Ted Cruz and Rick Perry, and about a third would consider Rand Paul, Ben Carson and Scott Walker… Republican voters were asked to evaluate some potential candidates on specific qualities. Fifty-nine percent think that Jeb Bush has the right kind of experience to be a good president. Forty-nine percent think his views on issues are about right, but 22 percent think he's not conservative enough." [CBS]
Bush fares less well in Iowa... - HuffPollster: "Former Florida Gov. Jeb Bush is trailing six other Republican presidential hopefuls in an early Iowa Republican caucus poll conducted by Quinnipiac University. Bush takes just 5 percent among the likely Iowa Republican caucus goers asked about who they would vote for if the caucus were held today -- a 5-point drop from a Quinnipiac poll conducted in February. But Bush led on another question: A quarter of respondents said they would definitely not support him for president. Wisconsin Gov. Scott Walker leads the pack with 21 percent of the vote, followed by Sen. Marco Rubio (Fla.) and Sen. Rand Paul (Ky.), who are tied in second place with 13 percent." [HuffiPost]
...But better positioned in New Hampshire - "Currently, 15% of likely Republican primary voters support Bush, followed closely by Rubio (12%), Walker (11%)...'Bush, Rubio, Walker, and Paul seem to be separating themselves slightly from the rest of the field but this is likely due to press attention rather than any real campaign work'... When looking at electability scores (the percentage who support a candidate minus the percent who would not vote for that candidate), there is also no clear leader – Rubio (+11%), Walker (+10%), Bush (+7%)..." [UNH/WMUR]
Why Ben Carson and Carly Fiorina are very long shots - Natalie Jackson: "In the mix of governors, former governors, senators and former senators, we have … a neurosurgeon and a businesswoman, neither of whom is likely to do very well with voters. [Sixty-nine] percent of registered voters who are either very uncomfortable or have some reservations about a candidate running for president without prior elected experience. Fiorina and Carson could see a brief surge in the polls, but don't read too much into that... Neither 2016 outsider has much support so far. Fiorina is averaging less than 2 percent support and Carson hovers around 6 percent nationally and in the early primary states. Of course, that means little when most candidates are polling in the single digits. What is telling is that neither is viewed as having 'the right experience to be president.'" [HuffPost]
MORE OF THIS WEEK'S NATIONAL POLLS
-Race relations are at a two-decade low. [CBS, NYT]
-Sixty percent of blacks say recent events reflect "long-standing frustrations about police mistreatment of African Americans" while 58 percent of whites say people used protests "as an excused to engage in looting and violence." [WSJ]
-Satisfaction with health care is up. [Gallup]
-A majority wants the Supreme Court to OK same-ex marriage nationally. [NBC]
-Concerns grow over Secret Service, with fewer than half of Americans extremely or very confident that the Secret Service can protect President Obama from harm. [YouGov]
-Nearly three quarters of Americans find the use of drones to kill American-born terrorists abroad acceptable. [AP, Results]
-Sixty-three percent of Americans see wealth distribution as unfair, relatively unchanged since 1984. [Gallup]
-Most Americans think that public school teachers are underpaid. [HuffPost]
-REMEMBERING DAVE GOLDBERG - Adam Lashinsky: "Here are some of the descriptions you'll be hearing in coming days about Dave Goldberg, who died suddenly Friday at 47: friend, dad, husband, brother, Midwesterner, entrepreneur, poker player, mensch, investor, mentor...He was already a big deal when he met a big-deal executive at Google, Sheryl Sandberg. He eventually moved north when they became a couple. Goldberg went on to lead the investment group that bought SurveyMonkey, the cash-generating online company that pioneered the "freemium" business model so popular today with next-generation software companies like Evernote, Dropbox, and Eventbrite. It is with no hyperbole to say Goldberg was one of the most beloved among the truly successful people in Silicon Valley." [Fortune]
-Silicon Valley's 'heart' and 'soul' - Kara Swisher: "The accolades about Dave — no one who knew him called him David, and he was often called Goldie — were many, describing the man in glowing terms: Kind; humble; smart; modest; funny; wise. I can confirm — and, trust me, I would tell you if it was not the case — those were all much deserved and not nearly enough to explain what an important role Dave played in the ecosystem of Silicon Valley." [Recode.net]
-SurveyMonkey's growth - Lashinsky, from April 17: "By offering free online survey tools to the likes of schoolteachers and non-profit administrators, the privately-held company...has been able to rack up far more than $100 million in highly profitable revenues....[Goldberg] took charge six years ago when SurveyMonkey had about a dozen employees in Portland, Ore. Since then he's added nearly 500 people...and begun to position SurveyMonkey for corporate use. Its users complete about 3 million surveys a day, creating an enormous data pool SurveyMonkey can tap into when its users grant permission." [Fortune]
HUFFPOLLSTER VIA EMAIL! - You can receive this weekly update every Friday morning via email! Just click here, enter your email address, and click "sign up." That's all there is to it (and you can unsubscribe anytime).
THIS WEEK'S 'OUTLIERS' - Links to the best of news at the intersection of polling, politics and political data:
-Frank Bruni traces Democratic pollster Joel Benenson's path from Shakespeare to Hillary. [NYT]
-Sean Trende ponders whether Hillary can reassemble the Obama coalition. [RCP]
-Sabato, Kondik and Skelley see no path to victory for Republicans if they lose either Florida or Ohio. [Politico]
-Lynn Vavreck finds "surprising points of agreement" across party lines about when and why abortions should be legal. [NYT]
-The merits and pitfalls of using a sample size from mechanical turk. [WashPost]
-For big data, "the key question for isn't 'What did I measure?' but 'What did I miss?'" [NYT]
-The Upshot presents a detailed portrait of upward mobility in America. [NYT]
-Nathan Yau maps the most common races in the U.S. by county. [Flowing Data]

BEFORE YOU GO
PHOTO GALLERY
Obama's Handshakes Around The World