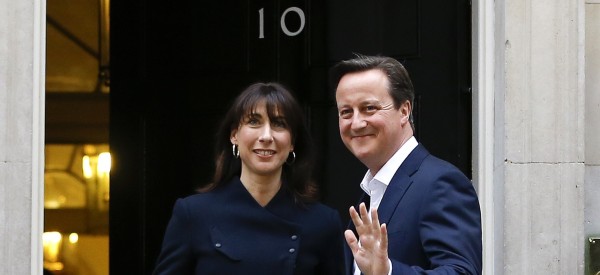 TOP STORIES
To get The Morning Email, HuffPost's daily roundup of the news, in your inbox, sign up here.
CAMERON AND CONSERVATIVES CINCH BRITISH ELECTION "Prime Minister David Cameron's Conservatives are set to govern Britain for another five years after an unexpectedly strong showing, but may have to grapple with renewed calls for Scottish independence after nationalists surged." Check out this primer on the election, and what it means for Scotland's future. [Reuters]

JUSTICE DEPARTMENT LAUNCHING INVESTIGATION INTO BALTIMORE POLICE The federal investigation will focus on whether or not the department "has engaged in a 'pattern or practice' of excessive force." [WaPo]
AMBASSADORS FROM NORWAY AND PHILIPPINES TO PAKISTAN KILLED IN HELICOPTER CRASH Pakistan's army has confirmed that six people have died in a helicopter crash in northern Naltar, Pakistan. [AP]
READY YOUR WALLETS: GAS PRICES RISING FOR THE SUMMER Prices have increased over a third since January. [WSJ]
WHEN EBOLA STAYS BEHIND "When Dr. Ian Crozier was released from Emory University Hospital in October after a long, brutal fight with Ebola that nearly ended his life, his medical team thought he was cured. But less than two months later, he was back at the hospital with fading sight, intense pain and soaring pressure in his left eye. Test results were chilling: The inside of Dr. Crozier's eye was teeming with Ebola." [NYT]
FBI WARNED LOCAL AUTHORITIES OF SUSPECT BEFORE TEXAS SHOOTING FBI Director James Comey said the Bureau had issued a bulletin to local authorities regarding Elton Simpson after becoming aware of his growing interest in the Muhammad drawing contest. [Kim Bellware, HuffPost]
WHAT'S BREWING
AN ELITE ATHLETE WHOSE BRAIN IS FIGHTING AGAINST HER BODY "On the surface, [star 14-year-old runner] Amaris Tyynismaa is having a great year. She hasn't ticked noticeably in months, and she thinks she's beaten Tourette syndrome. ('Do not say that I've gotten better,' she says. 'Say that it's completely cured, because it is cured.') But the brain doesn't miraculously change. The TS architecture is still there." [HuffPost]
REMINDER: SUNDAY IS MOTHER'S DAY Check out these great last minute gifts that won't cost you a dime. You're so very welcome. [HuffPost]
THE EMPATHY CARDS CANCER PATIENTS REALLY WANT With sayings like "One more chemo down! Let's celebrate with whatever doesn't taste disgusting" and "I'm really sorry I haven't been in touch. I didn't know what to say." [Today]
IT IS LEGAL TO TEXT AND DRIVE IN THESE FOUR STATES Say what? [HuffPost]
STEPHEN COLBERT GAVE $800K TO SOUTH CAROLINA TEACHERS Which will fund all the outstanding requests from South Carolina public school teachers on the crowdfunding site Donorschoose.org. [HuffPost]
WHAT A RETIREMENT HOME WILL LOOK LIKE IN 2025 Basically like a baby boomer version of "Animal House." [HuffPost]
ALL THE STAGES OF SHOPPING AT IKEA Including staring at the cash register and realizing you're paying to put all these pieces together. [HuffPost]
HOW TO EAT HEALTHY AT A PARTY Stay away from that dip bowl, just stay far away. [HuffPost]
WHAT'S WORKING
HOW MAJOR COMPANIES ARE ADDRESSING THE AUTISM UNEMPLOYMENT RATE "[Walgreens] employs a high number of individuals with autism and other disabilities at a distribution center in Anderson, South Carolina, which it opened in 2007. The pilot program in Anderson had such strong results -- the facility turned out to be the company's most productive, and more than 200 other companies have toured it -- that Walgreens expanded the model to other distribution centers." [HuffPost]
ON THE BLOG
BERNIE SANDERS: BREAK UP THE BIG BANKS "No single financial institution should have holdings so extensive that its failure would send the world economy into crisis. If an institution is too big to fail, it is too big to exist. The enormous concentration of ownership within the financial sector is hurting the middle class and damaging the economy by limiting choices and raising prices for consumers and small businesses." [HuffPost]
BEFORE YOU GO
~ ICYMI, The New York Times' nail salon expose is a must-read.
~ When Airbnb goes horribly, horribly wrong.
~ India's suicide tree.
~ FitBit filed for a $100 million IPO.
~ Tom Brady evaded questions about Deflategate like it was his job last night.
~ Behind the period photo that broke the internet.
~ Kate Hudson cut off her hair for her latest role.
~ Things are not looking up for Sansa in this "Game of Thrones" clip.
~ James Franco's ode to McDonald's.
~ We're jealous of Britain's polling stations.
~ America Ferrera is headed back to network television.
~ Jimmy Kimmel rectified that "Price is Right" treadmill snafu.
~ When your stay features complimentary high end kicks.
~ Pro tip: don't instagram your haul when you rob a bank.
~ Further proof Ed Sheeran is the most romantic.
Send tips/quips/quotes/stories/photos/events/scoops to Lauren Weber at lauren.weber@huffingtonpost.com. Follow us on Twitter @LaurenWeberHP. And like what you're reading? Sign up here to get The Morning Email delivered to you.