Don't mess with mama bear.

Tourists in Yellowstone National Park learned that lesson the hard way last Wednesday when they got too close to a trio of cubs.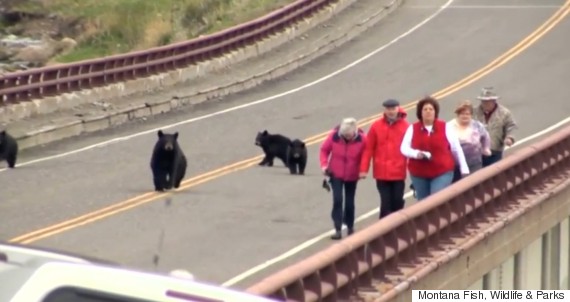 The National Park Service has a number of rules about viewing bears, and these tourists seem to have violated nearly all of them. NPS says to keep a distance of 100 yards (300 feet) and stay in your car when you spot the creatures along roads.
"The most dangerous place is between a mom and her cubs," Bob Gibson, Montana Fish, Wildlife and Parks Communication and Education Program Manager, told USA Today, saying the tourists were "very much in danger."
Since the cubs were about 13 months old, the mama bear wasn't as protective as she might have been. But when the she trotted toward the tourists, most of them quickly scattered.
"Had they been the young of the year and 10 days old, the mom would have been all over the tourists," Gibson told NBC News.
The bear vs. tourists footage was captured by Montana Fish, Wildlife & Parks photographer Winston Greely near the community of Gardiner, a Yellowstone gateway community.
"It serves as a reminder that wildlife can be unpredictable. For your safety and theirs, respect wildlife and give them room to roam," the agency wrote on its Facebook page. "View and photograph from established observation areas. Stay a safe distance to reduce stress on wildlife. Luckily, no one was hurt and these bears made it safely back to the forest."
"It's a beautiful animal we can all enjoy," wildlife expert Jack Hanna told ABC News. "It's their home. Treat them with respect and film them at a distance, that's all."
For more information on bear safety in Yellowstone, visit the NPS website.
(h/t Washington Post)
BEFORE YOU GO
PHOTO GALLERY
Yellowstone