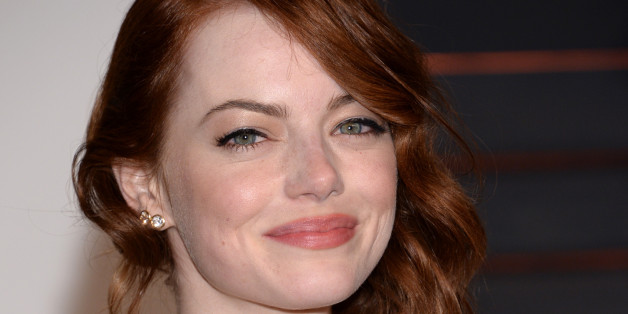 Everyone's favorite Hollywood couple, Emma Stone and Andrew Garfield, may have split in April, but the actress can still appreciate Garfield's way with words.
The "Aloha" star sat down with Diane Keaton for her cover story in Interview magazine, for which the two reflected on their careers and shared movie memories. During the interview, Keaton also quoted something Garfield said about Stone in the actresses' July 2012 cover issue of Vogue.
"Andrew Garfield said, 'Working with Emma was like diving into a thrilling, twisting river and never holding on to the sides,'" Keaton says to Stone. "'From the start. To the end. Spontaneous. In the moment. Present. Terrifying. Vital. The only way acting with someone should be.' My God. I mean, what did you feel when you heard such a dream-come-true observation?"
Stone praised Garfield: "He is such a poet," she said, laughing. "But that's the way he writes in general. So I hear it and of course my heart swells up. And I also know that he writes things like that on a daily basis."
Although Stone and Garfield had previously dated since 2011, the two reportedly broke up last month over what sources cited as issues with long distance. However, Stone's Interview with Keaton took place in March, before the split, according to People magazine. Either way, we're going to pretend Garfield is still writing his heart-swelling poetry every day.
For more, head to Interview.
BEFORE YOU GO
PHOTO GALLERY
Celebrity News & Photos