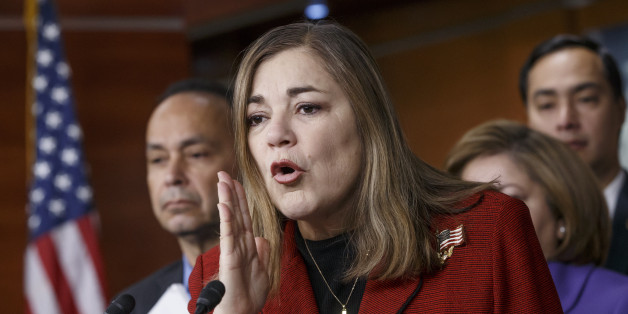 UPDATE: 8:04 p.m. ET -- Rep. Loretta Sanchez (D-Calif.) denied a report that she will announce her intentions to run for Senate this week, telling the Los Angeles Times that a draft announcement email was leaked to reporters.
"I have actually not made a decision," Sanchez told the Los Angeles Times. "That is the truth."
Previously:
Rep. Loretta Sanchez (D-Calif.) will announce Thursday she is running for California's open Senate seat, the congresswoman said in a Tuesday email to supporters.
According to the Sacramento Bee, Sanchez will make her 2016 Senate bid official at a press conference in Santa Ana, California, Thursday morning, one day ahead of the start of the California Democrats' annual convention.
Sanchez's congressional office did not immediately return The Huffington Post's request for comment.
Sanchez is the first major Democratic challenger to early frontrunner Kamala Harris, the state's attorney general. Harris, also a Democrat, announced her campaign in January, shortly after Sen. Barbara Boxer (D-Calif.) said she would not seek re-election in 2016. On the Republican side, state Assemblyman Rocky Chávez announced his campaign in March.
Harris' early entry into the race has given her a fundraising edge over Sanchez and any other potential challengers. As of last month, she had raised $2.5 million for the race. Sanchez, meanwhile, had approximately $540,000 cash on hand at the end of March. The state attorney general has also racked up a number of high-profile endorsements, including from Democratic Sens. Cory Booker (N.J.), Kirsten Gillibrand (N.Y.) and Elizabeth Warren (Mass.).
Sanchez, however, has criticized Harris for her lack of legislative experience, casting Harris as the candidate of the "political elite."
"As a Californian and as a voter, I'd like to know where she stands on things," Sanchez, who was first elected to Congress in 1996, said last month. "And I'd like to see somebody who runs with some experience. I don't think her experience applies here. That's just me personally. Other Californians can make their choice. Maybe they like her pearls."
A Field Poll conducted earlier this year found 46 percent of Californians would be inclined to support Harris versus 39 percent who said they would back Sanchez.
BEFORE YOU GO
PHOTO GALLERY
Scenes From Capitol Hill