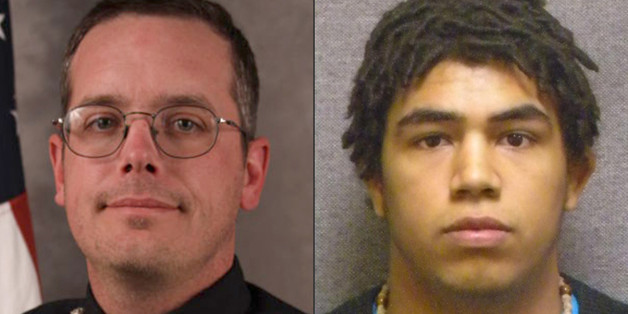 Madison, Wisconsin, police officer Matt Kenny, who fatally shot unarmed teen Tony Robinson in March, will not face charges, the district attorney said Tuesday.
"I conclude that this tragic and unfortunate death was the result of a lawful use of deadly police force and that no charges should be brought against Officer Kenny in the death of Tony Robinson Jr.," said Dane County District Attorney Ismael Ozanne.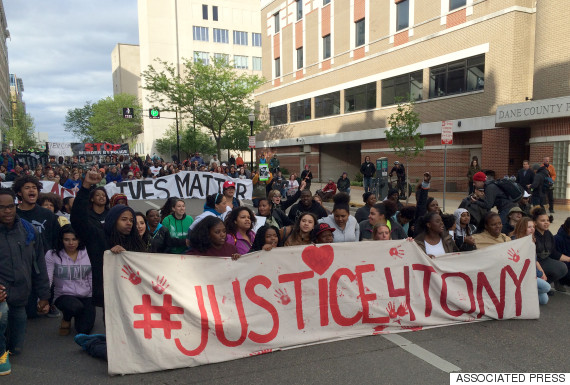 Protesters march on May 12 after hearing the officer who shot Tony Robinson would not be charged.
Kenny shot the 19-year-old inside an apartment near the Wisconsin state Capitol on March 6. Police said the officer was responding to calls that the biracial teen was running in and out of traffic, the Milwaukee Journal Sentinel reports. According to Ozanne, Kenny said Robinson struck him on the side of his head and knocked him into the wall. Police also said they later received reports alleging that Robinson had assaulted two other people.
Ozanne said that marijuana, Xanax and psychedelic mushrooms were found in Robinson's system.
Shortly after the district attorney's announcement, the Wisconsin Department of Justice released its report, which similarly suggested that Robinson's allegedly erratic behavior could be explained by the use of 'shrooms.
Robinson's death sparked protests in Madison, and hundreds of people attended his funeral in mid-March.
On Tuesday, Chris Ahmuty, executive director of the American Civil Liberties Union of Wisconsin, criticized the decision not to file charges as leaving a "cloud of uncertainty" over the circumstances of and responsibility for Robinson's death.
"If Officer Kenny did not violate the law, then is anyone legally responsible for Mr. Robinson's death?" Ahmuty said in a statement. "Does the criminal law protect individuals like Mr. Robinson from deadly force exercised by police officers? Are police officers above the law?"
Ahmuty also called for greater transparency from the police. "Furthermore, what will the Madison Police Department do to ensure that Madison police officers stop killing unarmed individuals, when they have killed three people in the past 11 months? The MPD needs to find ways to hold officers accountable, so that they will know there will be consequences for their actions," he said.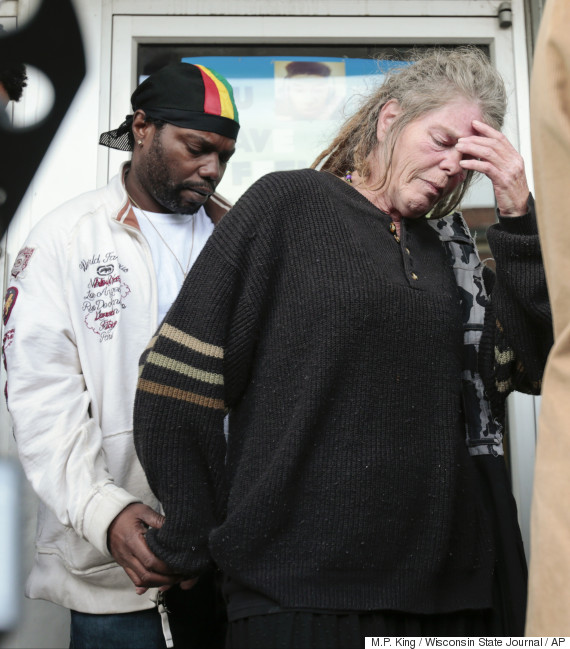 Sharon Irwin (right), grandmother of Tony Robinson, leaves a May 12 news conference at the Social Justice Center in Madison, Wisconsin.
Meanwhile, Robinson's mother, Andrea Irwin, said she wasn't surprised that the district attorney declined to file charges.
"They could have done a lot. What they didn't do was give my son any respect," Irwin told the Associated Press, noting that she doesn't think the investigation was thorough enough.
At a Tuesday evening press conference, Robinson's grandmother, Sharon Irwin, said he had been "slandered from the beginning" and decried the way he had been portrayed by the district attorney and in local news.
"I will miss him for the rest of my life, when you go home and don't have to deal with this anymore," Irwin said. "This is forever for me."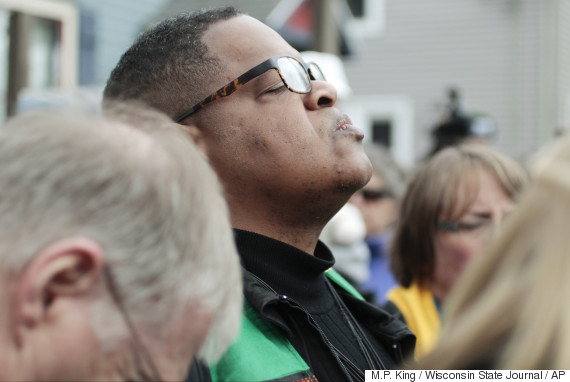 Rev. Chris Long, an ordained Unitarian Universalist minister, and other clergy and community leaders gather along Madison's Williamson Street to listen to the press conference of Dane County District Attorney Ismael Ozanne on May 12.
Jim Palmer, executive director of the Wisconsin Professional Police Association and an attorney for Kenny, called the decision not to prosecute "appropriate."
"The exhaustive independent and transparent investigation into this tragic incident has confirmed that Officer Kenny's actions on the night of March 6 were lawful and in response to a deadly threat, from which Officer Kenny sustained numerous injuries, including a concussion," he said in a statement.
Palmer added, "Our hearts go out to Mr. Robinson's family, and we appreciate the challenges and emotions that this incident has inspired."
He called for the city to unify and engage in a "community-wide dialogue to strengthen the relationship between law enforcement and the people it serves, and to otherwise move forward in a way that protects all of our citizens and the officers that police our streets."
During the press conference Tuesday, the family's attorney, Jon Loevy, said Robinson's relatives support the right of community members to express their anger and frustration, but he also urged restraint.
"The family feels strongly that protests should be not violent. They should be calm," Loevy said. "This is not a situation where people should get hurt or the community should tear itself apart. We're confident the community of Madison is not about that because Tony's not about that."
Some protesters holding "Black Lives Matter" banners gathered near Williamson Street shortly after the district attorney's decision was announced.
Protesters blocking Willy St as faith leaders hold Black Lives Matter banner. pic.twitter.com/yRX4hmOU4X

-- Jason Joyce (@jjoyce) May 12, 2015
Just after the state's inquiry into Robinson's death began, his uncle, Turin Carter, had said he trusted investigators would act "with integrity," NBC News reported. Wisconsin and Connecticut are the only U.S. states in which officer-involved shootings cannot be investigated by the law enforcement agency involved.
BEFORE YOU GO
PHOTO GALLERY
Photo Evidence In Tony Robinson Case