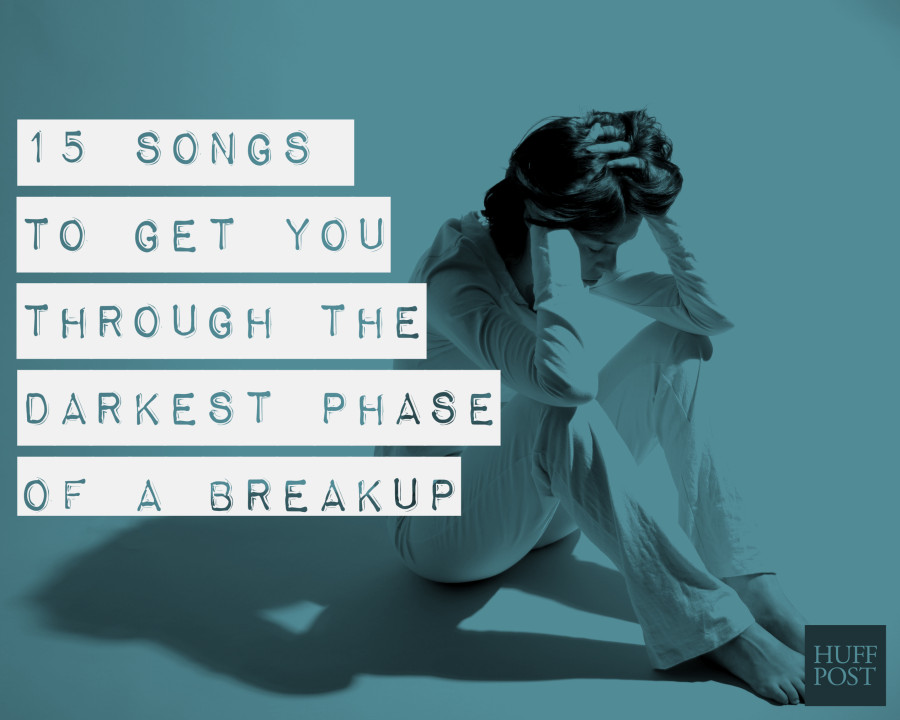 When I went through my first major breakup, I let myself go to a very dark, heartbroken place. Consolations like, "You'll get over it eventually" or "At least now you know what you want from a relationship," meant nothing to me. I just wanted to sit at home, lean into the pain and listen to the most depressing music I could find.
The thing is, all of those miserable songs actually made me feel better. It was as if Karen Carpenter, Elliott Smith and Otis Redding were giving me permission to just feel sad. I didn't have to make intentionally distracting social plans or download Tinder or do anything resembling "moving on." I could just lie upside-down in my bed and let myself wallow in pure, musical catharsis.
My playlist may not work for everyone, but hopefully the songs will give a few heartbroken people something to cling to until they reach the empowered, Gloria Gaynor phase of newfound singledom -- sort of like musical morphine for the pain.
(Scroll down for the Spotify playlist version.)
1. "Goodbye To Love" by The Carpenters
There's something particularly relatable about Karen Carpenter's buttery, "aching alto" declaring that she'll never be loved -- it's the kind of melodrama that speaks to a newly broken heart.
2. "Somebody That I Used To Know" by Elliott Smith
Hearing Smith's fingers slide between the frets on his guitar is such an intimate listening experience that you almost feel as if he's in the room with you and you're not completely alone in your temporary hopelessness.
3. "Lonesome Town" by Ricky Nelson
The title says it all.
4. "I Was The One" by Elvis Presley
It's never too early to start taking credit for all the good things your ex learned from you.
5. "These Arms Of Mine" by Otis Redding
The way Redding yearns and begs for someone's love is just the right amount of pitiful.
6. "Can't Nobody Love You" by The Zombies
The Zombies' version of this song is understated, but it still strikes a sad, emotional chord.
7. "Superstar" by Sonic Youth
Best known as a Carpenters song, this cover by Sonic Youth delivers both all-consuming instrumentals and devastating lyrics.
8. "Ripchord" by Rilo Kiley
This song was said to be written in response to Elliott Smith's suicide, but it evokes a feeling of overwhelming loss that's relatable to those falling out of love.
9. "Between The Bars" by Madeleine Peyroux
This Elliott Smith cover elicits a totally different kind of angst than the original, but it's just as powerful.
10. "You're On My Mind" by The Animals
Three words: haunting organ music.
11. "Left Alone" by Fiona Apple
When she sings, "How can I ask anyone to love me when all I do is beg to be left alone?" it feels incisively spot-on.
12. "But Not For Me" by Chet Baker
This classic Gershwin jazz standard perfectly sums up the feeling that love is some exclusive club that you'll never be a part of.
13. "What'll I Do" by Nancy Sinatra
For those days when the future just seems bleak and uncertain.
14. "Don't Look Back In Anger" by Devendra Banhart
This Oasis song isn't about love -- or anything, apparently -- but Banhart's cover is the perfect amount of sad for a post-breakup haze.
15. "Don't Think Twice, It's Alright" by Bob Dylan
"Goodbye's too good a word, gal, so I'll just say fare thee well." Amen.
Listen to the playlist here:
BEFORE YOU GO
PHOTO GALLERY
10 Breakup-Themed Comics