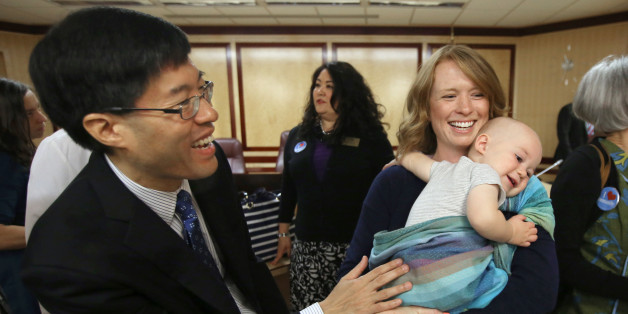 A bill that would make vaccines mandatory for nearly every child in California passed the state Senate on Thursday morning.
The controversial bill ensures that parents enrolling their children in California schools will be allowed to opt them out of immunizations only for medical reasons and may no longer cite religious or personal belief exemptions as reasons not to vaccinate. It passed 25-10 in the Senate, The Associated Press reported.
The bill is a response to a significant measles outbreak that started at Disneyland in Anaheim, California, and resulted in at least 131 cases.
"Vaccines are necessary to protect us, but that protection has been eroding," Sen. Richard Pan (D), who co-authored the bill with Sen. Ben Allen (D), said in his final remarks before the vote, according to The Sacramento Bee. "We need to do more to protect our communities."
The bill now advances to the state Assembly and, if passed by that chamber, to Democrat Gov. Jerry Brown's desk for final approval. While the governor has not taken a stance on whether vaccines should be mandatory, a spokesman told the Los Angeles Times that Brown "believes that vaccinations are profoundly important and a major public health benefit, and any bill that reaches his desk will be closely considered."
If the measure becomes law, California will join Mississippi and West Virginia as the only states with such strict vaccine requirements. Bills aimed at limiting non-medical exemptions to vaccines failed in Washington state and Oregon in March.
Since the bill was introduced, the state's vocal anti-vaccination community has staged protests outside lawmakers' offices throughout the state. Pan's office has received so many phone calls that it had to open a second phone line, ABC 7 reported.
BEFORE YOU GO
PHOTO GALLERY
Where Politicians Stand On Vaccinations