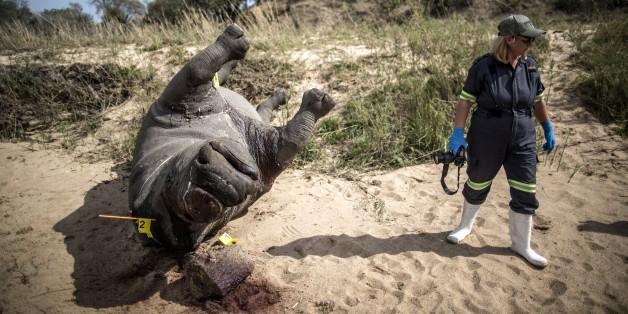 They may look like tanks, but sadly, they're far from bulletproof.
Poachers in South Africa, home to some 20,700 rhinos, are on track to top last year's record slaughter of the creatures as the country struggles to halt the growing scourge. In the first four months of the year, 393 animals were killed across the country, an 18 percent increase over the same time period in 2014. A majority of those rhinos, 290, were gunned down in Kruger National Park, according to South Africa's national parks service.
The battle between park rangers and poachers has grown deadly over the past year. Rangers killed several armed poachers in the country's flagship national park in both December and January as a spokesman for the national parks service warned criminals were "redirecting their attentions" to rhinos, The New York Times reported.
At least 62 poachers have been arrested in Kruger this year, many coming from neighboring Mozambique.
Yet the animals are still being killed by poachers looking to make a quick payday. Rhino horn can be worth more than its weight in gold, fetching up to $75,000 a kilogram. Ground-up horn is highly desired as a folk medicine in some Asian countries, where it is incorrectly thought to cure everything from cancer to infertility. But the animal part is actually just made of keratin, the same fibrous protein found in human fingernails.
The government and animal welfare groups have tried many strategies to save the rhinos, including filing down their horns or injecting them with a bright pink compound that's poisonous to humans. Some rhinos are kept under 24-hour armed guard, while others are protected by trained attack dogs.
Tech-savvy conservationists have even turned to drones to help protect rhinos and elephants. Drones can assist rangers to greatly reduce poaching in areas they guard.
BEFORE YOU GO
PHOTO GALLERY
100 Most Threatened Species