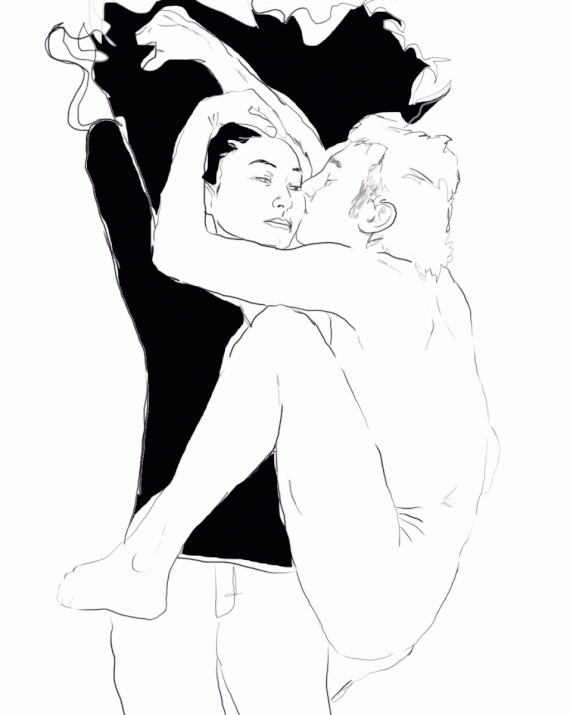 Illustration by Priscilla Frank
In 1980, John Lennon and Yoko Ono sat down for an interview with David Sheff of Playboy Magazine. The two were finally back in the studio, recording again for the first time since 1975, the year the pair vanished from public view. After inquiring about his new life as a "househusband," Sheff asked Lennon how he felt about the barrage of negative press launched at Ono, borrowing the epithet Lennon once facetiously employed: "exotic, Oriental dragon lady."
At this point, all questions have been directed toward Lennon, not Ono.
The tension of the interview escalates as Lennon insists on the ridiculousness of the anti-Yoko sentiments, until the former Beatles member eventually interrupts the interviewer, stands up and begins to climb a nearby refrigerator. "Nobody ever said anything about Paul's having a spell on me or my having one on Paul! They never thought that was abnormal in those days, two guys together, or four guys together!... The four of us sleeping in the same room, practically in the same bed, in the same truck, living together night and day, eating, shitting and pissing together! All right? Doing everything together! Nobody said a damn thing about being under a spell."
Yoko Ono hate has, for decades, formed a dark fog around the involuntary celebrity, obscuring her immense contributions to visual, sound and conceptual art. Her name is often associated with loaded, sexist and racist terminology such as "dragon lady," "home-wrecker" and "fucking psycho." As Lennon himself said, she's "the world's most famous unknown artist: everybody knows her name, but nobody knows what she does."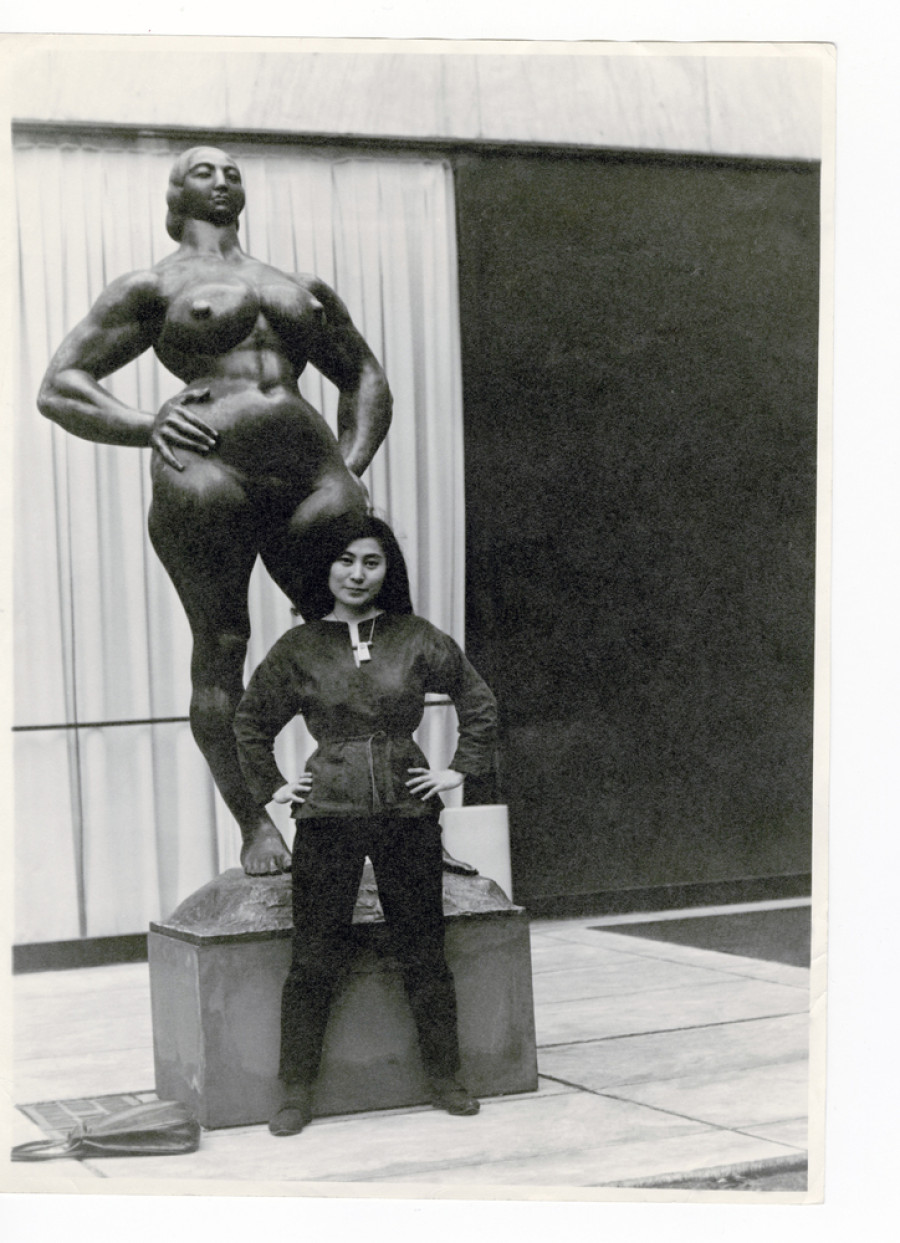 Yoko Ono with Standing Woman (1932) by Gaston Lachaise, The Museum of Modern Art Sculpture Garden, New York. c. 1960–61. Photograph by Minoru Niizuma. © Minoru Niizuma. Courtesy Lenono Photo Archive, New York
Beginning this month, the Museum of Modern Art hopes to shine an informative light on the many triumphs of the revolutionary artist in her first official exhibition at the institution, "Yoko Ono: One Woman Show, 1960–1971," curated by Klaus Biesenbach and Christophe Cherix, showcasing works from the artist's most fruitful decade.
The show comes 44 years after Ono's "imaginary" exhibition at the same museum in 1971, a protest against the space's inclination toward white, male and dead artists. For that show, titled "Museum of Modern [F]art," Ono released a batch of flies on the museum grounds, inviting patrons to follow the little guys as they flew throughout the city. The gesture embodied Ono's revolutionary yet humble spirit -- one that suggests a nearly invisible insect could potentially shift the weighted traditions of a haughty art establishment.
Now that Ono's earned herself an official spot on the MoMA bill, it seems perhaps those little flies did their duty.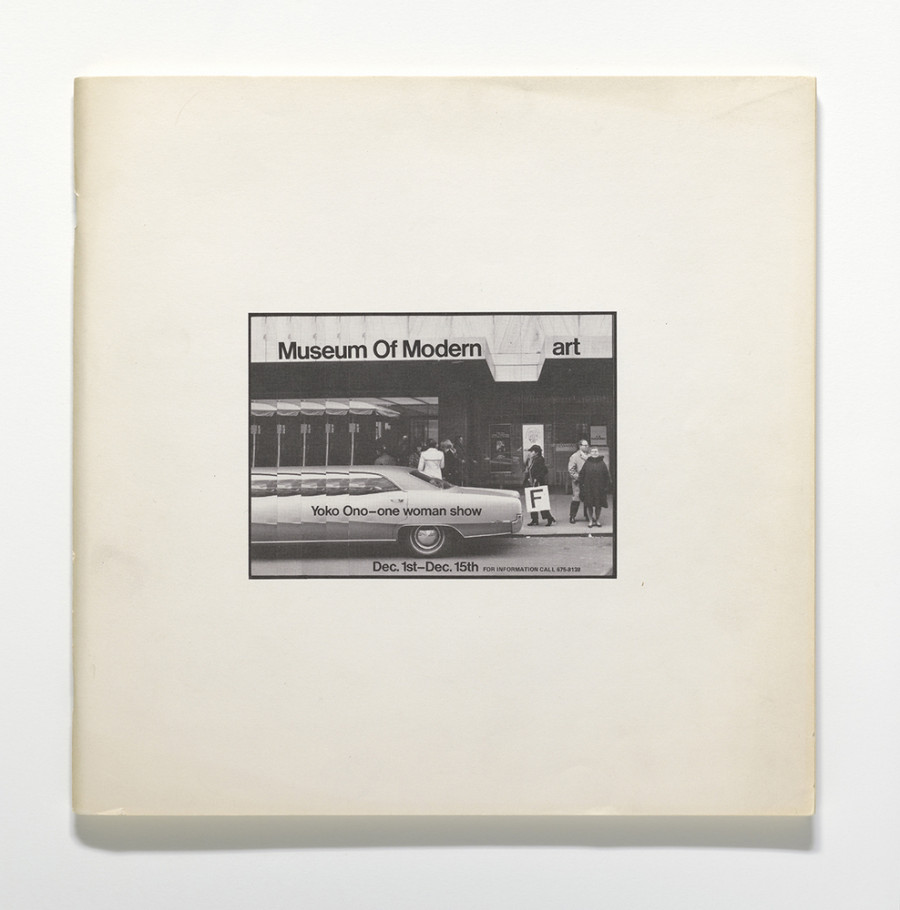 Yoko Ono (Japanese, born 1933) Museum of Modern [F]art. 1971. Exhibition catalogue, offset, 11 13/16 x 11 13/16 x 3/8″ (30 x 30 x 1 cm). The Museum of Modern Art Library, New York. © Yoko Ono 2014
For the majority of the world, the phenomenon of Yoko hate commenced when she fell in love with John Lennon, and, more problematically, he with her. But Ono herself recalls memories of being overlooked and undermined far earlier. Ono was born in Tokyo in 1933 to a Buddhist mother/classical painter and a Christian father/classical composer and pianist.
"One reason why my artwork was kind of ignored as a child was because my mother was such an incredible traditional painter," Ono explained in an interview with The Huffington Post. "Whenever I did something she'd say 'Wait, a minute. You don't do it that way!' She interfered with my painting. I really thought she had the right to, as a professional artist. But I felt intimidated and also guilty for pursuing art when my mother was supposed to be the one artist in the house."
While not quite nurturing of her budding artistic interests as a child, Ono's parents did provide her with a vibrant example of a loving relationship, between two creatives nonetheless. "People think that Asian people have arranged marriages or something like that, but it's not true," she said. "They met in school, they got very into it and they got married. Both of them were very artistic people. I came into the picture and I had my own thing going. But it was not really appreciated by them. The kind of thing I was doing was a little bit too far out."
"When I met John it was great because John was a far out guy," Ono continued. This meeting came long after she, at 18, became the first female student to enroll in Gakushuin University's philosophy department. She dropped out after two semesters and in 1953, after her family relocated to the United States, began studying at Sarah Lawrence University.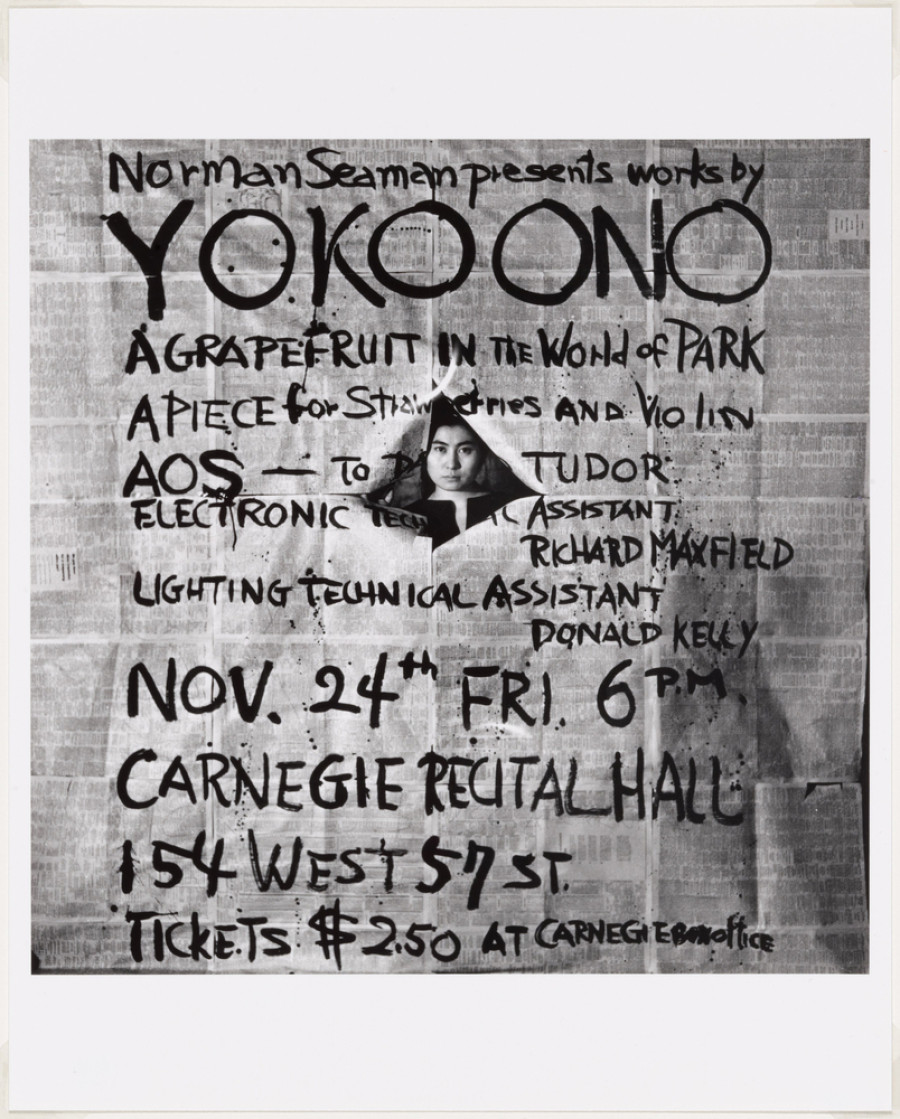 Works by Yoko Ono, poster, Carnegie Recital Hall, New York, November 24, 1961. Photograph by George Maciunas. The Museum of Modern Art, New York. The Gilbert and Lila Silverman Fluxus Collection Gift, 2008. © 2014 George Maciunas
Within three years Ono was immersed in the burgeoning New York avant-garde scene, renting a Chambers Street loft for $50.50 a month and hanging out with the likes of Philip Glass and Marcel Duchamp. She eloped with Japanese experimental composer Toshi Ichiyanagi, and, after that marriage disintegrated, she wed Anthony Cox, with whom she gave birth to a daughter named Kyoko Chan Cox in 1963. Their romantic relationship soon fell apart, and eventually Cox disappeared with their then-eight-year-old daughter, whom Ono did not see again until 1998.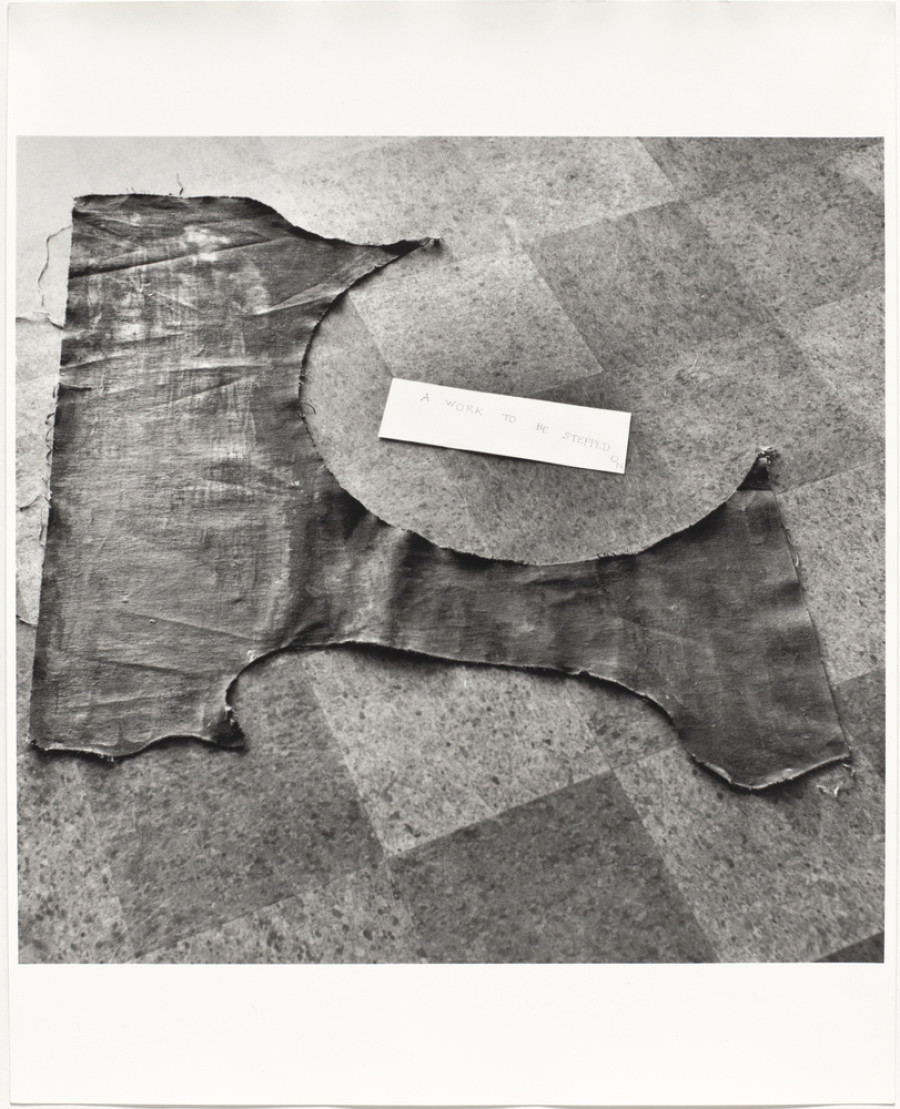 Painting to Be Stepped On. 1960/1961. Installation view, Paintings & Drawings by Yoko Ono, AG Gallery, New York, July 17–30, 1961. Photograph by George Maciunas. The Museum of Modern Art, New York. The Gilbert and Lila Silverman Fluxus Collection Gift, 2008. © 2014 George Maciunas
Amidst these tumultuous relationships, Ono was establishing her place in the art scene. Her 1960-1961 piece "Painting to Be Stepped On" was, as you may have guessed, a canvas laid on the ground, on top of which viewers were invited to tread. The work, in typical Ono fashion, removed the artist from her pedestal and invoked the populous to complete the piece. Audience participation was often a crucial factor of Ono's works, a somewhat dangerous alternative considering her largely negative reception.
One of Ono's most famed works is her 1964 "Cut Piece," a performance in which the artist sat frozen before an audience with a pair of scissors plopped before her, inviting audience participants to chop, snip, and remove her items of clothing as they wished. Ten years before performance art diva Marina Abramovic invited viewers to encounter her immobile body equipped with objects ranging from a feather to a gun, Ono tested the relationship between artist and viewer, challenging the trust that may or may not connect them. Sometimes sexual, sometimes violent, sometimes entirely generous, the aftertaste of the piece was up to the climate of the audience.
Ono met Lennon on November 7, 1966. He visited one of her shows at London's Indica Gallery. He had no previous knowledge of her work, nor she of his. Lennon took a liking to Ono's "Ceiling Painting," a blank canvas flat on the ceiling with the word "YES" written in tiny letters, so small one needed to climb up a step-ladder and look through a magnifying glass to get a glimpse. "Now, at the time, all the avant-garde was smash the piano with a hammer and break the sculpture and anti-anti-anti-anti-anti. It was all boring negative crap, you know," Lennon told Playboy. "And just that 'Yes' made me stay in a gallery full of apples and nails."
The two -- despite both being married at the time -- fell in love. "He was suffering, slightly, and was not able to show those things, being a Beatle," Ono explained in our interview. "I said to him: 'Do you want to do a show or something?' He said 'Do you think I can?' And I said 'Of course you can, why wouldn't you?' And he said 'Well, because I'm a Beatle.' I did not understand the enormous amount of attention the Beatles were getting."
Ono encouraged Lennon to explore other artistic avenues; a collection of his Asian-inspired doodles are currently on view in Virginia.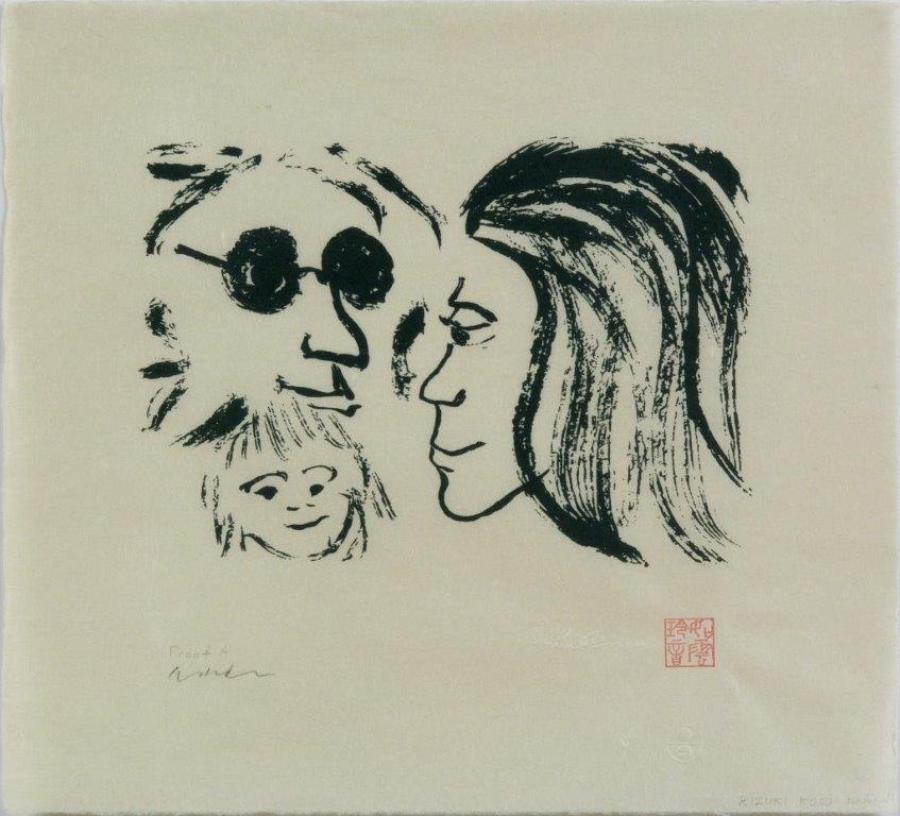 John Lennon, Family Of Peace, via Chasen Galleries
"In a way both John and I ruined our careers by getting together," Ono told The Telegraph. "Although we weren't aware of it at the time." Lennon was a rock god, performing for stadium crowds, Ono an avant-garde pioneer, operating in the scene-iest of scenes. Lennon's massive following didn't embrace Ono's work -- in fact, most hated it -- but, for once, her vision was reaching the spaces of the everyday, a common thread throughout her entire practice. "My goal is not to be applauded," Ono wrote in ArtForum. "Rather, it's to succeed in painting a good work of art. My fundamental, lifelong need is to put beauty in the world."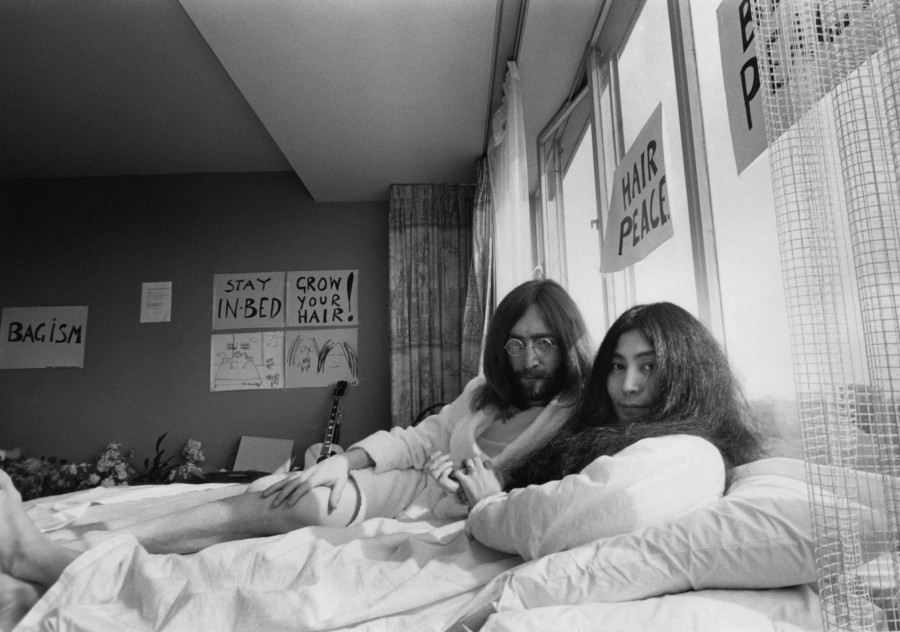 Bed Peace, 1969 via Guggenheim Bilbao
Yoko and John represent two different versions of the celebrity artist, two different breeds requiring two different habitats to survive. When the two began to coexist, they sabotaged each other. Although perhaps only temporarily. Though shunned at the time, the experimental Ono unwillingly opened up a space that, someday, somehow, would integrate the avant-garde into the everyday.
"We never thought that people would understand it. John and I were pretty much into our work, we felt good about our work," Ono explained. "I may sound a little bit too much into myself maybe, but I'm an artist! We felt good about what we were doing. But the world was not ready to recognize it."
In a way, Lennon and Yoko's love was in itself an alternate version of "Cut Piece," inviting strangers to inflict on her whatever they wished, or perhaps "Museum of Modern (F)art," ushering art lovers out of the museum and into the real world. After Lennon's death in December 1980, Ono was left in a strange limbo, where, as John said, everyone knew her name and yet no one quite knew why.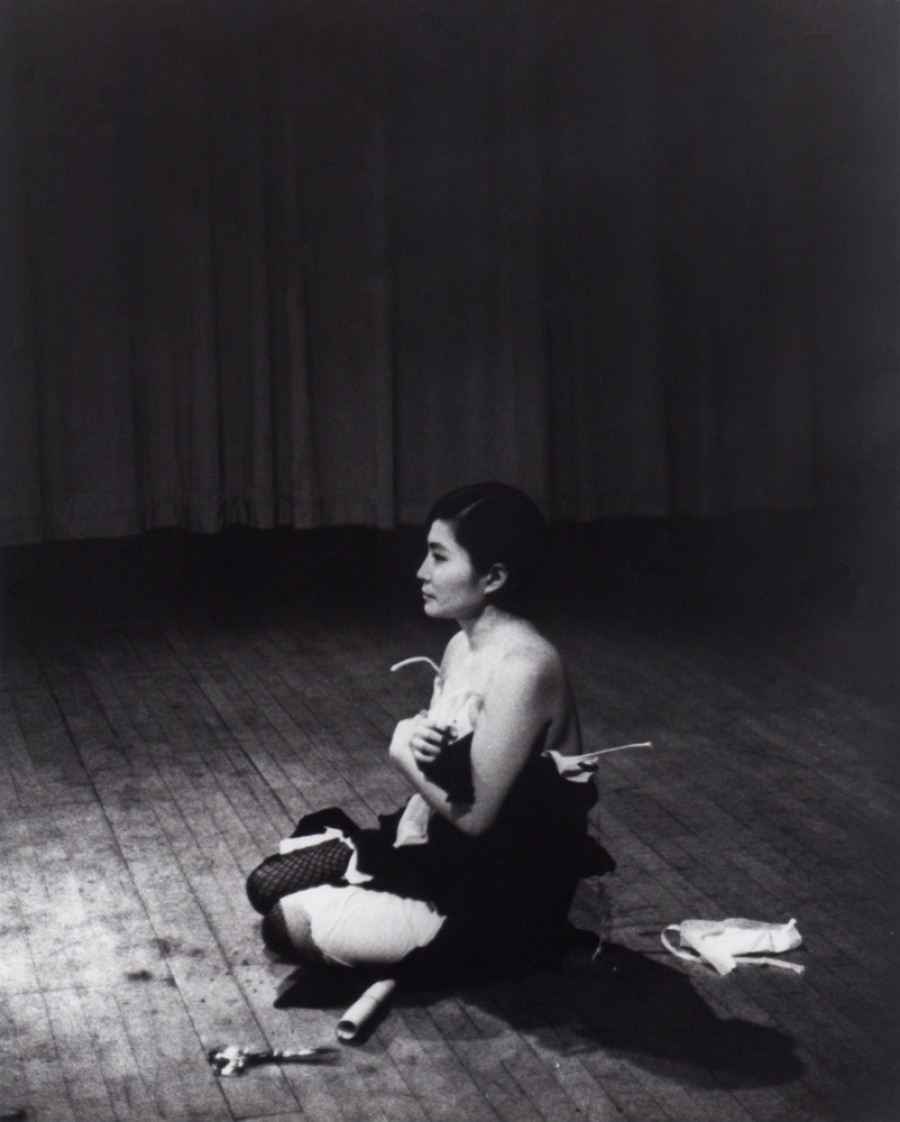 Cut Piece (1964) performed by Yoko Ono in New Works of Yoko Ono, Carnegie Recital Hall, New York, March 21, 1965. Photograph by Minoru Niizuma. © Minoru Niizuma. Courtesy Lenono Photo Archive, New York
Fast forward 35 years and Ono, now 82, is still working constantly -- truly, she never stopped. "I sleep four hours a night,"she explained. "I wake up and work until dawn. In the afternoon I nap, so I'm not working only on four hours. I get enough sleep eventually, because of the naps."
Surprisingly, Ono's work seems to fit into the contemporary landscape far more than that of the 1960s. In 2013, she released a book, Acorn, a follow-up to her 1964 work Grapefruit. Both books take shape with a sea of instructions, at once silly, profound, impossible and revolutionary. She self-published the original book from her New York loft, selling copies for $7. Advice included, "Use your blood to paint. Keep painting until you faint. Keep painting until you die" and, "Imagine the clouds dripping. Dig a hole in your garden to put them in." The Acorn snippets are from the same family: "Imagine a dolphin dancing in the sky. Let it dance with joy. Think of yourself at the bottom of the ocean watching," or "Imagine painting all the buildings in the city the colour of light."
As Lindsay Zoladz's piece "Yoko Ono and the Myth That Deserves to Die" points out, the compact instructions lend themselves to our digital age today. "They feel, now, like the 1960s version of a tweet," she said. Not that Ono is a stranger to the 2000s version of a tweet either. She has 4.74 million followers, a number unheard of for most fine artists, and sprinkles the web often with her words of offbeat wisdom.
Next time you meet a 'foreigner', remember it's only like a window with a different shape to it and the person who's sitting inside is you.

— Yoko Ono (@yokoono) May 9, 2015
Not one to limit her online presence to a single platform, Ono has also experienced her 15 minutes of viral fame on YouTube, if unwillingly. In 2010, the artist revived a 1961 piece titled "Voice Piece For Soprano" as part of MoMA's retrospective exhibit "Contemporary Art From The Collection." The work, which stretches the understanding of a song by any conception, features Ono at the mic, yelping, spasming, wailing, screeching, shivering, belching, hiccuping and generally creating sounds not often heard outside of wild animal parks.
Inside the art world, the piece was received positively; The Times dubbed it "very un-MoMA ... unpredictable, uncontrolled, anarchic, all that the institution is not." However, outside the white walls of the insular art cube Ono made a decidedly different mark. The trolls descended, merging Ono's iconic yelps with a variety of pop songs, from Katy Perry's "Firework" to LMFAO's "I'm Sexy And I Know It."
As Huffington Post's Mallika Rao explained: "The bigger subversion lies in toppling the exclusivity of anything avant-garde. Any time a random meeting of worlds can turn a new audience onto an offering that tends to get hoarded by those with access to museums and fashion shows... we should celebrate. These are the moments when art feels relevant."
Again, an image of Ono releasing a heap of flies into the city comes to mind.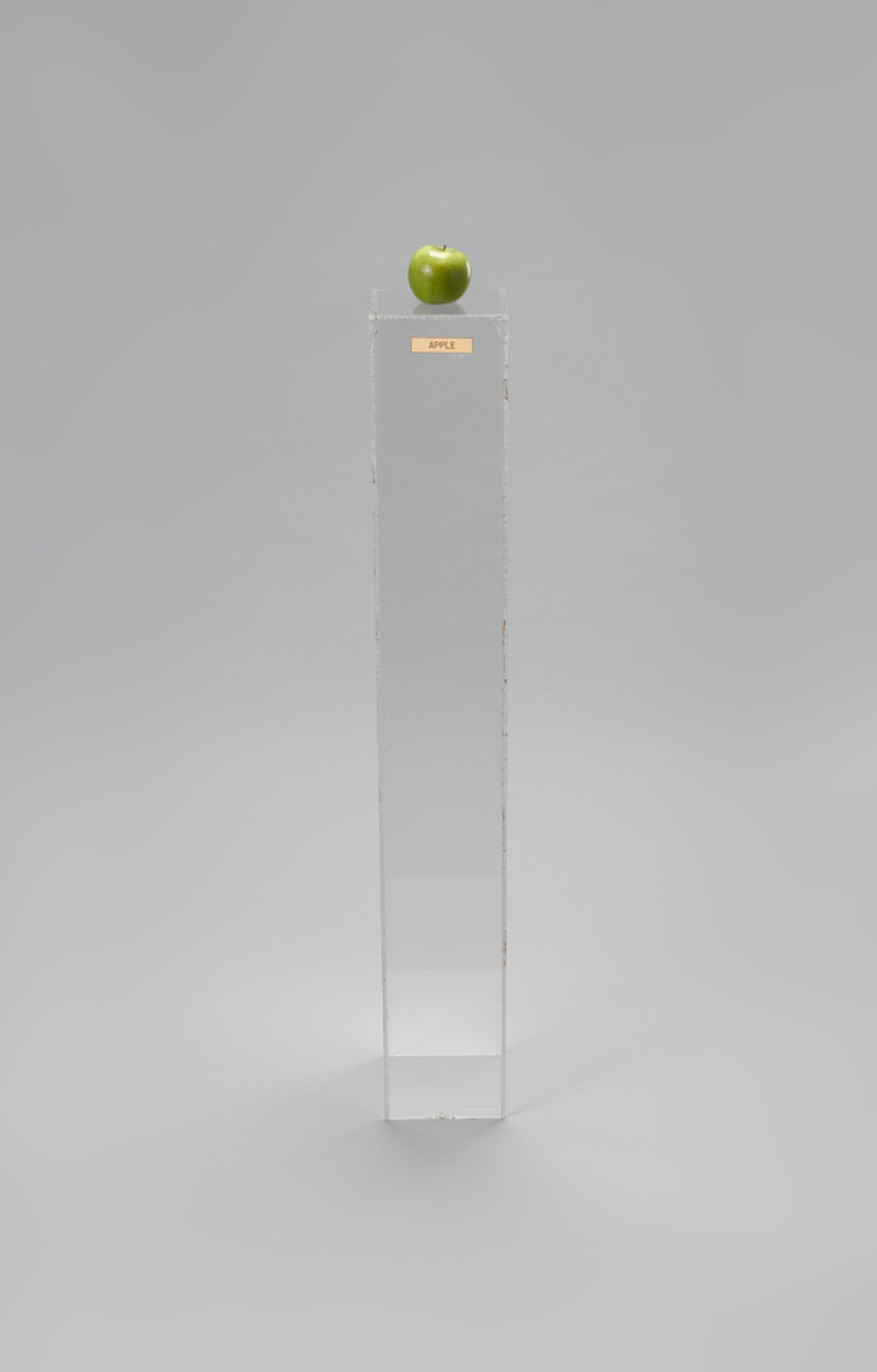 Yoko Ono (Japanese, born 1933) Apple. 1966. Plexiglas pedestal, brass plaque, apple, 45 × 6 11/16 × 6 15/16″ (114.3 × 17 × 17.6 cm). Private collection. © Yoko Ono 2014
Starting May 17, viewers will be ushered back inside museum doors to see her work at MoMA. "I'm nervous!" Ono said in response. "I don't know what's going to happen, it's a bit nerve wracking really. I have so much respect for MoMA and their curators. It's going to be good, I think. It may not be good in a classical sense. My work is not classical. Well, I think it's classical." She laughs. Even after a slot in one of New York's biggest museums, Ono can't understand finally being understood.
The exhibition comes on the heels of the universally panned Bjork retrospective, which was dubbed a celebrity spectacle, or more specifically, in Ben Davis' words, a "special purgatory for half-baked celeb worship and muddled exhibition design." While Ono is certainly a celebrity in her own right -- probably with a name more famous than Bjork, for that matter -- her particular breed of celebrity just might work. Think of Bjork as more of a Lennon-type star, shining brightest when performing in front of a massive crowd, not archived on museum walls.
While MoMA's Bjork ushered pop culture fandom into the rigid walls of the art establishment, Ono has always done the opposite. Using the most conceptual and abstract (though somehow accessible) of means, she's quietly welcomed her viewers outside of the establishment, doing her best to render her role as artist invisible in the process. However, quiet as she may be, she's not afraid to scream. Ono wants a massive imprint -- some of her more ambitious projects involve the participation of every human in the entire world -- but she doesn't care if the world likes her or not.
Ono also wants her work to be universally seen, not admired or understood. "For some reason, other people think, 'Oh, artists, they're just crazy.' They're not taking us seriously. So, while they're not taking us seriously, we can do a lot of work." Ono herself seems content to hide amongst her massive audience, amassing Twitter followers who both love and revile her until the entire world is collaborating on an artwork centered around spreading loving and peace.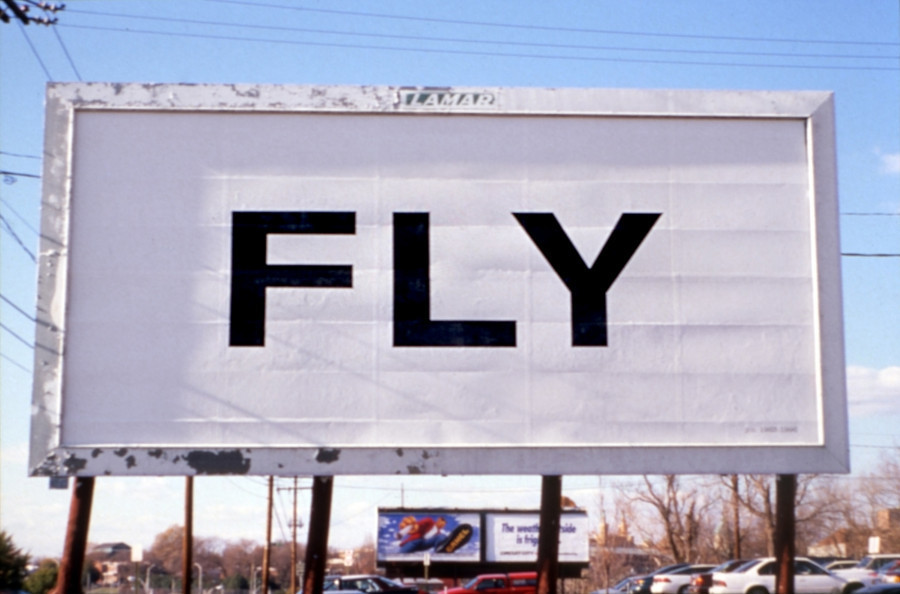 Fly Billboard, 1996, via Guggenheim Bilbao.
Or, perhaps, Ono just keeps making art because she knows no other way. "Like anybody else I feel sad, quite often, I suppose," Ono said. "Nowadays, I feel sad a lot because the world is in turmoil. One thing John taught all of us is that when we're sad, we do what we can do to make ourselves feel better. We create work. I do a lot of that. When I'm feeling the emptiness I always go back to making something."
Ono is the one of the only major celebrities in the world that can aspire to be as small and far-reaching as a fly. In the artist's words: "You may think I'm small, but I have a universe inside my mind."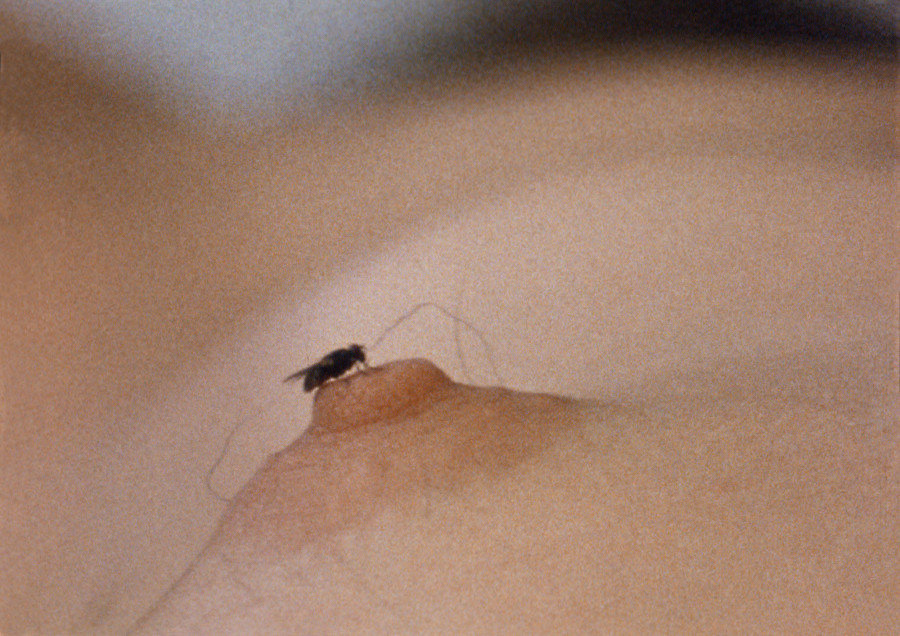 Fly, 1970, via Guggenheim Bilbao.
"Yoko Ono: One Woman Show, 1960–1971" will run from May 17–September 7, 2015 at MoMA.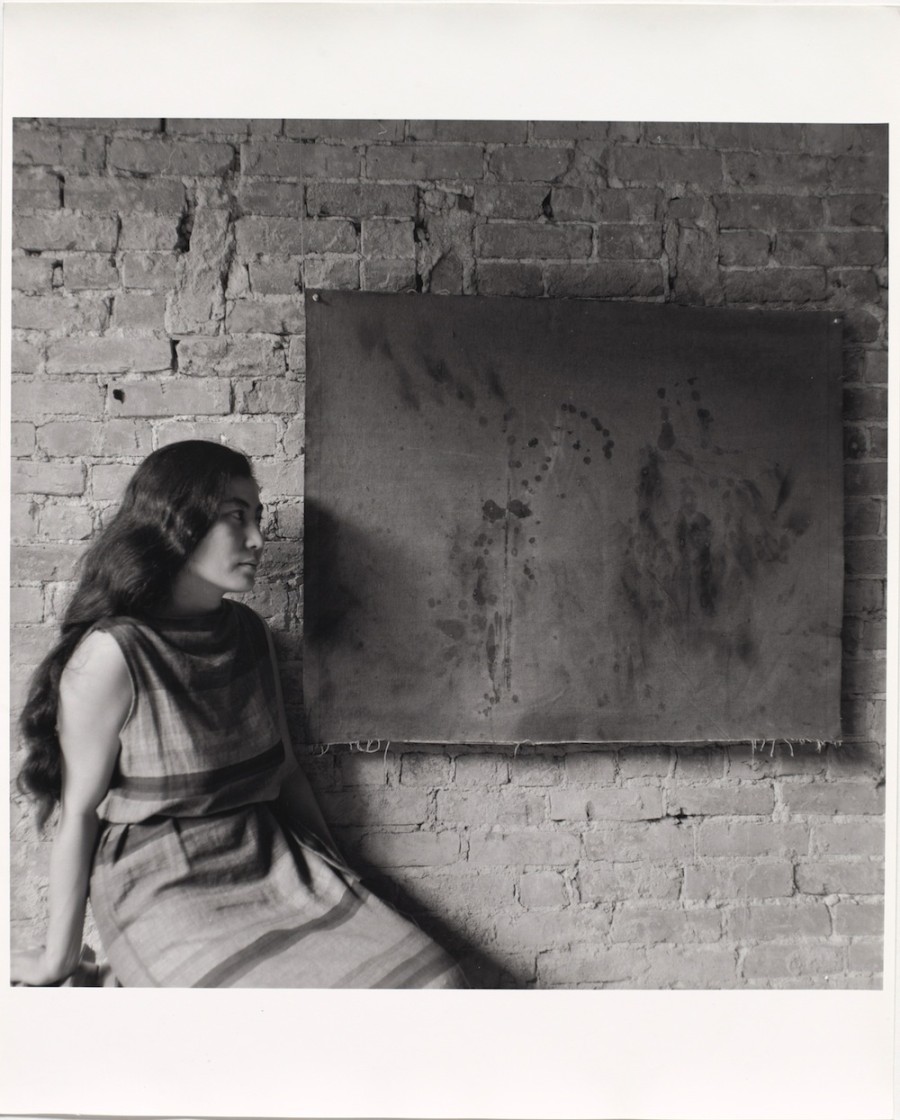 Painting to See in the Dark (Version 1). 1961. Installation view with the artist, Paintings & Drawings by Yoko Ono, AG Gallery, New York, July 17–30, 1961. Photograph by George Maciunas.
BEFORE YOU GO
PHOTO GALLERY
The Best Yoko Ono Advice