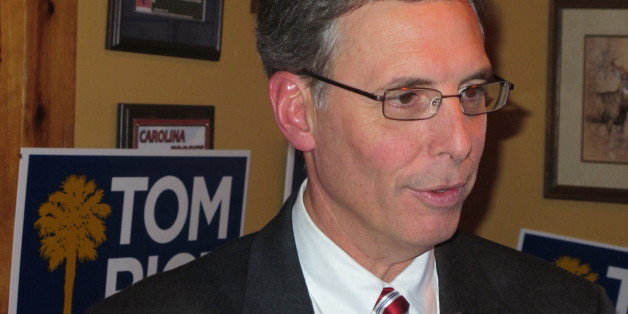 WASHINGTON -- A faction of Republicans in the House of Representatives wants to stop poor people from buying junk food with food stamps.
Under proposed new legislation, the Supplemental Nutrition Assistance Program's 45 million enrollees would only be able to use their benefits for lean meat, poultry and food products approved under a separate federal nutrition program that supports nutrition for pregnant women, infants and children. Energy drinks would be out; Enfamil in.
"Over the years, the nutrition portion of food stamps has become obsolete," Rep. Tom Rice (R-S.C.), who authored the legislation, said in a statement. "Today, beneficiaries can use taxpayer dollars to purchase nearly anything in the grocery store. Meanwhile, families barely living over the poverty threshold are pinching pennies and clipping coupons to make ends meet."
In recent weeks, there has been a surge of interest in controlling SNAP recipients' food choices, with Republicans in state legislatures introducing bills to restrict purchases in Missouri, Wisconsin and Maine. Lawmakers often accompany such bills with stories of SNAP recipients filling their shopping carts with crab legs, cookies and chips.
Rice's bill is similar to the legislation in Wisconsin, which would also restrict food stamp purchases to items approved under the Special Supplemental Nutrition Program for Women, Infants and Children. The roughly 8 million beneficiaries of that program are allowed to buy a limited range of foods including cereal, formula, whole wheat bread, fruits and vegetables.
The House Agriculture Committee recently launched a long-term review of nutrition assistance, with a hearing scheduled Wednesday on the future of the program. Rice is not a member of the committee, but two committee members -- Reps. Doug LaMalfa (R-Calif.) and Ted Yoho (R-Fla.) -- co-sponsored his bill.
In a break from the favorite political pastime of complaining about what people buy with food stamps, Agriculture Committee Chair Mike Conaway (R-Texas) has taken a high-minded approach to his review of the program, inviting a range of policy experts and even former SNAP recipients to testify before his committee. A committee spokesman declined to comment for this story.
A recent study by the U.S. Department of Agriculture, which is in charge of SNAP, found that beneficiaries were more likely to be obese and had slightly worse diets than people who didn't get benefits. However, when the researchers compared SNAP recipients to non-recipients with similar backgrounds, the differences in diet quality disappeared.
Rice noted in his statement that America is becoming more health-conscious.
"While independent Americans have the right to purchase what they want to eat, taxpayer-funded food programs should follow nutritious standards to keep recipients healthy and able to transition off government assistance," he said.
BEFORE YOU GO
PHOTO GALLERY
Monuments in Washington D.C.