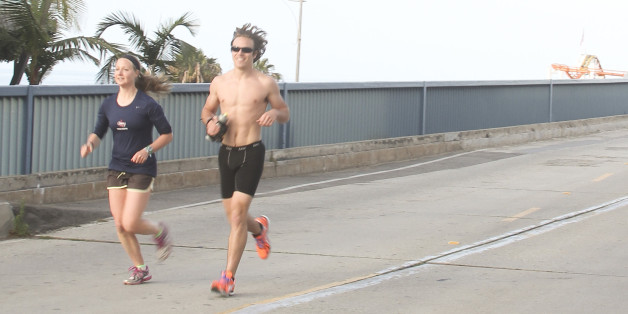 Run, Barclay Oudersluys, run!
Oudersluys is a recent University of Michigan graduate incorporating his favorite big screen flick into his summer plans for the sake of fighting poverty.
Mimicking Tom Hanks' character's cross-country feat in "Forrest Gump," Oudersluys is jogging 3,200 miles from California to Maine in hopes that his journey will raise awareness and funds for The Hall Steps Foundation, The Ann Arbor News reported.
"The [foundation] was founded ... to fight poverty around the world by improving health," Oudersluys wrote on his online fundraiser's page. "And what better way is there to promote healthy living than by running?"
The foundation has built a well in Mozambique and renovated a maternity clinic in Senegal, for instance, in order to improve the lives of some of the world's poorest.
As of Tuesday afternoon, Oudersluys' Crowdrise page has raised $1,100 of his $10,000 goal.
Oudersluys is documenting his trek -- which started on May 9 and will take him across 15 states -- on Twitter.
Story continues below.
Into Arizona pic.twitter.com/ab4DZlkyI1

— Project Gump (@ProjectGump) May 17, 2015
Over a week later I made it to Nevada pic.twitter.com/xIC6PjAoXc

— Project Gump (@ProjectGump) May 16, 2015
Support the Steps Foundation if you can! http://t.co/RVvEVgHXuS pic.twitter.com/59l7x6fKzW

— Project Gump (@ProjectGump) May 17, 2015
Completing the cross-country trip won't be easy.
Oudersluys is hoping to conquer it in 100 days. In order to do that, he explained to The Ann Arbor News, he'll have to run about 32 miles and eat 6,000 calories every day, consuming foods like rice, granola, tuna fish and dried fruits to keep his diet in-check for the challenge.
Oudersluys wrote on Crowdrise that he plans on talking to people he comes across during the trip as well, encouraging others to learn more about and donate to The Hall Steps Foundation.
Support Oudersluys' fundraiser by using the widget below or visit The Hall Steps Foundation website here.

BEFORE YOU GO
PHOTO GALLERY
Forrest Gump