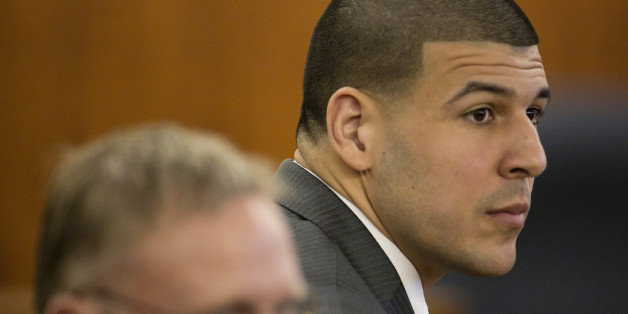 Aaron Hernandez allegedly served as a lookout for a prison fight between two fellow inmates and has been disciplined, CNN reports, citing a law enforcement source.
Hernandez, the former New England Patriots tight end who was convicted of murder, reportedly agreed to watch for potential interference while one man entered another inmate's cell Monday at Souza-Baranowski Correctional Center in Shirley, Massachusetts. That sparked a fight believed to be gang-related, CNN wrote.
All three men were punished and Hernandez was placed in a "special management section," the outlet noted.
"It was two-on-one, he was part of the two," a prison official said of Hernandez to ABC News. The victim, beaten in his cell, "was some absolute nobody. He was just trying to show he's down with the Bloods, a scared man looking at life in prison," the source said.
ABC noted that Hernandez had a recent tattoo done that references the Bloods gang. The Huffington Post reached out to the Massachusetts Department of Correction for details, but did not immediately hear back.
Hernandez was sentenced in April to life without parole for killing semi-pro football player Odin Lloyd in June 2013.
In 2014, Hernandez reportedly beat up an inmate at the Bristol County House of Correction.
BEFORE YOU GO
PHOTO GALLERY
PHOTOS: The Aaron Hernandez Case