An Ohio bartender has come under fire after she gave her customers a receipt with a homophobic slur written on it, but she says she didn't mean to offend anyone.
Alissa Maugen was serving her friends drinks at West End Tavern near Cleveland on Sunday. When her friends got their receipt, the word "Fags" appeared in place of a name, ABC 6 reports.
One of the friends reportedly posted a photo of the receipt to Instagram, and it soon ended up on Facebook, setting off a firestorm of criticism. Lucas Barstow posted the photo on West End Tavern's Facebook page.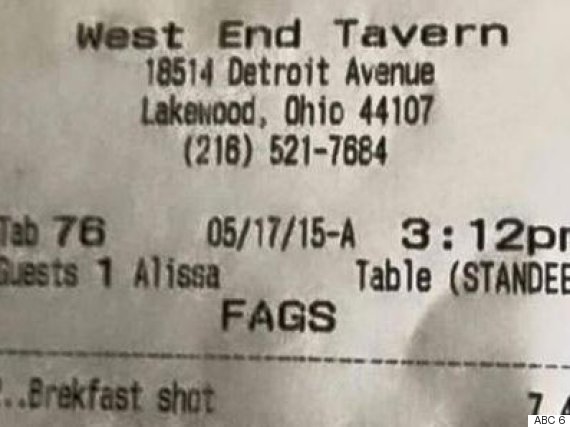 "Will never go here, and will let ALL my friends know," Barstow wrote in his caption. His post has been shared more than 1,000 times, and other critics have also posted the image to West End's page.
Speaking to ABC 6, Maugen said the slur was meant as a joke.
"I understand it's a very sensitive thing, but it was definitely not made to be offensive toward anybody," Maugen said.
Andrew Rollings, the friend of Maugen's for whom the receipt was meant, came to the server's defense, saying it was meant only as a joke between friends.
"Nothing was meant to be malicious about it," Rollings said. "Nothing at all."
West End Tavern said on its Facebook page that Maugen has been suspended "until we ensure that she and other employees understand that words hurt."
"We're horrified that such a stupid thing happened," the post reads. "The West End Tavern abhors this type of slur. It isn't funny and it hurts our friends and our customers."
The restaurant did not immediately return a request for comment.

BEFORE YOU GO
PHOTO GALLERY
Anti-Gay Celebrity Statements