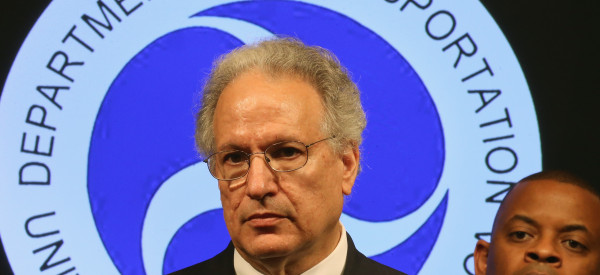 TOP STORIES
To get The Morning Email, HuffPost's daily roundup of the news, in your inbox, sign up here.
TAKATA RECALLS ALMOST 34 MILLION AIR BAGS The recall will "double the number of cars and trucks included in what is now the largest auto recall in U.S. history." Check to see if your vehicle is part of the recall. [AP]

WHAT THE FALL OF RAMADI MEANS FOR IRAQ'S ISIS STRATEGY The loss of the city has resulted in a weakened relationship between the Iraq government and the Sunni fighting forces necessary to drive back ISIS. The question becomes whether the U.S. will alter its own Iraq strategy in light of the defeat. [WaPo]
LA RAISES MINIMUM WAGE TO $15 The pay bump will go into effect fully by July 2020 for about 567,000 workers. [Alexander Kaufman and Jenny Che, HuffPost]
ELIZABETH WARREN CALLS ON HILLARY TO WADE INTO TRADE DEBATE "As the fight over a massive international trade agreement heats up on Capitol Hill, Sen. Elizabeth Warren (D-Mass.) said on Tuesday that she wants to see Democratic presidential candidate Hillary Clinton 'weigh in on trade.' In an interview with The Huffington Post, Warren declined to say whether she would endorse Clinton. 'Right now I think it's important for her to have a chance to lay out her views on a whole host of issues, including trade,' she said." [Dana Liebelson, HuffPost]
ATM THEFT SOARS "Debit-card compromises at ATMs located on bank property jumped 174% from Jan. 1 to April 9, compared with the same period last year, while successful attacks at nonbank machines soared by 317%, according to FICO." Here's why having your debit card compromised is worse than having your credit card information stolen. [WSJ]
WHY LATVIA COULD BE THE NEXT UKRAINE Why the country could be the so-called "fertile ground for [Russia's] machinations to divide and weaken NATO's easternmost fringe." [NYT]
UBS TO SETTLE WIRE FRAUD CASE FOR $545 MILLION The move will enable the bank to avoid prosecution. [AP]
INDONESIA AND MALAYSIA WILL PROVIDE REFUGE FOR MIGRANTS STRANDED AT SEA "Indonesia and Malaysia agreed Wednesday to provide temporary shelter to thousands of migrants believed to be stranded at sea, a potential breakthrough in the humanitarian crisis confronting Southeast Asia after weeks of reluctance by the region's nations to take responsibility." [AP]
WHAT'S BREWING
NFL FINALIZES EXTRA POINT CONVERSION RULE CHANGES Extra point kicks will now be snapped from the 15-yard line, and two-point conversions can be taken back by the opposing team for two points. [AP]
DAVID LETTERMAN SIGNS OFF OF THE 'LATE SHOW WITH DAVID LETTERMAN' TONIGHT After 33 years and over 6,000 episodes, Letterman will say goodbye to the job about which he once said, "You're just lucky enough to get to do exactly what you want to do all your life." [USA Today]
'GAME OF THRONES' IN HOT WATER After a controversial rape scene, many fans have said they're quitting the show. [HuffPost]
TWITTER CONTINUES WORLD DOMINATION You can now see tweets in Google searches about any topic. [Twitter's Blog]
IN THE MIND OF THE NORWAY MASS MURDERER How Anders Behring Breivik could kill 77 people in one spree. [The New Yorker]
BEING TYPE-B ISN'T ALL BAD Or at least, that's what this post assures our Type-A selves. [HuffPost]
ALL THOSE HILLARY CLINTON TV LOOK-ALIKES See Claire Underwood, Alicia Florrick, Elizabeth McCord and Mellie Grant. [New Republic]
YOUR STATE'S MOST UNUSUALLY COMMON DEATH CAUSE Because The Morning Email lives to serve your hypochondriac fears. [HuffPost]
WHAT'S WORKING
SUSPENSION: NOT ALWAYS THE ANSWER "In many school systems, the solution to a child acting out is suspension. In states like Washington, children get suspended from school as early as age five. But emerging research shows that not only is suspension not the best method of addressing bad behavior, it is often meted out with no consideration of the traumatic situations many students experience at home." [HuffPost]
ON THE BLOG
STOP MAPPING OUT YOUR LIFE "The whole greener grass mentality is loaded and somewhat dangerous. We peek across the fence into each other's yards and we wonder. We see lush green grass and we are too far away to notice the weeds, or the water bill. Sometimes greener grass is just rye grass; green for a season, then gone." [HuffPost]
BEFORE YOU GO
~ We finally have this season's Bachelorette and plenty of drama to go along.
~ Of course Martha Stewart's Triscuit flavor is absurd.
~ Loreal wants to start printing 3-D skin.
~ Is your website mom-proof?
~ What's in store for season four of "House of Cards."
~ Christina Aguilera can do quite an impression of her fellow divas.
~ Need to have one of those important discussions with your partner? 8:15 p.m. is the magic time.
~ And the winner of this year's "Dancing with the Stars" is...
~ What a four-mile oil slick looks like.
~ Another think piece on the "fast-casual restaurant revolution."

~ Behind the scenes at network upfronts.
~ Because all your favorite TV is on hiatus, Netflix released "Bill Nye the Science Guy" for your binge-watching pleasure.
~ $50 million-worth of heroin was seized in NYC.
~ The charities that may have stolen over $200 million.
~ Happy hump day: here's a whale cuddling her baby.
~ The secret to Pharrell's hat.
~ And the return of poisoning.
Send tips/quips/quotes/stories/photos/events/scoops to Lauren Weber at lauren.weber@huffingtonpost.com. Follow us on Twitter @LaurenWeberHP. And like what you're reading? Sign up here to get The Morning Email delivered to you.