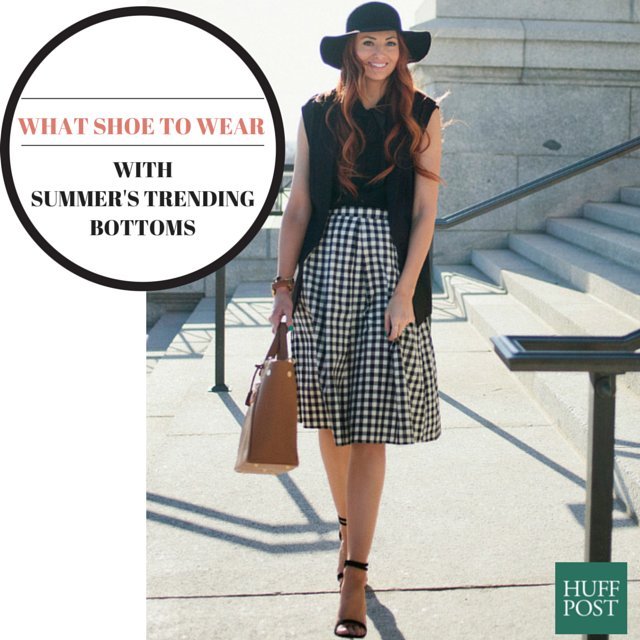 Image: Jackie Welling
Summer 2015 is shaping up to be the season of tricky hemlines. From the emergence of culottes to the continued rise of the midi, trending garments are hitting our legs at new lengths, leaving us wondering: what shoes do you pair with these things?
In search of some answers, we partnered with Zappos to ask some of the most stylish women we know how they style trending items with unconventional hemlines. Read on for the cheat sheet we'll be using all season!
Culottes: Wide Leg, Slim Heel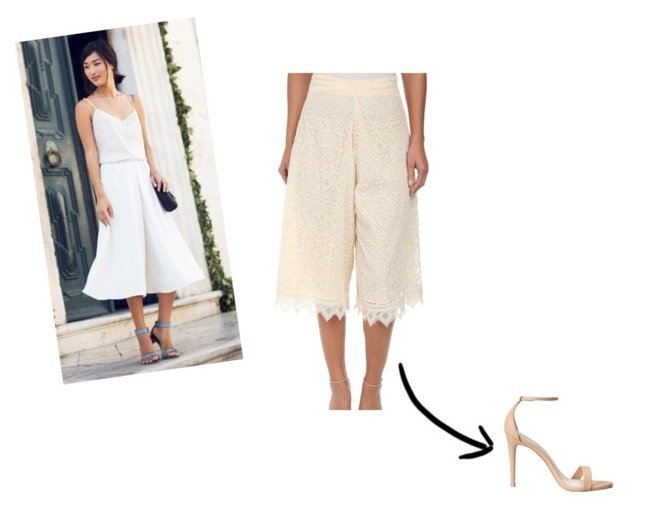 Image: Nicole Warne // garypeppergirl.com
KAS New York Bedri Embroidered Culotte // Steve Madden Stecy Heel
Culottes are style blogger Laura Dittrich's favorite pant. But, she said, "they are definitely tricky to style, and can look quite unflattering easily, since they are wide and can make your legs look super short." Dittrich recommends pairing culottes with heels to add length to what little leg does show -- flesh-toned for ultimate elongation. She warns, thick ankle straps will break up your legs in an unflattering way, so stick with pumps or strappy sandals.
Flares: Tell Tall Tales With A Stacked Shoe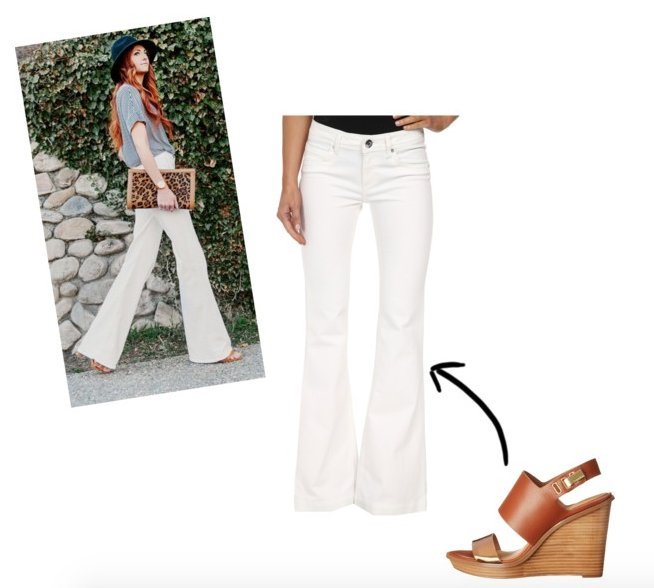 Image: Jackie Welling // littlejstyle.com
DL1961 Joy Super High Rise Flare in Milk // Calvin Klein Perdita Wedge
Flares are the it denim of the year. Worn the right way, they're super flattering, too! Lifestyle blogger Caroline Juen hit on a genius principle we wish we'd realized sooner: "Flares are great with any open-toed heel or wedge: they give the illusion that your legs are longer because no one can see your whole shoe," she said. Looks like we'll be getting leggy in flares all season.

Joggers: Play It Two Ways With Pumps Or Kicks … Or Pumped-Up Kicks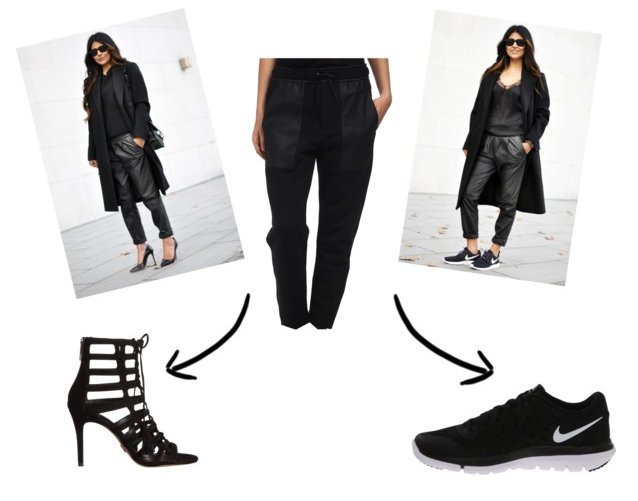 Images: Laura Dittrich // fashion-landscape.com
HELMUT LANG Drift Sweatshirt Pants // Nike Flex 2015 RUN // Michael Kors Bardot Heel
Jogger-inspired pants are popping up in silks, leather and denim, making loungewear seem legit. But the slouchy silhouette can come off a little frumpy if you're not careful. Style blogger Courtney Trop pointed out, "any type of slouchy pant should be worn with a lightweight shoe, something that doesn't look bulky." If you keep it light, joggers can truly be dressed up or down. Dittrich recommended high heels for an elevated look, or streamlined sneakers for a casual, sporty take -- we'd venture to try a sneaker wedge.


Slim-Leg Jumpsuit: Let The Piece Shine With Barely-There Heels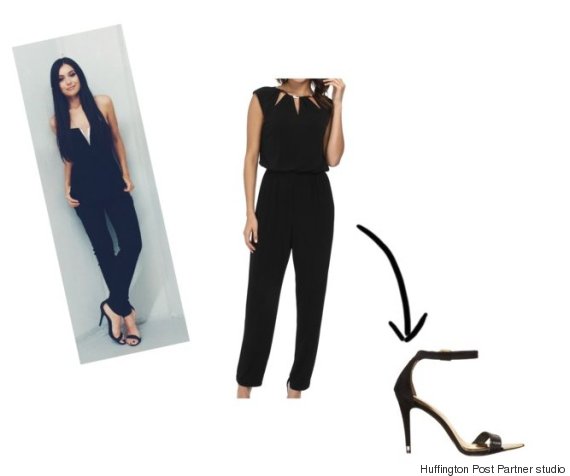 Image: Marta Pozzan // itssuperfashion.com

Rsvp Embellished Blouson Jumpsuit // Ted Baker Juliennas Heel
Marie Denee, editor-in-chief of The Curvy Fashionista, said that with jumpsuits, the width of the pant leg should dictate the type of shoe you pair with them. While heels, booties or flats may work, the key is to make sure they allow the pant leg to drape. With a tapered leg like this one, you'd want to opt for a thin-strap heel that won't interfere with your leg line. For a wider pant, defer to advice on flare-leg jeans, above.

Midi Skirts: Anything Goes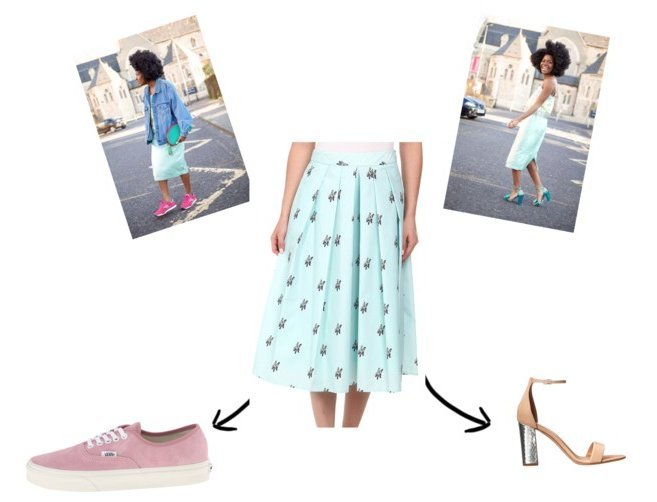 Images: Frédérique Tietchu // igobyfrankie.com
Catherine Malandrino Matilde Skirt // Vans Authentic™ in Prism Pink // Kurt Geiger Isabella Heel
"I think anything goes when it comes to midi length skirts & dresses," Trop said. The midi skirt is a chameleon of sorts; styled correctly, it looks just as awesome with a dainty heel as it does a skateboard shoe. Avoid obscuring any of your calf (with, say, a boot), but otherwise this trend is an opportunity to think a little outside the box.

Cropped Pant: Flats For The Win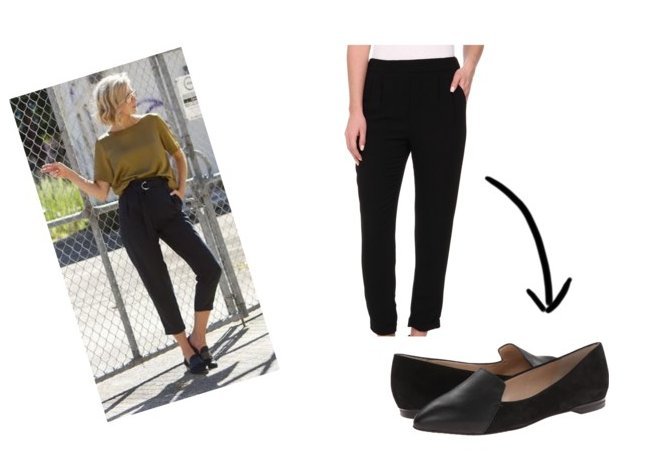 Image: Laurie Young // theruecollective.com
While cropped pants can be paired with a number of shoes, personal stylist and blogger Frédérique Tietchu argued that they look best with flats. "Cropped pants go beautifully with flats," she said. "They won't alter the initial shape of the pants and they reveal the ankles with class." It's a sacred pairing a la Audrey Hepburn that couldn't be simpler to execute.

Whatever trend you're sporting, Zappos wants to help you find a shoe that makes your look work. With fast, free shipping both ways, you can quest for the perfect match!