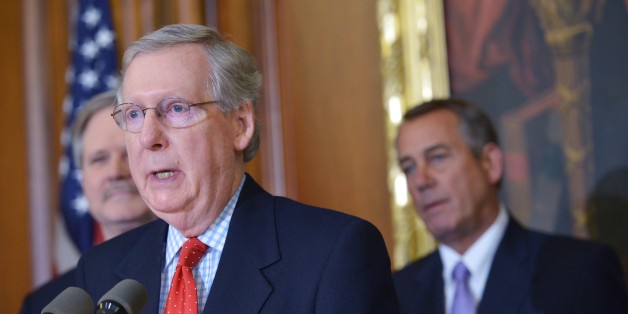 Democrats and Republicans alike are unhappy with the GOP-led Congress. Fox looks to the polls to narrow down contenders in the GOP debate, which could present some problems. And a new case of survey fraud underscores the need for greater transparency. This is HuffPollster for Friday, May 22, 2015.
AMERICANS OF BOTH PARTIES ARE UNSATISFIED WITH THE NEW REPUBLICAN CONGRESS- Pew Research: "The new Republican-led Congress is drawing harsh reviews from the public – including most Republicans….Unlike after some previous partisan turnovers on Capitol Hill, negative assessments of the new Congress now cross party lines. Today, just 41% of Republicans approve of the job their party's leaders in Congress are doing. By comparison, in April 2011, 60% of Republicans approved of GOP leaders' job performance and in April 1995, 78% approved of GOP leadership's policies and proposals….their party's leaders at the 100-day mark in 2007, when 60% said Democratic leaders were keeping their campaign promises. Currently, Republicans (36%) are about as likely as Democrats (38%) or independents (38%) to say Congress is accomplishing less than they expected….[The] shift in opinion is primarily seen among conservative Republicans: 54% approved of GOP congressional leaders' job performance in February, today just 41% approve." [Pew]
FOX WILL LET THE POLLS DECIDE WHO CAN PARTICIPATE IN GOP DEBATE - Matea Gold: The network will require contenders to place in the top 10 in an average of the five most recent national polls in the run-up to the event, narrowing what is expected to be a field of 16 or more by the Aug. 6 event in Cleveland. The rule could trigger an early rush of spending by lower-tier candidates seeking to boost their standing in national surveys before the pivotal first forum. Meanwhile, CNN laid out a different approach for the second debate on Sept. 16, which will be split into two parts — one featuring the top 10 candidates in public polling and a second that will include lower-tiered candidates who garner at least 1 percent in polls." [WashPost]
More on using polls to select debate participants:
-Jason Linkins looks at who would make the Fox cut-off based on current poll numbers. [HuffPost]
-Harry Enten examines how different poll averages could lead to different candidates getting into Republican debates. [538]
-Jonathan Bernstein predicts "gimmicks, stunts and...attention-grabbing device[s]" by Republican campaigns on the debate "bubble." [Bloomberg]
POLITICAL SCIENCE STUDY RETRACTED FOR FRAUD - Lila Shapiro and Natalie Jackson: "A seemingly groundbreaking and widely publicized study reported in Science magazine this past December may be a fake. The study appeared to show that openly gay activists in California had persuaded conservative voters to change their minds in a lasting way by engaging the voters in 'heartfelt, reciprocal and vulnerable conversations' about being gay during door-to-door advocacy campaigns. It was co-authored by Michael J. LaCour, a Ph.D. candidate in political science at the University of California, Los Angeles, and Donald P. Green, a professor at Columbia University....But according to a report issued Tuesday by two University of California, Berkeley, graduate students and a Yale professor, there are enough questions about the data to warrant retracting the study. Retraction Watch broke the story Wednesday about what students David Broockman (soon to be an assistant professor at Stanford) and Joshua Kalla and Yale professor Peter Aronow found....Initially, LaCour claimed he had accidentally deleted the file with the necessary information, but again Qualtrics said it could not verify that the data had been deleted or that the study took place. It seemed increasingly clear to Green that no follow-up surveys had ever been conducted and that LaCour may have taken data from existing studies and manipulated the numbers to achieve the results he wanted." [HuffPost, Brookman, et. al., Retraction Watch ]
Green requests retraction: More from Shapiro and Jackson: "Green told The Huffington Post that he was shocked and dismayed by the revelations about the data set. 'There was a mountain of fabrication,' he said. "Graphs and charts and anecdotes and stories of every possible sort about these surveys. So it didn't occur to me that the whole thing was fabricated because every time I had a question, it seemed as though [LaCour] had an answer." Green has since issued a retraction of the study. LaCour, for his part, declined a request for an interview from The Huffington Post. 'I'm gathering evidence and relevant information so I can provide a single comprehensive response. I will do so at my earliest opportunity,' he wrote in an email."
No evidence of funding - Virginia Hughes: "In the study's acknowledgements, LaCour states that he received funding from three organizations — the Ford Foundation, Williams Institute at UCLA, and the Evelyn and Walter Haas, Jr., Fund. But when contacted by BuzzFeed News, all three funders denied having any involvement with LaCour and his work. (In 2012, the Haas, Jr. Fund gave a grant to the Los Angeles LGBT Center related to their canvassing work, but the Center said that LaCour's involvement did not begin until 2013.)" [Buzzfeed]
FiveThirtyEight: 'Retraction shows...we're all vulnerable to faked data'... - Carl Bialik: "The significance of the retraction was hotly debated Wednesday in political science circles and among other scientists. Some saw a positive story about how academia polices itself. 'This episode demonstrates how science is self-correcting,' the researchers who wrote the paper debunking the Science article wrote in a joint emailed response to questions. 'We hope that this incident will further spur the open-science and data transparency movements.' To others, though, the episode was far more troubling. The debunkers could do their debunking only because of a bit of luck: Data they needed happened to be available not from its original source, but through another researcher who had posted it to meet a journal's open-data policies. And they weren't specifically trying to replicate the Science study to see whether it held up. They were trying to extend the study, and grew suspicious when their early results didn't line up." [538]
...but 'science works' - Rice University political scientist Rick Wilson on lessons learned: "[Science works. Will Moore makes this point quite nicely. If someone has a new and interesting finding, it should never be taken as the last word. Science requires skepticism. While I teach my students that they should be their own worst critic, this is not enough. The process of peer review (as much as it might be disparaged) provides some opportunity for skepticism. The most important source of skepticism, however, should come from the research community. A finding, especially one that is novel, needs to be replicated...Andrew Gelman makes this point on the Monkey Cage. We should be cautious when we see a finding that stands out. It should attract research attention and be "stress-tested" by others. The positive outcome of many different researchers focusing on a problem is that it allows us to calibrate the value of a finding and it should deter misconduct." [RKWRice]
Implications for public polls? - Pre-election polling has had its own painful episodes of fraud, most notably the infamous cases of Strategic Vision LLC and Research 2000. The most notable reaction to those cases has been the Transparency Initiative of the American Association for Public Opinion Research (AAPOR), an effort to create incentives for pollsters and media organizations to disclose basic methodological information about their publicly released surveys. Some may criticize AAPOR's initiative as stopping short of requiring release of micro-data -- the sort of data that allowed Brookman and Kalla to make their case against the LaCour-Green study -- but it is a start. It requires, among other things, disclosure of both the organization that conducted the survey and those that sponsored it. Such disclosures were instrumental in raising concerns about LaCour's case through calls to the organizations that purportedly provided funding for the study and to Qualtrics, the firm that LaCour claimed had conducted his surveys.
New statement from LaCour - Buzzfeed has updated their story with the following email message sent from LaCour on Friday morning: "I will supply a definitive response on or before May 29, 2015. I appreciate your patience, as I gather evidence and relevant information, since I only became aware of the allegations about my work on the evening of May 19, 2015, when the not peer-reviewed comments in 'Irregularities in LaCour (2014),' were posted publicly online. I must note, however, that despite what many have printed, Science has not published a retraction of my article with Professor Green. I sent a statement to Science Editor McNutt this evening, providing information as to why I stand by the findings in LaCour & Green (2014). I've requested that if Science editor McNutt publishes Professor's Green's retraction request, she publish my statement with it." [Buzzfeed via @virginiahughes]
VOTERS GIVE NEGATIVE RATINGS TO SOMEONE THEY'VE NEVER HEARD OF -Yoni Appelbaum: "Pity Emily Farris. Republican primary voters just don't like her very much. In a survey released on Wednesday, Public Policy Polling found that Farris near the bottom of the GOP field. She polled well behind fellow Texans Rick Perry and Ted Cruz. Just 3 percent of voters had formed a favorable opinion of her, while 20 percent reported unfavorable views...And Farris isn't even running. She's a political science professor at Texas Christian University, whose name was included within the enormous field of Republican hopefuls as a statistical control... It's well-established that voters will volunteer views concerning wholly fictitious issues or candidates...Voters can be reluctant to confess ignorance, or conflate invented laws or candidates with real ones." [The Atlantic]
HOW MODE EFFECT IMPACTS SURVEY RESULTS - Pew: "Among the most striking trends in the field of survey research in the past two decades is the shift from interviewer-administered to self-administered surveys. Fueled by the growth of the internet, self-administration as a survey mode presents a mixture of opportunities and challenges to the field…[T]he results from self-administered and interviewer-administered surveys are sometimes different. This difference is called a mode effect, a difference in responses to a survey question attributable to the mode in which the question is administered.... The study finds that differences in responses by survey mode are fairly common, but typically not large, with a mean difference of 5.5 percentage points and a median difference of five points across the 60 questions…Where differences occurred, they were especially large on three broad types of questions: Items that asked the respondent to assess the quality of their family and social life produced differences of 18 and 14 percentage points, respectively, with those interviewed on the phone reporting higher levels of satisfaction than those who completed the survey on the Web..Questions about societal discrimination against several different groups also produced large differences...Web respondents were far more likely than those interviewed on the phone to give various political figures a "very unfavorable" rating, a tendency that was concentrated among members of the opposite party of each figure rated." [Pew]
MASSACHUSETTS VOTERS MISREPORT THEIR PARTY REGISTRATION - In a paper presented at last weeks AAPOR Conference, MassINC's Steve Koczela and Rich Parr compared respondents actual party registration status taken from official records to self-reported questions about registration and party identification. They found "a substantial minority of voters misreport their own party registration, and many self-identify with a party with which they are not registered." [MassINC]
AMERICANS NOW SAY THEY NEVER SUPPORTED IRAQ WAR - Kathy Frankovic: "Americans' memories of their own past beliefs about the 2003 Iraq War are tinged with their current feelings about what has taken place there since and what is taking place there now. In the latest Economist/YouGov Poll, just 38% admit that they supported sending troops to Iraq in 2003. Less than a month before that U.S-led invasion, more than six in ten Americans in a Gallup Poll indicated they favored sending in ground troops." [YouGov]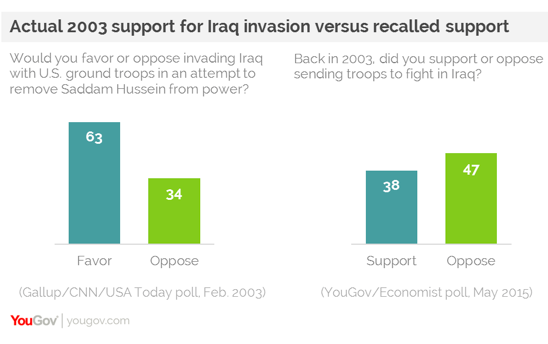 MORE OF THIS WEEK'S NATIONAL POLLS
-A record-high number of Americans now support gay marriage. [Gallup]
-Republicans wish they had fewer presidential candidates, while Democrats would prefer more. [HuffPost]
-Republicans' views of their 2016 field are more positive than in the last two elections. [Pew]
-Obama's favorable rating is at 53 percent, the highest since September 2013. [Gallup]
-Kaiser Family Foundation finds most that people enrolled in marketplace health insurance are generally happy with their plans. [KFF]
-Americans greatly overestimate the percentage of the population that is gay or lesbian. [Gallup]
-Train travel is still viewed as safer than car travel. [HuffPost]
HUFFPOLLSTER VIA EMAIL! - You can receive this weekly update every Friday morning via email! Just click here, enter your email address, and click "sign up." That's all there is to it (and you can unsubscribe anytime).
THIS WEEK'S 'OUTLIERS' - Links to the best of news at the intersection of polling, politics and political data:
-Bloomberg conducts focus groups in Iowa of likely Republican and Democrat caucusgoers. [Bloomberg here and here]
-Peter Hart (D) finds helping people "move up the ladder" moves voters more than "the income gap." [WSJ]
-Matt Ferner writes that support for legalized marijuana is growing retroactively in Washington and Colorado. [HuffPost]
-Sean Trende's index of officeholders shows Republicans more dominant than they've been in decades at the federal and state level. [RCP]
-Micah Roberts (R) sees Hillary Clinton appealing to Democratic sub-groups while swing voter sub-groups grow more negative. [POS]
-Stan Greenberg (D) argues last minute nationalist messages helped swing elections in Israel and Britain and embarrassed pollsters.[Politico]
-Chris Hanretty, Ben Lauderdale and Nick Vivyan post a detailed report on what went wrong with their UK forecast. [Election Forecast UK]
-Daniel Kreiss examines people who worked on digital media, data and analytics in presidential campaigns between 2004 and 2012 and finds big Democratic advantage. [WashPost]
-Alex Lundry (R) moves full-time to "web enabled media targeting" firm Deep Root Analytics. [Deep Root]
-Annie Petit shares what infuriates her about AAPOR. [LoveStats]
This story has been updated to include comments from Michael LaCour.

BEFORE YOU GO
PHOTO GALLERY
Conservatives Pointing Fingers