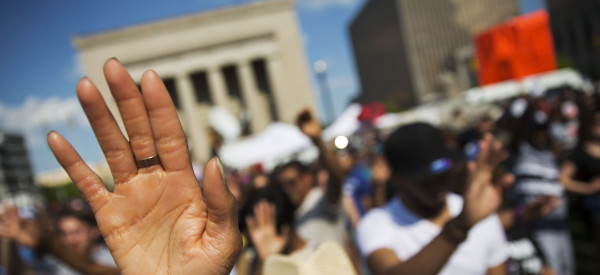 TOP STORIES
To get The Morning Email, HuffPost's daily roundup of the news, in your inbox, sign up here.
GRAND JURY INDICTS SIX OFFICERS IN FREDDIE GRAY CASE The officers face charges "ranging from misdemeanor negligent assault and misconduct to involuntary manslaughter, intentional assault and murder." The driver of the van has been charged with murder. [Andy Campbell, HuffPost]

THE ABSURD LEVEL OF TPP SECRECY "[A]lthough legislators are allowed to look at the text of the TPP in a secure room, they are only allowed to do so under restrictions that make it nearly impossible to understand what they are reading. First, they can't bring expert staffers with them unless they have the right clearances, and the aides who have expertise in various relevant areas -- for instance on the impacts on the environment or labor law -- generally are not cleared. Second, lawmakers can't record anything, or take any notes from the room." Help support HuffPost journalism by signing up to get Washington Bureau Chief Ryan Grim's newsletter here. [Michael McAuliff and Ryan Grim, HuffPost]
IN WAKE OF BIRD FLU, SKYROCKETING EGG PRICES Over 38 million birds have died, 32 million of which are egg-laying hens. That's 10% of the U.S. egg-laying population. [WSJ]
OBAMA TO STRENGTHEN FEDERAL GOVERNMENT'S ROLE IN PREVENTING WATER POLLUTION "The Obama administration is expected in the coming days to announce a major clean water regulation that would restore the federal government's authority to limit pollution in the nation's rivers, lakes, streams and wetlands." [NYT]
THE CLINTON FOUNDATION FOUND $26 MILLION IN DONATIONS IT PREVIOUSLY HAD NOT DISCLOSED Whoops. [WaPo]
AMTRAK ENGINEER COULD FACE CHARGES OVER DERAILMENT "Lawyers suggest the charges under review would include reckless endangerment, involuntary manslaughter, third-degree murder and aggravated assault, especially if he were on his phone or intentionally distracted." [AP]
WHAT YOU CAN DO IN AN AUTO RECALL THAT CAN SAVE YOUR LIFE Ask for a loaner vehicle. [Daniel Marans, HuffPost]
WHAT'S BREWING
RAY RICE DOMESTIC VIOLENCE CHARGES DROPPED "Former Baltimore Ravens running back Ray Rice's charges have been dismissed and he will avoid doing any jail time stemming from the incident last February in which he struck and knocked unconscious his now-wife, Janay Rice. After completing his pre-trial intervention program, an Atlantic City Judge Michael Donio on Thursday signed Rice's dismissal order for the aggravated assault felony charges, a statement from Donio's office said." [HuffPost]
LUKE JUST TEASED A POSSIBLE 'GILMORE GIRLS' REUNION WE COULD NOT BE MORE EXCITED. [HuffPost]
REESE WITHERSPOON WILL PLAY TINKERBELL In the live-action "Tink." [Vulture]
WATCH OUT FOR YOUR KEURIG It may be covered in bacteria and mold. [HuffPost]
THE PICASSO OF COFFEE CUPS You won't care if he spells your name wrong. [HuffPost]
DAVID LETTERMAN'S LAST SHOW HAD THE LARGEST AUDIENCE IN TWO DECADES Guess it really was time to go. [HuffPost]
WHAT'S WORKING
SOLAR PANELS IN GAZA HOSPITALS MAY SAVE LIVES "The electricity is there one second and cut off the next. Each time it goes, it can take a struggling patient's life with it. That's a lesson Tarek Loubani, a Canadian emergency room doctor, has learned over four years of volunteering to treat residents of Gaza." [HuffPost]
ON THE BLOG
MOMS NEVER GET HAIRCUTS "Scheduling a haircut is never easy, but once you have a child, getting a haircut takes divine intervention, planetary alignment and a whopping dose of good luck." [HuffPost]
BEFORE YOU GO
~ A sneak peek at Lady Gaga's wedding dress sketches.
~ The Duggar family has spoken out about the molestation claims involving Josh Duggar.
~ A salmonella outbreak has been linked to raw tuna in sushi.
~ All the shirtless 90s hunks.
~ Drumroll please: the best beach in the U.S. is...
~ Make your knives live longer.
~ Now that's a thigh bruise, J.J. Watt.
~ Drunk Pinterest -- aka last night.
~ Make sure you fit in these Netflix gems before they expire in June.
~ The lucrative work of a sober companion.
~ Your newly approved Scrabble words -- watch out Mom, we might actually win this weekend.
~ The Neville-J.K. Rowling Twitter exchange sums up everything there is to love about Potter world.
~ Enjoy the long weekend, and The Morning Email will return Tuesday morning!
Send tips/quips/quotes/stories/photos/events/scoops to Lauren Weber at lauren.weber@huffingtonpost.com. Follow us on Twitter @LaurenWeberHP. And like what you're reading? Sign up here to get The Morning Email delivered to you.