In case you didn't hear, self-described "democratic socialist" Bernie Sanders is running for president. The Independent from Vermont, who caucuses with Democrats in the Senate, kicked off his campaign before thousands of enthusiastic supporters in Burlington on Tuesday with a rousing speech that called for a litany of progressive policies: raising the minimum wage to $15 per hour, changing overtime standards, expanding Social Security, ensuring paid sick leave and guaranteeing vacation time for all Americans.
The sweeping manifesto, which also includes strengthening campaign finance laws and combating climate change, is a populist -- and popular -- wish list near and dear to the heart of many Democratic voters. But as MSNBC host Chris Hayes noted on Twitter, the 35-minute speech had several glaring omissions.
Sanders didn't address the ongoing debate over race and policing in the wake of protests in Baltimore, New York and Ferguson, Missouri. Nor did he address comprehensive immigration reform and President Barack Obama's executive actions to shield young undocumented immigrants from deportation, which just yesterday saw another legal challenge.
The problem that "insurgent" progressive Democratic prez candidates tend to face is expanding their base past white, college-educated voters

— Christopher Hayes (@chrislhayes) May 26, 2015
As I've said a whole bunch of times, the demographic cornerstone of a progressive political coalition in this country are black women.

— Christopher Hayes (@chrislhayes) May 26, 2015
The point was only made clearer by the makeup of the assembled crowd -- it is Vermont, after all, made up of many activists and die-hard Sanders fans as quirky as the candidate himself.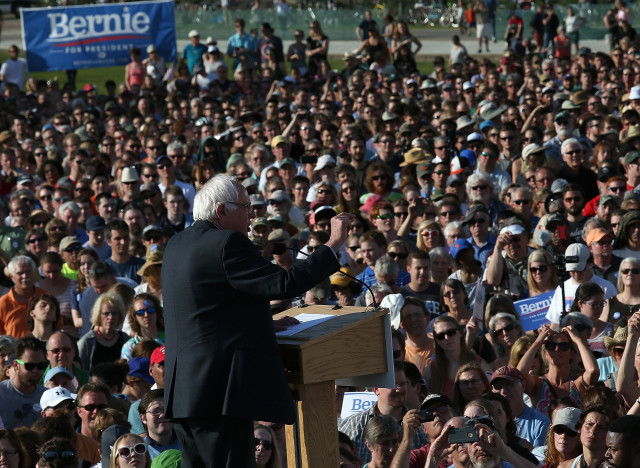 Bernie Sanders speaks to a crowd in Burlington, Vermont. (Win McNamee via Getty Images)
A spokesman for the senator did not immediately respond to a request for comment.
Sanders has never been at the forefront of the debate around issues like police reform and immigration. He's spent years in the Senate railing against the influence of Democratic bogeymen and billionaire oil barons Charles and David Koch. Moreover, his 2016 bid is widely viewed as a means to pressure the relatively centrist Hillary Clinton firmly into the progressive camp, especially on taxes and Wall Street reform.
Faulting Sanders for not addressing every Democratic priority would be tantamount to criticizing Sen. Rand Paul (R-Ky.), a libertarian-leaning conservative, for failing to toe the line with the Republican establishment. In that respect, both men are hoping to take unconventional paths to the White House. The problem for Sanders is that, if he really wants to be taken seriously, he will at some point need to court the same coalition of voters that twice elected Obama: minorities, women and young people.
But there's plenty of time -- and primary debates -- to do so.
BEFORE YOU GO
PHOTO GALLERY
Declared 2016 Presidential Candidates