Competitors routinely risk injury to chase after an 8 pound wheel of cheese in the race, which has taken place for over 200 years. Competitors take their marks at the top of a steep hill and wait for an organizer to unleash a large cheese wheel. They then chase the wheel, and the first person to reach the bottom of the hill wins.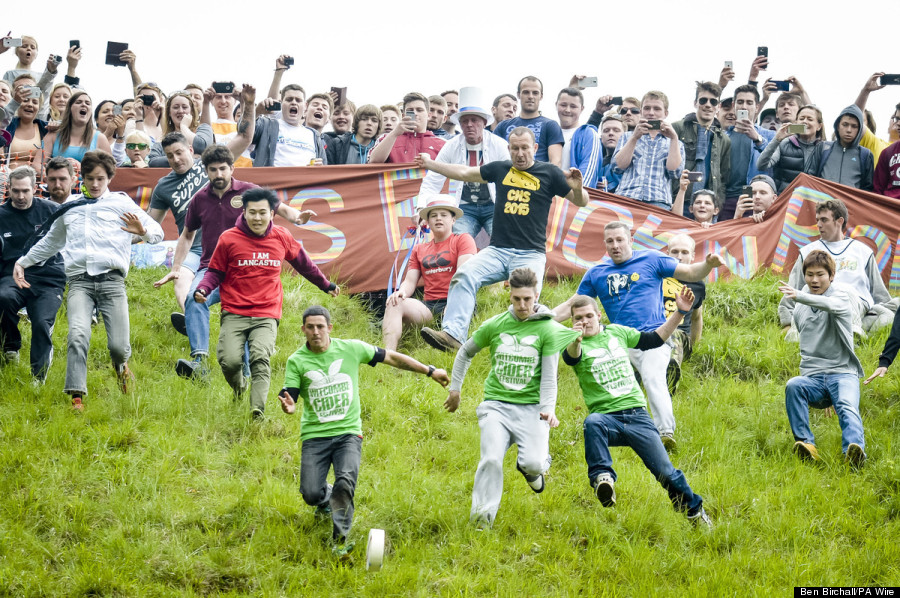 Participants tumble after the Double Gloucester cheese as it hurtles down Coopers Hill in the annual Cheese Rolling competition, held unofficially this year on Monday, May 25, 2015. (Ben Birchall/PA Wire)
The most recent Cheese Rolling took place midday on Monday. An estimated 4,000 people turned out to see the race, where competitor Chris Anderson claimed two of the top prizes (each prize: a wheel of cheese). Anderson has won a total of 15 events in the nearly 11 years he's participated. For those interested in going to the race next year, tickets can already be booked for the event on Monday, May 30, 2016.
Scroll through the photos below to get and up-close-and-personal look at the race:
BEFORE YOU GO
PHOTO GALLERY
Cheese Rolling Race In Gloucestershire