As the game clock winded down to double-zero at Quicken Loans Arena in Cleveland on Tuesday night, Cavaliers coach David Blatt pulled LeBron James aside for a quick word.
James, who scored 23 points in a 118-88 win to help the Cavaliers complete a four-game Eastern Conference Finals sweep of the Atlanta Hawks, took his coach over the shoulder to share a moment of due praise.
"What you did for this team, and for this city -- coming back [to Cleveland] -- you deserve this. Let's keep going," Blatt told James, who replied with an affirmative "Yes sir," before joining his teammates to celebrate.


And the champagne was flowing shortly thereafter:


With the Cavaliers' advancement, James has become the first player since Bill Russell to reach five consecutive NBA Finals. This is the first time the Cavaliers have reached the Finals since 2007 -- three years before James left Cleveland for the Miami Heat.
In South Beach, James went on to win back-to-back championships in 2012 and 2013 with the Heat. However, he shook up the sports world once again, when he announced he was "coming home" to Cleveland where it all began.
Blatt said he made a similar choice.
"LeBron came home, and I left home to come here," Blatt, a native Israeli who left Maccabi Tel Aviv last summer to join the Cavs, told Cleveland.com last night.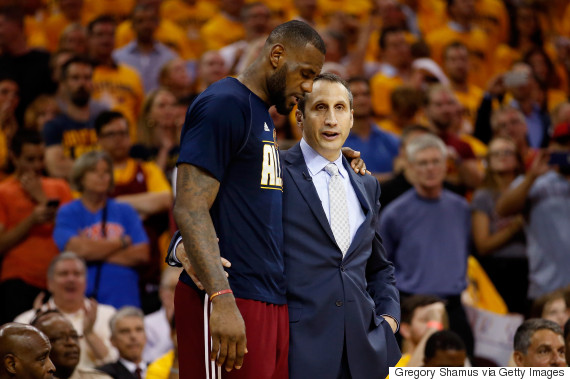 A newfound friendship? (Source: Getty)
While the pair shared a warm moment last night, their season endured a number of contentious events. An extended losing streak in January saw James at a crossroads with his coach, who responded by taking two weeks off to mentally and physically rest and recover. LeBron was even seen pushing Blatt away as he spoke with referees.


Upon returning to the team, the Cavaliers traded for reinforcements in the form of center Timofey Mozgov and guards J.R. Smith and Iman Shumpert. Revitalized, the Cavaliers surged to the No. 2 seed in the Eastern Conference, and James finished third in the MVP voting.
With the team running on all cylinders, James has repeatedly overruled his coach on late-game play-calling decisions. On May 10, James scrapped Blatt's play for the final shot against the Chicago Bulls before hitting the game-winning three-pointer.
"I was supposed to take the ball out," James said. "I told coach, 'There's no way I'm taking the ball out, unless I can shoot it over the backboard and it goes in.' I told him, 'Have somebody else take the ball out, give me the ball, and everybody get out of the way.'"
While Blatt told Cleveland.com on April 2 that he was fine with giving James the freedom to call plays, the unusual player-coach dynamic has been seen as a challenge to Blatt's authority as head coach.
When the NBA Finals begin June 4, James and his teammates will face off against either the Rockets or Warriors to attempt to become the first major professional sports team win a championship for Cleveland since the Browns won the 1964 NFL title.