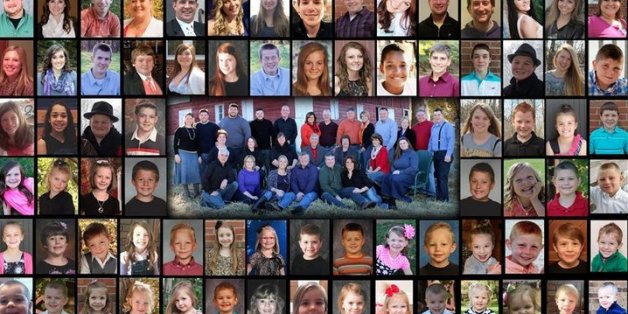 Becoming a grandparent is an unforgettable moment for anyone, but for Leo and Ruth Zanger, the birth of their newest little grandson was a truly remarkable milestone. You see, the two are now grandparents to exactly 100 grandchildren. Yes, you read that right -- 100 grandchildren.
The Quincy, Illinois residents say they never expected to have such a large family. Leo, 79, and Ruth, 77, have been married 59 years and have 12 children of their own. Their newest great-grandson, Jaxton Zanger, brings their total to 53 grandchildren, 46 great-grandchildren and one great-great-grandchild. "It just sort of happened," Leo told The Huffington Post.
The couple jokingly told reporters that "we could start our own town." And, indeed, managing a family of that size is no easy task -- especially when it comes to everyone's birthday, which in a family of this size, means a celebration nearly every few days. "My daughter Donna is one of my secretaries and she does a fantastic job," Leo said. "She calls every child and every brother, sister, brother-in-law, sister-in-law and grandchild on their birthday and wishes them [well] and keeps us aware. As far as birthday parties, typically it's just the godparents and the grandmas and grandpas. They don't include everyone because it would just be impossible."
He says most of the family lives in the town so the entire family is able to get together on major holidays. "Christmas, Thanksgiving and Easter, we all get together and rent a hall and just have a party," he said.
There have been other reports of families with several dozen grandchildren. A family in Alberta, Canada reported having 100 grandchildren a few years back and a British couple reportedly had 140 grandchildren!
Having a large family does have its perks. The best part? "The camaraderie," Leo says. "The getting together." He says Mother's Day is always a special occasion for his wife, when all the grandkids come to see her and she gets showered with flowers, cards and candy. "It's amazing."
There's another perk too. Since they have so many teenagers in the family, grandma and grandpa don't get stuck babysitting or changing diapers. Sounds like a win-win.
BEFORE YOU GO
PHOTO GALLERY
Financial Resources for Grandparents Raising Grandchildren