Despite their prevalence in the summer months, cucumbers are rarely the star of a dish -- until now. This ridiculously simple recipe from Grocery Girl Megan Roosevelt puts the cucumber front and center in a completely fresh (and delicious) way. As a side or a snack, cucumber "pasta" is a perfectly cool way to balance out your next casual barbecue.
Cucumber "Pasta"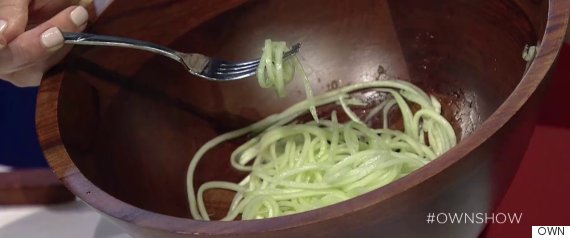 Ingredients
1 cucumber, washed and peeled
Olive oil
Sea salt
Juice from half a lemon
Directions
Using a julienne peeler, julienne the cucumber all the way down to its core, creating cucumber "ribbons."
Place the cucumber ribbons into a bowl. Drizzle with olive oil, then add lemon juice and sea salt, to taste. Toss to coat, then serve.
Pairs well with: Farro and White Bean Veggie Burgers
BEFORE YOU GO
PHOTO GALLERY
The Most Important Ingredient In Your Kitchen Is...