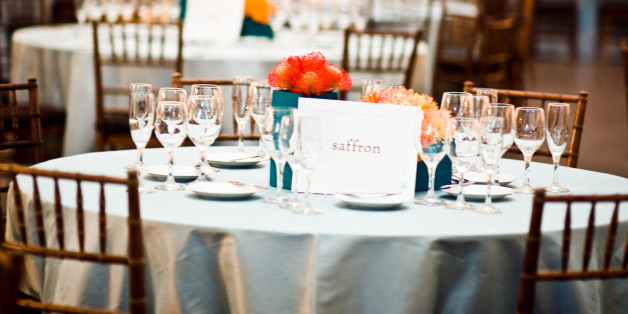 The rules of wedding etiquette are constantly changing, making it difficult for modern brides, grooms and guests to find up-to-date and correct information. That's why we launched #MannersMondays, a series in which we ask our followers on Twitter and Facebook to submit their most burning etiquette-related questions. Then, with the help of our team of etiquette experts, we get you the right answers to your biggest Big Day dilemmas. Check out this week's question below!
@HuffPostWedding Is it necessary for the wedding party to be seated at the head table facing the rest of the guests?

— Julian Grass (@Jgrass16) January 20, 2014
Anna Post -- great-great-granddaughter of etiquette guru Emily Post and author of Emily Post's Wedding Etiquette -- is here to help us answer this week's question. Find out what she had to say below:
No, the wedding party doesn't need to be seated together at the head table facing the guests. The plus of open-sided seating (like this) is that the couple can see all of their guests; the negative is potentially feeling like they are in a fishbowl. I did a very minor variation of this at my wedding. We had the wedding party and their significant others and children at a long head table with us, but with the exception of the four seats directly across from me and my husband, they wrapped around the table. No one felt "on display," and my husband and I were able to take in the full scope of the reception.

Alternately, the couple could sit with the wedding party in the front or center of the room, but with seating going all the way around the table -- no open side. In any of these cases, significant others of the wedding party might be seated with them, at their own table or dotted among the guests -- anywhere they would have the best chance of striking up fun conversation.

The couple might also be seated with their parents, grandparents, maid of honor, best man and any other very special guest(s), with the rest of the wedding party at a nearby table (or tables, if large). The couple could also eat at a sweetheart table on their own with the wedding party seated together nearby. Lastly, and especially if the wedding party is quite large, they could be broken up a bit, with a few bridesmaids and groomsmen at tables near the couple's head table, often seated with other special guests.
You can submit your wedding etiquette questions via Facebook or tweet them to us @HuffPostWedding with the hashtag #MannersMondays.
BEFORE YOU GO
PHOTO GALLERY
Wedding Reception Venues