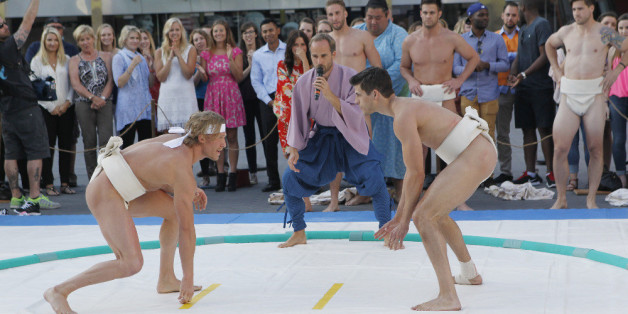 It's 2015. By now, reality TV is a young adult, but it hasn't grown out of "The Bachelor" franchise. Despite its bizarre dating rituals, low success rate, and questionable racial and gender politics, the stable of shows is, if anything, more popular than ever. Do people love "The Bachelor" and "The Bachelorette," or do they love to hate it? It's unclear. But here at Here To Make Friends, we both love and love to hate them -- and we love to snarkily dissect each episode in vivid detail.
In this week's Here To Make Friends podcast, hosts Claire Fallon, Culture Writer, and Emma Gray, Senior Women's Editor, recap the fourth episode of "The Bachelorette," Season 11. We'll discuss who looked best as a sumo wrestler, the whole "Brokeback Bachelor" thing and the worst sex-ed lesson ever.
Plus Emily Warman, "Bachelorette" recapper for PAPER Magazine, joins to give her insights -- and we'll speak to former Bachelor Ben Flajnik! Ben has left the vineyard and is deep into the startup game in SF with a new project called The Gentleman App. (He's also found love -- on Tinder.)
This podcast is produced and edited by Katelyn Bogucki.
You can subscribe and rate Here To Make Friends on iTunes and listen to other HuffPost Podcasts on The Huffington Post's iTunes Page. Thanks to our guests Emily Warman and Ben Flajnik.
Plus, the best tweets about this week's "Bachelorette"...
PHOTO GALLERY
Tweets About "The Bachelorette" Season 11, Episode 4