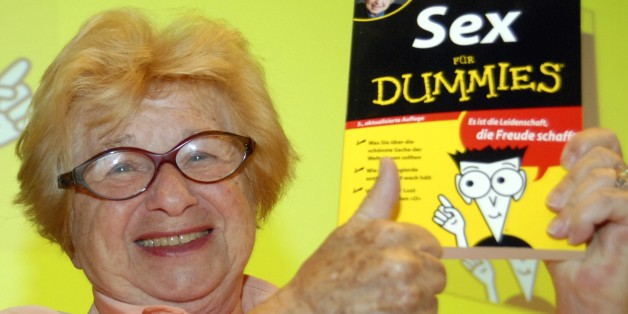 Famed sex therapist and advice columnist Dr. Ruth Westheimer has come under fire this week for comments made during a radio interview about sexual consent. Specifically, Westheimer said on the Diane Rehm Show Monday that if a woman is already naked in bed and her partner is "aroused," she can no longer say no to sex.
While on the topic of campus sexual assault, Westheimer told Rehm:
I know it's controversial, but for your program, I'm going to stand up and be counted and ... be very honest. I am very worried about college campuses saying that a woman and a man or two men or two women, but I talk right now about woman and man, can be in bed together, Diane, and at one time, naked, and at one time, he or she -- most of the time they think she can say, I changed my mind. No such thing is possible.
"[A]t the height of arousal, just when he's very aroused, strong erection, when she's very aroused, either he or she cannot change their mind," she later added.
Westheimer cited the Jewish tradition of the Talmud to back up her claim.
"In the Talmud ... it says when that part of the male anatomy is aroused and there's an erection, the brain flies out of that and we have to take that very seriously, so I don't agree with that," she said.
As Mic.com points out, this isn't the first time that the 86-year-old sex therapist has made this argument. In March, she told Haaretz that "it's nonsense" to "suddenly" change one's mind "at the height of sexual arousal."
"It will lead to many more problems. The idea of consent is nonsense. Except consent before they are naked in bed," she told the newspaper.
After her recent comments drew widespread backlash, Westheimer took to Twitter to clarify her stance, insisting that she is "100% against rape."
I am 100% against rape. I do say to women if they don't want to have sex with a man, they should not be naked in bed w/him.

— Dr. Ruth Westheimer (@AskDrRuth) June 2, 2015
Westheimer then used a jaywalking analogy to try and explain her position.
That's risky behavior like crossing street against the light. If a driver hits you, he's legally in the wrong but you're in the hospital.

— Dr. Ruth Westheimer (@AskDrRuth) June 2, 2015
Several rabbis told the Jewish Telegraphic Agency this week that they firmly disagree with Westheimer's comments.
"I'm grateful that Dr. Ruth has in the past made a space to talk about human sexuality in a way that was really radical for its time," Rabbi Danya Ruttenberg told the news outlet. "But a) she's wrong about this, and b) she should not be using our tradition to bolster her argument."
Ruttenberg stressed that the Talmud "actually offers a strong argument that sex without explicit consent is a crime."
Rabbi Shmuley Boteach told JTA that "anyone in the Jewish community should strongly object" to what Westheimer said.
"The idea that men are ravaging beasts who are controlled by their hormones and can't stop themselves is a Neanderthal view that Judaism would never embrace. It's a shockingly frightening excuse for rape," he said.
The Rape, Abuse & Incest National Network (RAINN) is very clear on its definition of consent. Consent is "about communication," the organization writes on its website, and it can be withdrawn "at any point."
"It doesn't matter if you think your partner means yes, or if you've already started having sex -- 'No' also means 'Stop,'" RAINN says. "If you proceed despite your partner's expressed instruction to stop, you have not only violated basic codes of morality and decency, you may have also committed a crime under the laws of your state."
BEFORE YOU GO
PHOTO GALLERY
The Consent Project