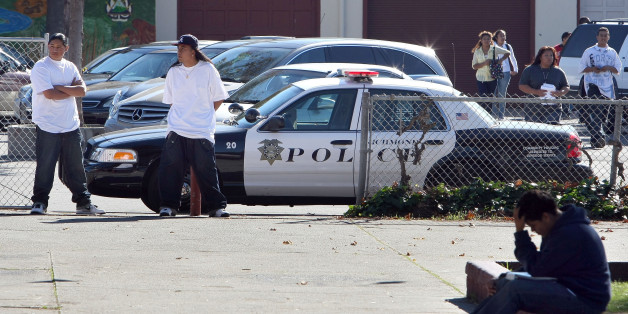 As Baltimore, already in the national spotlight over the police killing of Freddie Gray, endured its deadliest month in almost 40 years, the search for solutions to the problem of persistent, violent crime turned again to a California city that was once among America's most dangerous.
The Atlantic's CityLab and The Washington Post this week reported on the city of Richmond's unusual approach to crime reduction.
The initiative, part of the city's Office of Neighborhood Safety, identifies young male residents, aged 13 to 25, who are most at risk of killing or being killed. The San Francisco Bay Area city then pays them a monthly stipend, ranging from $300 to $1,000, over the course of 18 months in exchange for sticking with an individualized "life map" of positive behavior -- such as GED programs, anger management therapy and job training. The better they do, the more they are paid.
Participants are also connected with community mentors, who are credible in part because many have their own violent pasts. The mentors keep in close contact with the young men throughout the program. But importantly, as Mother Jones noted in a 2014 story, the mentors do not share information about participants with law enforcement. Though the program has the police department's blessing, it operates independently.
While partially funded by the city of 100,000-plus residents, the program is also not wholly dependent on the taxpayers. Private donors have stepped in to help pay for those financial incentives.
The results of Richmond's initiative, which started almost eight years ago, have been encouraging. The Washington Post reports that of the 68 participants since 2010, 54 have not been charged with another gun-related crime -- and only four have died. Some of the participants have gone on to attend a four-year college. Additionally, the city's murder rate has declined 77 percent in recent years, from 47 deaths in 2007 to 11 deaths last year.
"It's amazing," DeVone Boggan, the program's creator and director, told the Post, "and it has to do with focusing on those driving violence and recognizing that they have a great deal of power in terms of gun violence in our city and whether it goes up or down."
Other factors, of course, are at play in Richmond. As Al Jazeera noted, unemployment has declined and gentrification increased in cities across California, contributing to reductions in violent crime.
Additionally, the Richmond police force has been credited with embracing community policing and reducing its use of deadly force since Chris Magnus became chief in 2006, as Yes! Magazine reported. A photo of Magnus holding a #BlackLivesMatter sign at a December protest went viral and made him a nationally recognized advocate for community policing.
Could other cities copy Richmond's approach? One key difficulty lies in maintaining local support (a problem for Richmond, too). Funding may be abruptly cut when violence briefly reignites in a troubled neighborhood or when the political administration changes, which means that programs may not have time enough to succeed, CityLab reports. Chicago's Cure Violence initiative, which also uses community mentoring and was featured in the 2011 documentary "The Interrupters," has seen its funding slashed this year.
The Richmond program's first formal evaluation is being conducted by the National Council on Crime and Delinquency, a nonprofit social research group. Its results are set to be released later this month.
BEFORE YOU GO
PHOTO GALLERY
2014 Police Killings