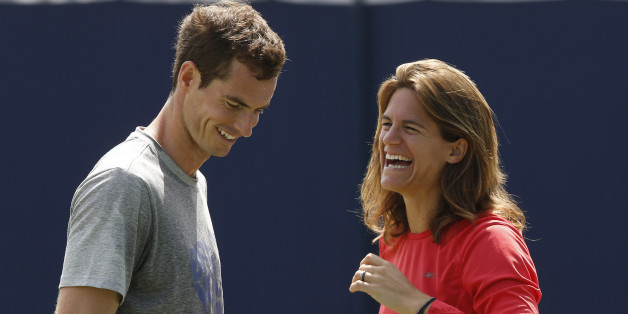 Time to welcome a new feminist to the world, ladies and gentlemen: tennis pro Andy Murray.
"Have I become a feminist? Well, if being a feminist is about fighting so that a woman is treated like a man then yes, I suppose I have," the tennis pro wrote in a column published on his website on Thursday.
The post follows Murray's decision last year to bring on Amélie Mauresmo as his coach last year, and the criticism she has endured because of it.
I've always been surrounded by women. I find it easier to talk to them. I find it easier to open up to them. It's a crying shame there aren't more female coaches. I hope this changes even if I this isn't the reason I chose Amélie. Whilst a female coach might not gel so well with others, it wouldn't hurt for everyone to be a little more open-minded.
The world No. 3 said that appointing Mauresmo would "set tongues wagging," as not many pro players -- men or women -- have female coaches.
Murray first appointed Mauresmo in 2014 for the grass court season, but the partnership extended for the longterm. The duo faced criticism from day one, but Murray stood by his decision and the impact it could have on tennis.
"If it helps bring more female coaches into men's sport -- and women's sport -- that's a good thing," he said at the time.
And it hasn't been without its drama. A disappointing showing by the Scot at last year's Wimbledon led to questions about the pairing as he seemed to shout "shut the f--k up" toward his box, where his mother, now-wife and Mauresmo were all sitting.
But Murray has once again vocalized his emphatic trust in Mauresmo (a Wimbledon and Australian Open champion herself), noting that she's faced double standards and the one who's "taken the heat."
"The staggering thing was that she was slated every time I lost, which is something my former coaches never ever experienced," he wrote.
Murray is currently in the midst of his French Open semifinal match -- it's been postponed to continue Saturday due to weather. Next up is Wimbledon, although whether Mauresmo will be able to attend is yet to be determined as she's pregnant and due in August.
Fortunately, we have a feeling Murray will be just as progressive about maternity leave.