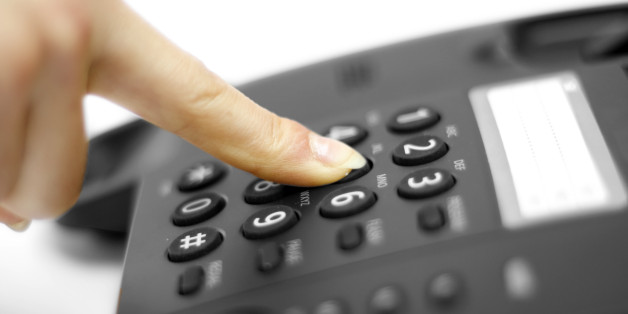 A set of potential new FCC rules for incoming calls rattles the polling industry. Voters want substance. And Americans explain what they mean by "middle class." This is HuffPollster for Friday, June 5, 2015.
NEW FCC RULES COULD COMPLICATE POLLING - A government proposal to revise the rules affecting incoming telephone calls has the polling world on edge.
On June 18, the Federal Communications Commission will vote on a set of proposed rule changes that aim to offer consumers added relief from "unwanted and intrusive calls and texts." First announced by FCC Chairman Tom Wheeler in a blog post in late May, the moves will lock down and perhaps expand the current prohibition on the use of "autodialers" to contact cell phones and allow phone companies to offer what Wheeler described a "robocall-blocking technology" to their customers.
As reported in a widely circulated story by Politico's Steven Shepard, the changes feel "like an existential threat" to survey researchers.
The ultimate impact of the changes remains unclear, since Wheeler has not yet released specific rule changes, just a blog post and a brief "fact sheet." Nonetheless, Howard Fienberg, director of government affairs for the Market Research Association, warned that Wheeler had provided "enough information" to signal changes "that could seriously harm survey, opinion and marketing research conducted by phone," producing "less accurate research results, higher costs, and more class action lawsuits."
Part of the frustration for Wheeler and other survey experts is the way the public pronouncements so far repeatedly confused terminology. "Policymakers and activists can play fast and loose with their terms," Fienberg wrote, "using 'unwanted calls,' 'telemarketing calls' and 'robocalls' interchangeably, as well as saying 'robocall' when referring to a call made with an autodialer."
Scott Keeter, director of survey research for the Pew Research Center, warns that "without more clarity from the government," it is difficult to evaluate the potential impact of the FCC rule changes. Yet he worries that "the needs and the potential value of the research industry doesn't appear to have figured very prominently in what they've done." Keeter does not feel that the FCC is "disregarding our view," he added, "but the fact that the language is still pretty vague and the terms are interchangeable suggests that they haven't focused on the way we in the industry talk about what we're doing and the terms that we use for the way we reach people."
Wheeler's fact sheet listed five specific changes -- and Fienberg addressed the implications for pollsters in all five in his detailed response -- but two have the greatest potential impact on pre-election polls.
'Autodialers' and Cell Phones - Over the last 10 years, as the percentage of Americans only accessible by cell phone has rapidly increased, pollsters have struggled with a provision of the Telephone Consumer Protection Act (TCPA) that prohibits the use of an "automatic telephone dialing system" to contact "any telephone number assigned to a …cellular telephone service" without "express prior consent" from the party being called. The intent of the ban was to protect early cell phone adopters from telemarketers who used automatic dialer machines to direct recorded sales pitches at every working number in a given geographic area (as famously parodied on The Simpsons in 1996). Since early cell phone users paid hefty charges for incoming minutes, these calls were more than just an annoyance.
Pollsters have never relied on such "autodialer" machines to select their random samples, but over the last three decades, survey research has increasingly made use of automation technology to dial separately sampled numbers. These techniques fall into three broad categories:
-Preview dialing -- The phone number is loaded and ultimately dialed by a computer, but a live interviewer sees (or "previews") the number on their computer screen and then clicks a key or button to dial the number.
-Predictive dialing - A computer system dials pre-loaded phone numbers and waits until a live-person picks up the phone and says "hello" before routing the call to a live interviewer.
-Automated interviewing - A computer system dials pre-loaded phone numbers and call recipients hear a recorded voice that asks questions and answer by pressing buttons on their phone.
As Fienberg explained in his detailed review, the FCC has "progressively expanded" their interpretation of automatic dialing over the years "to cover just about all dialing technology that doesn't involve manual hand-dialing (fingers hitting keys or the dial of a phone)."
Many researchers have quarreled with this broad interpretation, arguing as Fienberg notes, that "preview dialing" amounts to a "well intentioned compromise" that "indicates a good-faith effort to comply with the TCPA." Others have lobbied the FCC to carve out an exception to the "autodialer" restrictions to allow automated survey calls to reach cell phones.
Wheeler's fact sheet appears to slam the door on any such efforts. It promises to "define an autodialer" as "any technology with the capacity to dial random or sequential numbers."
A 'green light' for robocall-blocking - Of Wheeler's proposals, the most potentially disruptive to current telephone survey research is their plan to give a "green light for robocall-blocking technology...The FCC wants to make it clear: telephone companies can – and in fact should – offer consumers robocall-blocking tools." While the details are unknown, the implication is a potential barrier to research calls placed to all phone numbers -- mobile and landline -- using virtually all automated means, not just fully automated, recorded voice surveys.
As automated telemarketing has proliferated, consumers have sought ways to automatically block unwanted calls. Ultimately, these efforts have run up against another set of previous FCC rulings that have required telephone companies to route all calls placed on their networks without blocking.
While the precise impact of any such services on polling will depend on the specific language of the new FCC rules, the MRA's Fienberg worries that, as with the limitations on cellular calls, these call blocking services would not "differentiate between robocalls and calls using an autodialer" and thus serve as a barrier to "most autodialed research calls."
"Nomorobo" is one such call blocking service likely to be enabled by an FCC green-light. It grew out of a project by Nomorobo founder Aaron Foss that won an official FTC Robocall Challenge to identify promising blocking technology. The service currently operates only on voice-over-internet (VOIP) telephone services like Vonage and other internet providers, but has lobbied the FCC to allow it to operate on conventional telephone systems.
The service works by blocking calls from "known robocallers." As Foss explains to HuffPollster, he builds that list from three sources: Numbers that have been the source of repeated consumer complaints logged with the FTC do-not-call service, and from identifying "high frequency calling patterns" in incoming calls to users of his service and to a "honeypot" of 174,000 phone lines he maintains solely for the purpose to monitoring incoming calls.
As Fienberg feared, this service does not distinguish between live and pre-recorded calls. Foss says he uses the term "robocall" as a "catch-all" -- "anything that uses an automated dialer is going to get flagged." On the other hand, Nomorobo also has a human-curated "white list" of over 2,500 approved callers that it does not block. Foss says his white list includes legitimate survey organizations that "follow the do-not-call list and...all the regulations... so somebody like a Pew or an Arbitron or somebody like that are already white-listed, so it doesn't matter really, if they're picking up the phone and dialing with their fingers or using an automated dialer."
POLLSTERS WHO USE AUTOMATED PHONE CALLS WEIGH IN ON THE POTENTIAL IMPACT
SurveyUSA's -Jay Leve:
The outcome of an FCC ruling, as I understand it, could be, a) nothing, in which case all research calls to cell-phones would continue to be hand-dialed, as they are today; or, b) the end of recorded-voice research calls to landlines, in which case companies like my own will have new impetus to hurry up and move away from recorded-voice calls to landlines, which we began doing 5 years ago; or, c) the end of almost all research calls to landlines, which would affect every research company in America with a dialer, which is virtually all of them. As long as the Commissioner Wheeler continues to be guilty of sloppy thinking, sloppy speech and sloppy writing, the outcome of any FCC ruling will be one that only class-action lawyers are happy with.
Public Policy Polling (D)'s Tom Jensen:
"If these changes make automated polls untenable, it could take a lot of lower budget campaigns and organizations out of the market for survey research. Last year we conducted about 750 private polls. Many of those were for legislative races and second tier Congressional races across the country where you just aren't raising a million dollars or in most cases even half a million dollars and thus don't have $20,000 or $30,000 to spend on a poll with live interviewers. Internet is not an option at this point for polling in geographies of that size either. So it's really IVR or bust, and I think it would be a big loss for candidates in smaller races not to have any research they can turn to help inform their campaigns at all."
Members of Congress may take action - Sean J. Miller: "[Pollster Stefan Hankin of Lincoln Park Strategies] and others believe Congress will step in to exempt pollsters from these rules once lawmakers get wind of how they'll hinder telephone town halls or make a repeat of what happened to former House Majority Leader Eric Cantor (R-Va.) more likely. But former Rep. Lee Terry (R-Neb.), who was an advocate for the polling industry during his eight terms in Congress, said moods have changed on Capitol Hill and its unlikely lawmakers will ride to the rescue like they did during the implementation of the National Do Not Call Registry." [Campaigns & Elections]
PEOPLE WANT SUBSTANCE IN 2016 - Natalie Jackson: "Few Americans are paying close attention to the 2016 presidential campaign yet, but they know what they want to see when they do tune in: not the candidates' diets or their lunch stops, but, rather, their policy positions and fundraising. In a HuffPost/YouGov poll…[Americans] say that election news should focus on candidates' policy positions and where their money comes from. Respondents were allowed to choose up to two answers, and 63 percent chose policy positions as one of their top two. Another 33 percent chose the fundraising option. The other options respondents had to choose from were: who candidates are meeting with (10 percent chose this), where candidates hold events (7 percent), and candidates' daily routines (3 percent). Fourteen percent said anything a candidate does should be covered." [HuffPost]
AMERICAN STILL THINK THEY'RE MIDDLE CLASS... WHATEVER THAT MEANS, EXACTLY - HuffPollster: "A new HuffPost/YouGov poll shows Americans are distinctly aware of both their financial limitations and the all-too-present possibility of slipping from the ranks of the middle class altogether, but suggests the term remains broad enough to mean entirely different things to different people. The vast majority of people -- 88 percent -- still consider themselves within the orbit of the middle class….Americans, it turns out, tend to stretch their definitions just enough to include themselves. Those in households making less than $40,000 a year say a middle-class annual salary is anywhere between a median $30,000 and $50,000. Those making more than $80,000, by contrast, see $50,000 as the lowest middle-class salary, with their range extending up to $125,000. People making between $40,000 and $80,000 define the middle class as -- perhaps unsurprisingly -- $40,000 to $80,000." [HuffPost]
MORE OF THIS WEEK'S NATIONAL POLLS
-Perceptions of Hillary Clinton have worsened, yet she remains the most dominant candidate. [CNN]
-The GOP field remains crowded with, no candidate taking more than 12 percent of the vote. [WashPost]
-A Fox News poll also finds the GOP in a tight heat with no candidate in the lead. [Fox]
-Three in five Americans say they support the renewal of NSA data collection. [CNN]
-Most Americans still want to see the death penalty allowed in their state. [HuffPost]
-Today, just 38 percent of Republicans say their health care has been worse since the ACA. In 2010, 76 percent predicted it would be. [YouGov]
-Americans say there's no shame in using the safety net. [HuffPost]
-Campaign finance reform is necessary for most Americans, but it's not a priority. [NYT]
-Americans love their country, but are willing to criticize it. [WashPost]
-Support for gun control has fallen since Newtown, but backing for many specific gun policies remains strong. [HuffPost]
-A majority of Americans say illegal immigrants should have a way to stay in the U.S. legally. [Pew Research]
HUFFPOLLSTER VIA EMAIL! - You can receive this weekly update every Friday morning via email! Just click here, enter your email address, and click "sign up." That's all there is to it (and you can unsubscribe anytime).
THIS WEEK'S 'OUTLIERS' - Links to the best of news at the intersection of polling, politics and political data:
-John Sides ponders Hillary Clinton's declining poll numbers...among Democrats. [WashPost]
-Clinton pollster Joel Benenson downplays her declining numbers. [Politico]
-Dante Chinni looks at why Jeb Bush's conservative problem is worse than Romney's. [WSJ]
-Alan Abramowitz explains how negative partisanship will shape the 2016 election. [Crystal Ball]
-Scott Walker has a slight early lead in Iowa and Hillary Clinton maintains remains far ahead of Democratic rivals. [Bloomberg GOP, Bloomberg Dem]
-Democratic pollsters Andrew Baumann, Michael Smith and McKenzie Young share takeaways on likely voter modeling from this year's AAPOR conference. [GSG]
-Andrew Gelman finds a "legitimate argument" for the polling "buggy whip people." [AndrewGelman.com]
-A Kessler Family Foundation survey finds that disabled Americans are overcoming many workplace barriers and striving to work. [HuffPost, Kessler]
-The Republican conservative base is shrinking. [Gallup]
-The New York Times charts how the 2016 field stacks up to past elections. [NYT]
-Americans seem to be less concerned with climate change relative to other nations. [YouGov]
-Your job might say more about your politics than you think. [HuffPost]
-Iowans really don't care whether or not presidential candidates visit the state fair or eat pork sandwiches. [DMR]
-Historical trends: How gay marriage went from 12 percent approval to majority approval in less than three decades. [AEI]