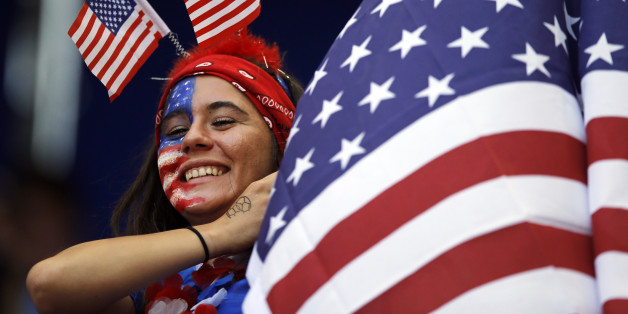 The U.S. Women's National Soccer Team is facing a drought.
It's been 16 years since they won their last World Cup, and much has changed within the team on and off the field. Christie Rampone, 39, is the only player remaining from the national team that won it all in 1999 -- and propelled women's soccer in the U.S. to dizzying heights.
With new talent and a changing landscape for the sport, this 2015 squad has the potential to improve upon the legacy of 1999.
Similar to their male counterparts, interest in the U.S. women's game waxes and wanes with every World Cup cycle -- bandwagoners in American flag bandanas and replica jerseys are loaded onto the fevered month-long ride every four years, only to grumble when Team USA inevitably falls short playing a game that the majority of the population won't think about until, well, the next World Cup.
The difference, however, between the men and the women's U.S. soccer teams is stark. The U.S. women, since 1999, have been expected to win every World Cup. And it's no different this year. In fact, expectations are higher than ever for the women, and as their send-off game against South Korea last Saturday proved, the fervor surrounding this team is palpable.
That and more is why we'll be enjoying the ride until the final whistle blows on the U.S. Women's 2015 World Cup run in Canada.
1. The rosters are stacked like never before.
Make no mistake: In terms of talent and trophies, this team has a chance to be the best in U.S. Women's history. Featuring three generations of American stars -- from Rampone to Abby Wambach to 22-year-old Morgan Brian -- the U.S. will arguably have the best lineup at every point during the tournament.
The kids from 2011 are grown up -- Alex Morgan and Sydney Leroux are the most electric forward pairing in the tournament, and midfielders Tobin Heath and Lauren Holiday are four years the wiser. Key veterans like winger Megan Rapinoe, forward Heather O'Reilly and defender Becky Sauerbrunn are still in their primes.
In all, 14 women from that 2011 World Cup runner-up team were picked this go-around by head coach Jill Ellis, and 15 of the 23-woman roster have previous World Cup experience.
Alex Morgan scores against Japan in the 2011 World Cup Final. (Credit: ESPN)
2. Star veterans in the squad face their highest stakes yet.
For one generation of U.S. Women, this may be their last chance to better the 1999 team and finally win a damn World Cup. Wambach, Carli Lloyd, Shannon Boxx, and Hope Solo -- all over 30 years old -- have won basically everything else there is to win in international women's soccer. They've already been crowned champions at the Olympics, Gold Cup and Algarve Cup.
Speaking to U.S. Soccer in April, Lloyd confirmed that the sting of losing to Japan in the 2011 World Cup final has galvanized the squad.
"We fell short, and there was some unfinished business," she said.
Ellis went a step further, telling Sports Illustrated in April that "we need Abby Wambach to win a World Cup." Wambach, who will likely retire after the tournament, desperately wants to ride off on the highest note of her career.
"I want to go off into the sunset with a world championship around my neck," Wambach told The Huffington Post last week.
3. Underdogs are ready to make an impact.
Who doesn't love a good underdog story? Eight months ago, defender Julie Johnston wasn't even on the U.S. Women's roster. Heading into the team's first match against Australia, she's not only on the team, but figures to land playing time as the first defender off the bench. The secret to her success? Hard work, a more ambitious attitude, and top-notch coaching from veterans within the squad and select soccer circles.
Brian, the youngest member on the team -- a title she's held throughout her international career, which began as a 15-year-old on the U.S. Women's U-17 team in 2010 -- will be a World Cup newcomer for the first time alongside Johnston. Expect both of these women to make a big impact this month.
4. There's a positive USWNT landscape beyond the bandwagon.
U.S. Women will travel to their host city with more fan interest in the game than ever. A successful performance by the men's national team at last year's World Cup in Rio has undoubtedly boosted enthusiasm for the ladies' campaign in Canada.
But don't take my word for it: the proof is in the numbers. Last Saturday, 26,467 fans attended the U.S. Women's send-off game at Red Bull Arena in Harrison, N.J., -- over four times more than the 5,852 diehards who saw the women's 2011 send-off game held at the same pitch.
That support will likely translate over the border. In April, Fox Sports reported that American fans bought 10,000 tickets for the Women's World Cup.
And for those who don't make it to Canada? You can spend some time with your new favorite players at home, as women will be featured for the first time ever in FIFA 16.
5. Dudes are wearing women's jerseys.
Another first for the U.S. Women: Nike is selling their World Cup jerseys -- yes, the women's kit -- in men's sizes. Guys are out here proudly repping their favorite U.S. women, and it's beautiful.
Got my USWNT men's Jersey with Alex Morgan hero customization. Ready for the watch parties. USA USA. #1N1T pic.twitter.com/7Eo7lz2LW2

— Mark Lube (@soccerlube) May 29, 2015
6. An ass-kicking will go down in the "Group of Death."
The U.S. drew the Group of Death -- a name given to whichever World Cup group looks the toughest. The fact that they're in Group D (D FOR DEATH, AMIRITE?) is purely coincidental, but also telling. Australia, Sweden, and Nigeria will take on the U.S. for advancement out of the group.
All of the teams, save Nigeria, are within FIFA's top ten rankings. All three teams stand to give the U.S. fits, but let's not kid ourselves here: The U.S. Women are waaaaaaay better than those three teams. FiveThirtyEight pegs the U.S. Women with a 65 percent chance to win the group.
7. Abby Wambach's head.
When all routes to goal fail, the U.S. women can depend on their battering ram forward up front. She has 178 international goals -- 75 of which were scored with a trademark Wambach header -- and counting.
Abby Wambach's extra-time header against Brazil in 2011 tied the match. The moment was named "Best Play" at the 2011 ESPYs. (Credit: ESPN)

Her 13 career World Cup goals are second all-time to Marta and Birgit Prinz, who have 14 apiece. There's absolutely no way Wambach leaves Canada without that record. So get ready to witness history.
"I have complete trust in Abby," Morgan told Sports Illustrated in April. "Opponents have to play a different way when Abby's on the field. That's crazy."
8. These badass ladies are playing on turf.
Because the powers that be at FIFA are sexist pigs, the Women's World Cup will be the first World Cup -- men or women's -- to be played on artificial turf. That's bad. Really, really bad.
This is why soccer should be played on grass! pic.twitter.com/fsNGi27oRY

— Sydney Leroux Dwyer (@sydneyleroux) April 15, 2013
Last month, Rapinoe voiced her frustration with the turf setup on The Player's Tribune.
"FIFA made a $338 million profit on the 2014 Men's World Cup. To say that it's not logistically possible to install real grass at all the stadiums is not acceptable, in my opinion. We have played on grass all our lives. Now we're going to compete at the highest level on a different surface. I think it has a lot of implications."
The women will tough it out, but they shouldn't have to. How the turf affects the players and the game itself will be a superficial factor worth watching out for.
9. The odds are in our favor.
Let's take a quick look at what the nerds and bookies think will happen: According to FiveThirtyEight's projections, the U.S. has a 42 percent chance to reach the Final, and a 28 percent chance to win it all -- the highest percentages amongst the field. (Germany does have nearly identical odds to the U.S. women: FiveThirtyEight gives them a 40 percent chance to reach the Final, and a 27 percent chance to win.)
On the betting front, Westgate Las Vegas SuperBook has the U.S. favored to win at 5/2. Germany is 3/1, and Brazil and France are co-favorites at 7/1.
10. Revenge on Germany.
Shannon Boxx and Abby Wambach are the only players remaining from the 2003 World Cup team. After winning it all in 1999 on our home turf, the 2003 Women's World Cup returned to the U.S. It was supposed to be a victorious back-to-back domination by the women, but alas, in the semifinals, they were routed in Portland, Oregon by eventual champions, Germany 3-0.
If a U.S.-Germany final happens, Boxx and Wambach would do well to share this painful memory with their younger teammates. It should be the only motivation they need to avenge that loss and snag an elusive World Cup title for Wambach.
11. Primetime matches mean there won't be any timezone dysphoria for Americans.
Any and all U.S.-based followers of European club soccer should be ecstatic about this. Waking up at the buttcrack of dawn to catch weekend-morning soccer across the Atlantic truly sucks.
But no excuses to miss the USWNT, as all of the Women's World Cup matches will be played within the pacific and central timezones, and the U.S. Women will play their Group Stages matches in primetime on the East Coast. THAT'S RIGHT FOLKS. PRIMETIME, LIKE MONDAY NIGHT FOOTBALL.
In fact, the women's first match will be this Monday. Pro tip: Hit up happy hour, take in a few pints and settle in for their opening match against Australia. For handy reference, here's their Group Stage schedule:
MONDAY JUNE 8, 7:30 PM EST
USA vs. Australia
Winnipeg Stadium, Winnipeg
FRIDAY JUNE 12, 8 PM EST
USA vs. Sweden
Winnipeg Stadium, Winnipeg
TUESDAY JUNE 16, 8 PM EST
Nigeria vs. USA
BC Place Stadium, Vancouver
So grab your red, white and blue and get ready for what could be another momentous moment for U.S. women's soccer.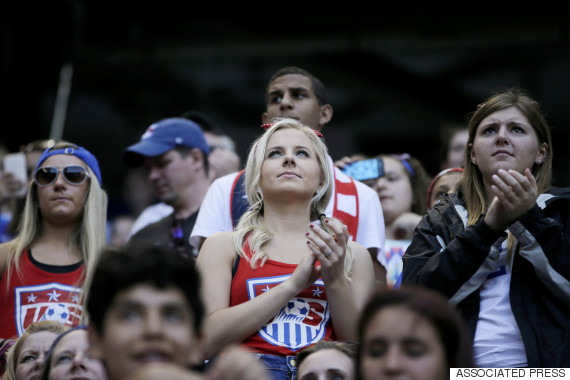 BEFORE YOU GO
PHOTO GALLERY
How To Enjoy The World Cup If You Don't Follow Soccer