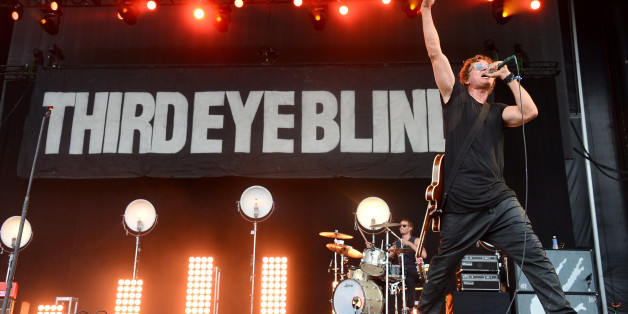 All summer long, a mix of loyal fans, '90s nostalgics, and emo kids at heart will gather for Dashboard Confessionial and Third Eye Blind's U.S. tour. Thousands will sing along to the very same lyrics they wrote on their Converse sneakers, AIM profiles, and love letters they never had the guts to give out. Just before embarking on this journey, Stephan Jenkins, lead singer and founding member of Third Eye Blind, dropped by the Huffington Post to talk about the band's upcoming fifth studio album, "Dopamine."
So I heard your Beyoncé cover of "Mine" on the new album. How did you guys choose that song to cover?
I always liked Beyoncé, but when I heard the latest album, her self-titled, I was like, 'Wait a second. This is now on another level.' Because it had this kind of vulnerability to it. Everything she had released before -- "Halo," "Crazy in Love," -- it was like a blockbuster. And this new album was like your favorite art film. I was really amazed that she did that. So I listened to "Mine," and it intrigued me because the production and the arrangement was so involved, and underneath there's this really heartfelt, very simple song. It kind of reminded me of Radiohead.
If I didn't know otherwise, I thought it sounded like it could pass for an original Third Eye Blind song -- especially the Drake part.
I noticed some commonality there, because he has kind of a singsong way. It's not really rap, it's kind of more singsong, and I do that: spoken-word. I've always kind of done that, I've always been hip-hop influenced. Hopefully not hip-hop appropriating. It's mostly because I write too many lyrics and there isn't enough room for them in the song, so eventually I just start talking.
What's your lyrics process?
I was going to question the use of your word "process," because I wish I had process. It's a f--king disaster. You know, [the band] will say, "Stephan, please, just show us the lyrics." And I'm like, "Well, I got this page, and I got this page, and we could lay the pages out and then I have written on some lint over here..." That's my process.
And you have songs like "Motorcycle Drive By" that are kind of like diary entries.
Actually, it literally was. When I wrote that song, I felt like I had nothing to say, so I opened up my journal out of desperation. 'Summertime. And the wind is blowing. I'm outside. Lower Chelsea.' That's how the song actually came about. It's a literal journal entry. We did a show with the Alabama Shakes, and [lead vocalist and guitarist] Brittany Howard said it was the first song she learned. I was really flattered because I love their record -- it's shockingly good.
I remember I saw you years ago in St. Louis and the arch was behind you, and you were barefoot, wearing a scarf and lighting incense.
That sounds ridiculous. I'm sorry.
Third Eye Blind's "Dopamine" drops on June 16.
BEFORE YOU GO
PHOTO GALLERY
'90s Alt-Rocker: Then and Now